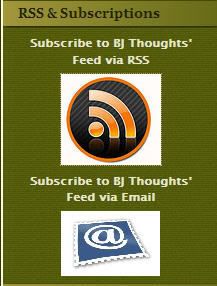 (Look for this on the left side of the blog)
There is 2 ways that you can subscribe to this site and receive updates – via RSS Feed or via Email. The main option used by most readers is via RSS Feed.
What is RSS?
RSS is a technology that is being used by millions of web users around the world to keep track of their favorite websites. RSS stands for Really Simple Syndication.
Bookmarking
(From ProBlogger) In the 'old days' of the web to keep track of updates on a website you had to 'bookmark' websites in your browser and manually return to them on a regular basis to see what had been added. But there are problems with bookmarking:-
You as the web surfer had to do all the work

It can get complicated when you are trying to track many websites at once

You miss information when you forget to check your bookmarks

You end up seeing the same information over and over again on sites that don't update very often
RSS Changes Everything
The benefit of RSS is the aggregation of content from multiple Web sources in one place. RSS content can be read using software called an "RSS reader", "feed reader" or an "aggregator", which can be web-based or desktop-based. A standardized XML file format allows the information to be published once and viewed by many different programs. The user subscribes to a feed by entering the feed's link into the reader or by clicking an RSS icon in a browser that initiates the subscription process.
The RSS reader checks the user's subscribed feeds regularly for new content, downloads any updates that it finds, and provides a user interface to monitor and read the feeds (Source: Wikipedia)
How to Use RSS
Using RSS in 2 simple steps:-
1. Get an RSS Reader – BJ Thoughts recommends Feedreader for RSS Reader tool but you are free to use any other RSS Reader such as Google Reader and more.

2. Get the Feed to Subscribe to – BJ Thoughts' RSS feed is at http://feeds.feedburner.com/wordpress/sjdt – You can either click on the RSS icon on the left side of the blog or manually add the Feed URL into your RSS Reader.
Feed via Email
If you do not want to use the RSS Reader, subscribing via email is another easy option. This is useful if you do not have access to Internet all the time. Email is a tool so familiar to most of us. At BJ Thoughts, subscribing via email is done via Feedburner email services and it is done in 3 simple steps:-
1. Click on the Email Icon on the left side of the blog

2. At the registration screen, input your email address

3. A confirmation email will be sent to your email – confirm it and it's done
For a FAQ on email via Feedburner, click here
Video on RSS
Lastly a simple video on RSS titled RSS in Plain English – click here or here
No tags for this post.No tags for this post.