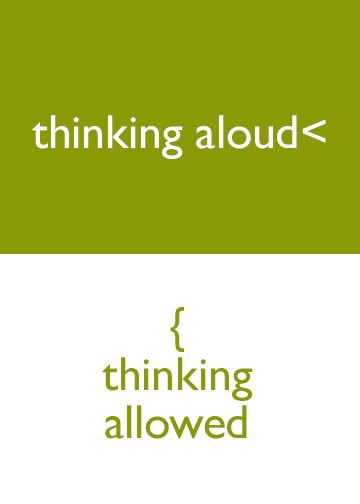 (Thinking about "thinking". Image source: Thoughts in a Tree)
Today is all about thinking…
Two pieces of articles hit my screen today, thought-provoking and certainly got me into active thinking mode (which is not bad for a Monday).
The first, from Fast Company titled "Neuroscience Sheds New Light on Creativity" – a great short read especially when you have a starting paragraph as this:-
Close your eyes and visualize the sun setting over a beach.

How detailed was your image? Did you envision a bland orb sinking below calm waters, or did you call up an image filled with activity — palm trees swaying gently, waves lapping at your feet, perhaps a loved one holding your hand?

Now imagine you're standing on the surface of Pluto. What would a sunset look like from there?
Next is from Syed Akbar Ali's The Blogging Revolution – a veteran writer but with his outing on the blogsphere. He makes the right connection between "thinking" and "Malaysia" with this:-
But in the Third World (which includes Malaysia) even the act of thinking is not always allowed.

(We have not come to the output of any thought processes yet, we are still stuck at the act of thinking). If you want to say something, you may need a certificate first.

Printing licenses, University approvals, religious credentials, Home Ministry approvals etc may be necessary before you even start thinking. If you do not have one, then you cannot even start to think
That's right, Syed – the First World may have it's shortcomings but very rarely they have stopped anyone from thinking. A classic case is Michael Moore's Fahrenheit 9/11. Could similar things been done in Malaysia?
Can we continue "thinking aloud" in this "Third World" country?
No tags for this post.No tags for this post.