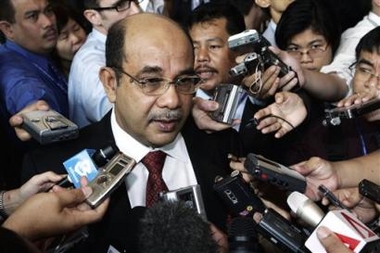 (Anything smart to say? Image source: http://www.chinadaily.com.cn)
RPK put it very brilliantly with his funny post titled "Malaysia Today interviews the Home Minister"
These people are in the minority. The majority of the people voted for the government. So this means the majority support the ISA. If not they would not have voted for the government. It is the majority that counts, not the minority.

We can't make laws or abolish laws just for the sake of the minority. We must do what the majority wants. The ISA is to prevent terrorism.

If, in 2001, the US also had the ISA, their Twin Towers would still be standing. Malaysia's Twin Towers is still standing because of the ISA.
Then the Home Minister hits back at RPK. From theStar:-
He also hit out at Malaysia Today editor Raja Petra Kamarudin, whom he said had published a satirical mock interview with him.

"It is very irresponsible and the article misleads the people," he said, adding that the article was written to make him look stupid.
The truth is we don't need RPK to know that Home Minister been acting "not so wisely" lately with the use of ISA and the police.
It has come to a point where the Home Minister is now known as the Minister who makes the most blunders (second to Pak Lah and Nazi Nazri maybe)
Read Also