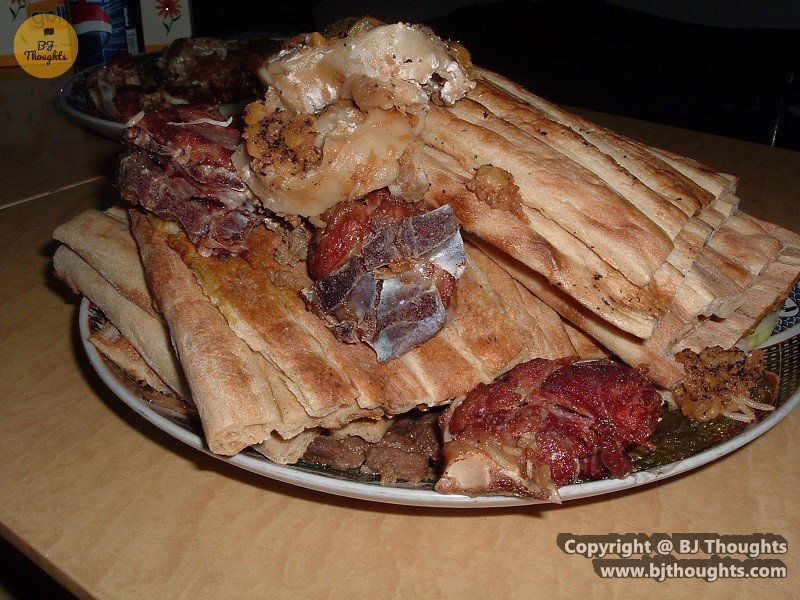 If there is one thing that could take off our mind from work and to some extent, the country that we been in now, it has to be food. One of the best things you can get on a daily basis is warm delicious Afghan bread with roasted chunks of mutton.  
As Afghanistan is emerging from years of war and in-fighting, businesses have been booming and the restaurant business in most towns especially within Kabul has been growing too.
Most hotels offer a great choice of food during the buffet at breakfast, lunch and dinner. If we do not take care of what we are eating, we might be adding a couple of kilograms to our belly without realising it.
The workplace has a local chef who prepares food for all the workers and we being new and not wanting to venture out decided to join them for lunch. However soon we got bored with the choice especially when we noticed spinach is served every day.
When we first arrived in Kabul, we had lunch at one of the newer hotels in Kabul and the choice was simply great! Kebab, curry, briyani rice was one of the usual items on the menu. Couple that with newer Western food like fries, sausages and salad – the choices seems endless.
On a really good day and especially when we have the top management joining us for lunch, we can get a good mix of mutton, kebab, chicken and briyani rice. Food is often served with a choice of soft drinks or mineral water.
At the workplace, there is an endless "supply" of nuts, raisins, biscuits and soft drinks. My colleague, known for his great appetite is often seen busy munching something in his mouth whilst at work.
Considering there are a lot of foreigners in Kabul, Western food, there are a lot of restaurants that provide American fast food. To our surprise, there was a "KFC" restaurant nearby that sell fried chicken. It was not Kentucky Fried Chicken but Kabul Fried Chicken. Chief Burger was another well known fast food restaurant in Kabul that has burgers, pizzas and fried chicken on the menu.  
There are a lot of food stalls by the roadside but for security and more importantly, for hygienic reasons, we dare not stop and check. Often with one guard riding at the back with a fully loaded AK-47, we usually zoom past the traffic and make a quick exit from our hotel or from our workplace. It is not that it is not secure to stop but nobody wants to take any chances.
After watching CNN and BBC in the morning, who wants to anyway? But in reality, it is safe to walk even at night since there is a lot of soldiers and police on guard at the front of most government and private buildings. There is many more at the road junctions. But sometimes common sense prevails and it is for the same reason, I don't walk at night even in KL. To me, a certain part of KL seems more dangerous than Kabul simply because it is rare to see policemen on patrol.
We did get proper home-cooked food with a mixed option of Indian and Afghan on one of the last days when we were in Kabul. The Indian chapati was soft and small which was easy to grab chicken and mutton.
Looking at the choices of food on the menu in the hotel, it seems like there is more mutton than chicken and beef. Mutton is heaty and too much of it is a bad thing for your heart as well. So, although there is plenty to pick from the menu, self-control of what we are picking onto our plates is self-imposed. Perhaps in Kabul, this may be the best place to eat healthier food and for once, succeed in reducing the extra baggage around the waistline.
Wishful thinking in Kabul…