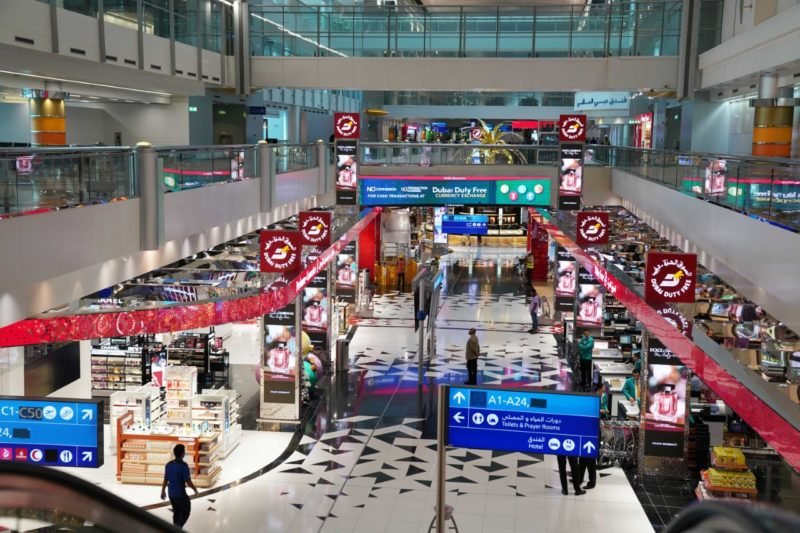 (The famous Dubai Airport Duty Free area for us to roam around before we leave to Kabul. Image Source: Arabian Business)
Read about Part 1 here
It was almost 5.30 am when I was awakened from my sleep by the air stewardess. We were about to land. Although I think I slept well my whole body was aching – it is really hard to find a good sleeping position in a fully packed economy class. The landing was smooth as usual.
The queue at the immigration counter at Dubai Airport was very long but since they had plenty of counters opened, it was not a big problem. My passport was stamped only after a short wait. But the thing is about immigration officers is that they hardly have this "user-friendly" look. Most of them look grumpy and serious – not the face to look at after a tiring 7 hours flight.
I took a cab to Terminal 2 which was on the opposite side of the runaway. The cabbie was fast and quiet but he managed to get me in one piece. Terminal 2 in Dubai is really sorry looking place. There are not many shops around and they do not have any wi-fi connectivity (sad, sad) but this was what I experienced the last time around. This time around, I really did not have the chance to check things out. All due to some last-minute change in plan.
Originally I suppose to take the 11.00 am flight from Dubai to Kabul (it was 12.00 pm, I found out later). So, my pick up arrangement was based on this "timing". When I arrived in Terminal 2, it was almost 7.00 am. So, I gathered that I had about 4 hours before my next flight. I bought the ticket from the counter situated just outside the check-in counters and was informed that the next flight was at 12.00 pm.
Damn, 5 hours wait at the "boring" airport? I mentally prepared myself for the long wait when the airline staff informed that he need to buy 2 tickets for 2 passengers who are checking in late for the 7.30 am flight. The guy at the ticket counter looked at me and told the airline staff to include me as well but I need to rush if I am going to catch that flight. The check-in counter was about to be closed and the passengers have started to board the plane.
Now, I could have simply said no and opted to wait for the 12.00 pm flight but something told me that the 5 hours was not worth it. So, I took the chance and went for it. Check-in was fast – since the airline staff was there to help me out. But once again the immigration was a pain. Here I am, rushing for the flight and the lady at the counter took her own sweet time to check through my passport before stamping it.
But the airline staff was one step ahead of this lady – he was waiting for me at the boarding counter, holding it open until I check-in. I managed to catch the last bus to the plane and so after I took my seat – once again right at the back, the plane started to move. But then I remembered about my pick up arrangement was in the afternoon – I got worried but I managed to send a message to my wife to call the office on this new arrangement.
I was not sure whether the message went through – I just hope did, otherwise I will be waiting at the Kabul Airport for 5 hours (not a good option – it would be safer to wait out the 5 hours in Dubai airport instead).
The plane did not have any in-house flight entertainment system, so it was back to my sleep for the 2 hours journey. I tried not to have nightmares.
To be continued in Part 3…
No tags for this post.No tags for this post.