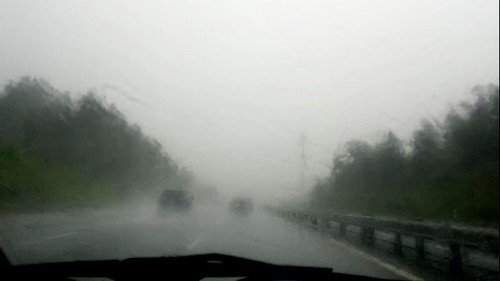 (The scary part when you are driving in heavy rain is that you are not being sure whether the sight of a dark item in the middle of the highway is a car still moving or a car has hit the barrier and is lying in the middle of the road)
(Those who put their emergency indicators whilst still flying on the highway at 110 km/h still fared better than those morons who drive expensive cars but do not switch on the lights so that others can see them. Seriously)
(The weather improves slightly but still, should I count my blessing that the drivers who did not make themselves more visible with switching on the lights was driving large, darker coloured vehicles instead of one with white or silver paint?)
It was raining cats and dogs on the North-South Highway yesterday – the traffic was not that heavy but it was still dangerous to drive. Visibility was all-time low and there were huge puddles of water on the road in some areas. Still, it was a good opportunity for me to test out the new car's ride and handling in the worst road conditions. I dare say it passed with flying colours.
Then we had this added to our worries:-
To tell you the truth, I am lost for words. What do these people expect to save by not switching on the lights when it was raining heavily and visibility was low? A couple of headlight bulbs?
We have low visibility and yet, we have some drivers who do not want to switch on the lights to make themselves visible to others. If you are at the front, it is not so bad but you may need to take care when slamming on the brakes. With such a huge vehicle on the fast lane, the outcome would be tragic. But if you are at the back, it simply gets worse – it may be too late before you realize that there is a vehicle at the front. With huge puddles of water on the road, try braking and see if you could stop in time.
But then again, who would expect idiots who would refuse to switch on the lights when visibility is low to know about aquaplaning and concern for fellow road users, right?