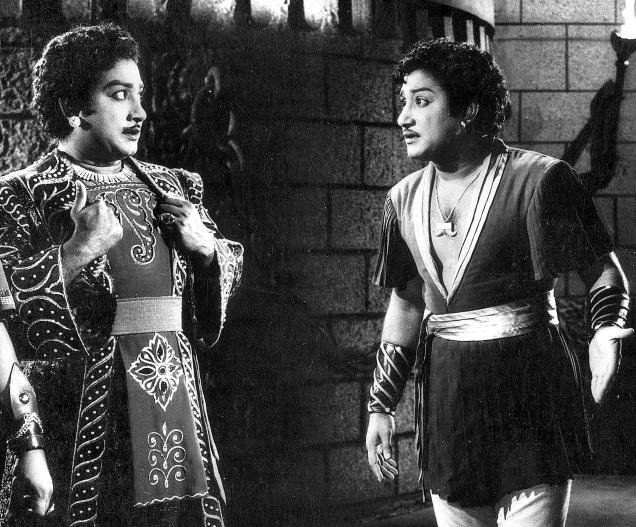 (Seeing Sivaji Ganesan in action is one thing but seeing the two of them could be a double whammy. Both interacted well on screen but still, there are some limitations as to how both characters blended in on-screen in the old movies when the special effects were still in it's infant. Image source: Business Line)
Still, remember when you were young and you used (and still) to watch those old Tamil movies where the star actor acts in more than one role (usually playing the double role of the father & son or the good & evil brothers)?
When both double roles are shown in the same scene, one character would be on one side of the frame whilst the other character is on the other. The only time when these two characters overlapped each other is when one of the characters is played by someone else (it will be shown without showing the face). It was good and highlighted the difficulties that the actors, director and editor have to go through to ensure that that particular scene comes out just perfect.
Even so, seeing the same person in two different roles at the same time in a movie was a big thing back then and we knew that it was not easy to do. Just imagine the number of takes just to get the actor acting as if there was another of "him" standing next to him and the film editors cutting and stitching the film rolls at the right places.
But those were the years when technology has yet to catch up with the art of storytelling.
It is a whole different ball game now and we have seen it a great deal in special effect-laden Hollywood movies and they seem to be getting better at it year in, year out. Tamil movies have seen some improvement when it comes to CGIs as well.
We saw a great deal in Dasavatharam (where Kamal Hassan played 10 different roles and interacted with each of them at some point in the movie), Enthiran (ya, the stupid climax) and recently Shah Rukh Khan's Ra.One (the storyline sucked big time but the CGI is top-notch).
Now with computer animations, blue screens (green screens as the above) and well-choreographed acting, the double role result is simply amazing. You can have more than one character on the screen played by the same actor and they blend and interact with each double other as if they are played by different actors.
.
Take for example this song scene from the movie Thillalangadi (2010) where the hero and the heroine are shown in different roles and interact with each other in a very fluid manner (it makes it even better with Yuvan Shankar Raja's lovable music, very meaningful lyrics and well-coordinated choreography).
Now that that is mind-blowing! Add that with a clean, logical story-telling, superb background music and fine acting and you will have a real winner.