When the story first broke out that an Arab royalty from the Middle East had donated some USD700 million (RM2.6 billion ringgit) into Najib's personal account, we all knew that it was too good to be true. Dr M called it "bullshit". And in recent Court of Appeal's ruling, the judges came to the same conclusion that it was nothing but a concoction. Poster source: Suara Rakyat
Read these first:-
The CBT Case Against Najib
Firstly one needs to consider the connection between 1MDB and SRC International as the CBT charges are for SRC International:-
1MDB established SRC International Sdn Bhd (SRC) on 7 January 2011. According to the SRC Business Plan for the period of 2011 to 2015, SRC will supply coal for long-term needs of national by the fourth year of operation (in 2014).

SRC obtains funding from government grants in the form of development grants of RM15 million out of RM20 million that were approved by the Economic Planning Unit (EPU) and RM2 billion financing from the Retirement Fund Incorporation (KWAP).

Financing amounting of RM2 billion from KWAP was received on 29 August 2011 with a term of financing of 10 years. The loan is guaranteed by the government which includes principal and financing benefits of RM2.902 billion.

(Source: Wikipedia)
Frankly speaking, one cannot blame Najib if he had thought he could get away with the RM42 million in his account. After all, he was the Prime Minister and he had just thrown/terminated the services of all those who opposed him. At this point, he was basically untouchable and despite the obvious, they were still riding high on the notion of "cash is king".
For a man who first admitted that there were millions in his personal account and then acknowledged it but did not know the source, he indeed did well to spend the money that did not belong to him. Image source: Twitter / Infographic: Bernama
Then the 2018 General Election happened and the world turned upside down. Pakatan came into power and all of a sudden the untouchables became mortals again and got caught.
On July 28, 2020, the High Court sentenced Najib to12 years in jail and fined him RM210 million after he was found guilty by Judge Mohd Nazlan Mohd Ghazali of seven charges involving SRC, which included one charge of abuse of power involving Retirement Fund (Incorporated)'s (KWAP) RM4 billion loans to SRC, three counts of criminal breach of trust involving RM42 million and three counts of money laundering.

Najib is also facing three money laundering charges involving RM27 million in SRC.

(Source: The Edge Markets)
Not surprisingly, Najib appealed to the Court of Appeal against this High Court judgement.
.
Court of Appeal's Decision
Frankly speaking, there were high expectations that most of the high profile cases to be dropped after the Pakatan government fell in February 2020. Some of the cases were indeed dropped or the defendants were acquitted.
So there was a big question on how the Court of Appeal will decide on Najib's appeal.
Malaysia's Court of Appeal on Wednesday (Dec 8) upheld Najib Razak's conviction on graft charges relating to RM42 million (S$13.6 million) he received from SRC International, putting a dent in the former prime minister's plans for a political comeback.

The three-man bench led by Justice Abdul Karim Abdul Jalil said that the decision last July to convict Najib for illegally receiving millions into his personal bank account from SRC, a former unit of now-defunct state fund 1Malaysia Development Berhad, was correct.

Najib, who faces dozens of other charges relating to corruption during his time in office, had lodged an appeal after being found guilty of criminal breach of trust, abuse of power and money laundering. He was sentenced to 12 years' jail and fined RM210 million.

"We agree entirely with the learned trial judge that there is overwhelming evidence which establishes his personal interest … We found no good reason to disagree with that finding," Datuk Abdul Karim said. "We dismiss the appeal on all seven charges and affirm the conviction."

The court rejected Najib's claims that he was acting in the national interest.

"We are in full agreement that Najib knew that funds entering his personal accounts were proceeds from unlawful activities. This is no national interest as the appellant claimed … This is a national embarrassment," Mr Abdul Karim said.

(Source: Straits Times)
Although the appeal was not allowed, the Court of Appeal still granted a stay of the order which means Najib will still be free to roam around whilst waiting for the appeal to the Federal Court.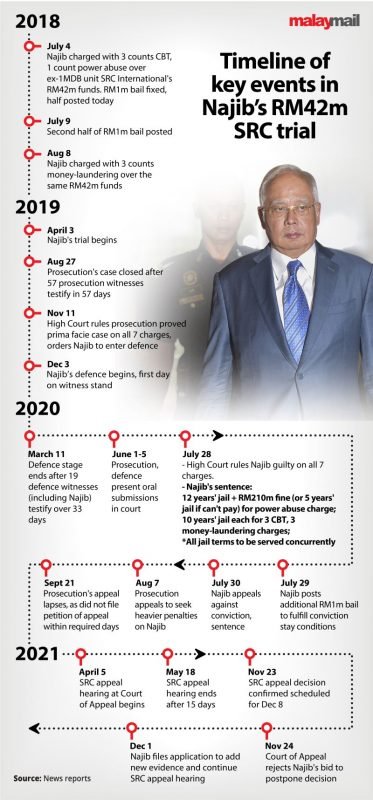 It took almost a year for the High Court to conclude that Najib was guilty as charged and it took almost a year and a half for the Court of Appeal to derive the same conclusion. So expect another year or so before we find the conclusion of the Federal Court provided no delays in between. Image source: Malay Mail
Final Say
So what is next for Najib now that both the High Court and the Court of Appeal remained unconvinced that he was not aware of the money in his account and that he used it for the country?
Well, according to Raja Petra, it boils down to 2 things – his appeal going through at the federal Court, failing which a royal pardon if UMNO is still wanting him to remain free from prison:-
Well, his appeal hearing at the Federal Court will probably be after GE15. So Najib must make sure Umno-Barisan Nasional wins GE15. If Pakatan Harapan wins, then not only will Najib go to jail, but he will have to stay in jail and will not be granted a pardon.

Hence Umno-Barisan Nasional will need to do a deal or enter into an electoral pact with either Pakatan Harapan or Perikatan Nasional. If not, Umno-Barisan Nasional faces the risk of losing the election.

(Source: Malaysia Today)
But then here is the thing about the whole affair – it goes beyond Najib. It is about the sheer breakdown of the check and balance system which if it has been solid, would not have allowed Najib to have millions of ringgit in his personal account and then spend it like there's no tomorrow.
The case also highlights how prominent people who knew the truth were willing to go beyond to lie to the rakyat so to protect Najib and the act of misusing the money:-
The press conference held by former Attorney General Tan Sri Mohamed Apandi Ali to clear Datuk Seri Najib Razak of any wrongdoing in the SRC International Sdn Bhd case in 2016 had actually blown up in his face and cast doubt on his integrity

Apandi subsequently instructed the MACC investigations against Najib – who was the then prime minister, to be closed.

The two flow charts which Apandi held up during the press conference clearly reflected how funds which entered Najib's accounts were actually from SRC and not from Arab donations or any other source.

The charts also clearly showed how the flow of money from SRC to Najib's personal bank accounts was done through a layering process.

(Source: NST)
And this:-
Malaysian Deputy Prime Minister Ahmad Zahid Hamidi said he has met the wealthy Arab family who had donated the US$700 million (S$986 million) that was channelled into Prime Minister Najib Razak's personal account.

He said the "king and prince", whom he did not name, had donated the money because of Malaysia's commitment in fighting terrorism, and being a moderate Muslim country with a plural society.

The family, he said, was impressed by how Malaysia, with its plural society, still managed to remain moderate without sidelining any other religions.

(Source: Strait Times)
So will the Government will review all those who had lied and were involved in the cover-up of the criminal breach of trust by Najib and charge them with abetting the criminal act. Isn't it too obvious of their involvement in the crime?
This was compounded by another factor – some in the enforcement agencies seemed to be too afraid to take action despite the red flags in fear of losing their high positions and income. Those who stood up got terminated like his own Deputy and the AG but one have to believe that at least their conscience would be clear despite the outcome. It is not like we did not have any rules and policies put in place to ensure no abuse of power and taxpayers money.
In the end, we had allowed one man to be more powerful to do whatever he wants to do. Thankfully his government fell in 2018 and the new government was all geared up to bring the wrongdoers to face justice. Otherwise, the case would not be a starter in the first place.
There are serious lessons to be learned from this whole affair.
No tags for this post.No tags for this post.