(Day 6 in Dubai)
This post is typed and uploaded in a small cyber cafe in Sharjah. It was done in a hurry and in the midst of Indians and Pakistanis (is this correct?) who are using the Internet to call back home and download Indian actresses photos.
I said "typed" because I have drafted my long post but when I tried open the file from thumb drive, it is corrupted. So, probably I need to re-copy it and try to upload it again tomorrow or the day after.
In the meantime…have a look at the something I spotted in Sharjah. Does this look very familiar? This was erected in the middle of the desert and near a major shopping mall.
The Internet connection at the new office in Sharjah is still not up…probably this Friday, we should be able to connect the outside world. I have about 400++ photos in my "database" and it still continues to grow. But without Internet connection, it is tough to do anything. Our work is a bit hampered with this problem – we are unable to download files from the office. We tried using the cyber cafe but the line here is simply crawling.
The view from the new office is great though…whenever we are feeling boring or want to take a quick break, we just look down and rewarded with a great sight of the working in the nearby port.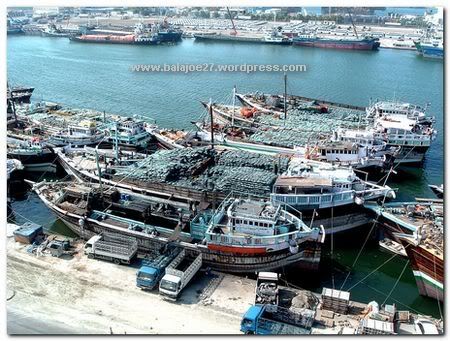 There is more photos taken on the loading and unloading on the ships taken from the office above. Will upload it once the Internet is up.
Del.icio.us Tag: Internet
No tags for this post.No tags for this post.