Music – my lifeline!
(Day 5 in Dubai)
It was noisy and it was getting on our nerves!
We are sitting the same room where we have temporarily placed 2 mega servers for installation, debugging and testing. They are noisy (because we had taken them out from the rack) and used to be hot as well. Hot until we decided to open the windows and immediately the room was engulfed with "pure natural air conditioner" from the outside. Yes, we took care of the heat and that was too easy but unfortunately not the sound. The sound had a profound effect on our ability to concentrate the work at hand – we were easily distracted and started to have a headache.
We were at lost on what to do next. We could not leave the room (the best place to do work) and certainly could not shut down the server. We looked around and noticed that the system engineers from India were doing their work with a headphone on their ears. They were listening to songs whilst doing some serious coding. Ya, occasionally they were singing as well. Hmmm, a headphone – that might just do the trick. I have brought in an old headphone but it was not in good shape (the sponge was loose and was coming out). The built-in microphone was also getting on my way. So, when I had the chance to visit the Mall of the Emirates couple days ago, one of the first thing I did was to go into Carrefour and get myself a decent headphone. It cost me about 20 Dhr – cheap (didn't I say it was based on Dubai standard!) but stylish.
The next day, it was more peaceful…
The server was still at its noisy pace but this time, I had my new "sparkling" headphone which muted the outside noise and put the force behind light listening of music. I was able to concentrate on work more and at the same time, eased my work stress with the right doses of Shankar Mahadevan, pumping away good old Hindi and Tamil beats. Occasionally Richard Marx, Josh Groban and Robbie Williams will be entertaining me whilst I am testing out the system here.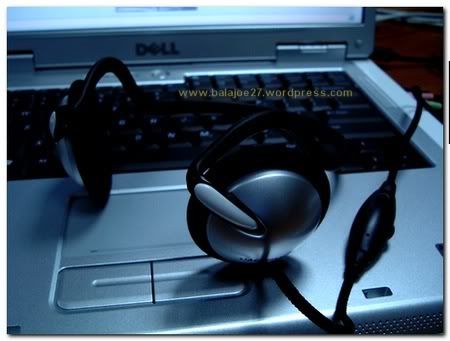 Reality checks in once I take off the headphone but it does not matter much. I can always put back the headphone and cut down on the noise. Things should be improving in the next few days when the servers are placed back into their place in a secured server room (far, far away from us) and we will be using a more proper place in Sharjah for implementation.
By the way, I have been listening to Tamil songs most of the time and I am beginning to appreciate Vidyasagar's talent in composing songs. Brilliant if one listens closely – one good example is the song "Poovukellam" from the movie "Uyiroda Uyiraga" (hear the guitar tune at the start and you will know what I mean. Yes, I know Ajith cannot mimic playing the guitar well, damn too obvious in the video).
Back to my headphone now.
Del.icio.us Tag: Music
How you will rate this post?
Click on a star to rate it!
Average rating / 5. Vote count:
No votes so far! Be the first to rate this post.
We are sorry that this post was not useful for you!
Let us improve this post!
Thanks for your feedback!