It supposes to be a quick post on Shankar's Nanban but I ended up writing more especially after yesterday I watched again the well made 3 Idiots
(The guy on the far right – your right – seems better than the rest. Trust me, you will be safer watching the original 3 Idiots than the "new" idiots in Nanban – they are nowhere close to the beauty of story-telling and acting in 3 Idiots. Poster source: Indiaglitz)
The Premise
The excellent 3 Idiots was based on a 2004 novel titled Five Point Someone: What not to do at IIT written by Chetan Bhagat. It was well made and they picked the right actors for the characters. Nanban, on the other hand, is based on 3 Idiots almost scene to scene.
Indiaglitz in their review of the Nanban movie said:-
First things first. Let's not compare '3 Idiots' with 'Nanban'. Though the latter is a faithful remake of the Aamir Khan starrer, 'Nanban' has its own moments.

It carries a nice theme presented in an interesting way. It drives home the point that one shouldn't run behind success and rather pursue his/her own interests. If one develops right skill anything is possible.
I guess the people behind Indiaglitz are just trying to be nice here and nothing more. I totally agree with them – perhaps Nanban would have made more sense and entertaining if you have NOT watched 3 Idiots in the first place.
This post, however, will make more sense for those who have. Indiaglitz asks us not to compare '3 Idiots' with 'Nanban' but how we could not do that? After all, it is almost 100% remake of 3 Idiots in many ways including many of the dialogues, settings and characters.
Shankar's Reason on Remake
Personally, I feel Shankar do great movies which are not only engaging and entertaining but also one that is heavily fused with logic (except this) and a strong message. Just see his portfolio of blockbuster movies – Gentleman, Indian, Jeans, Mudhalvan, Boys, Anniyan, Sivaji The Boss and Enthiran.
So it was kind of surprising that he wanted to remake another movie.
3 idiots had just released then. For the mood I was in, I wanted to seen an action film but I ended up watching a comedy. My mind was not on the film but I saw the audience continuously laughing.

I got involved in the film and I felt so good at the end of it. It was a wonderful feeling and I thought our Tamil audience must also experience this. However, Nanban is not a literal translation of 3 idiots.

The movie had to be fresh and yet retain its soul. I wanted to bring it as close as possible to the Tamil audience by making it earthy and simple.

A lot of people told me that they forgot the original while watching this film. I was happy to hear that.

(Source)
Unfortunately, the part where he mentions that the audience "forgot the original while watching this film (Nanban)" is stretching the facts a bit too far. Entertaining for those who have NOT seen the original – yes I agree but not for those who had watched the original.
Rancho vs Pari
Comparing the two movies side by side, you will be better off watching the more original, the more entertaining and more believable 3 Idiots starring Aamir Khan. Take the main character – Aamir Khan is like a thousand times better than Vijay in the same role (so does all others). Image source: New on Netflix / Youtube
By the way, this key character is based on a real person – Sonam Wangchuk:
Sonam Wangchuk (born 1 September 1966) is an Indian engineer, innovator and education reformist.

He is the founding-director of the Students' Educational and Cultural Movement of Ladakh (SECMOL), which was founded in 1988 by a group of students who had been in his own words, the 'victims' of an alien education system foisted on Ladakh.

He is also known for designing the SECMOL campus that runs on solar energy and uses no fossil fuels for cooking, lighting or heating.

(Source)
You can see a glimpse of hidden intelligence when you see Rancho the first time in 3 Idiots but you see nothing (despite trying very, very hard) when you see Pari in Nanban.
Nothing seemed natural here – Vijay seemed to be trying very hard to be that innocent but brilliant student who changes the life of his 2 friends. All the actors in Nanban seemed to be trying hard to follow the same style of the actors in 3 Idiots but do not achieve the same fluid.
I have been thinking hard on the reasons why and I realise something – you are having the wrong people doing these comedy roles. I think it is because actors like Vijay and Jeeva have been doing too many serious movies in the past that when they finally do a comedy role, people don't take them seriously (pun intended).
Yes, I know some of the viewers may also point Aamir Khan also had done serious roles in the past before he did 3 Idiots – one good example is Ghajini. But this is why probably he is known as Mr Perfectionist – he is able to adapt his role quite perfectly. In 3 Idiots, he does not look or act older than 25 years old when in actual fact, he was nearing 45 years old.
You don't feel the same agony even after Jeeva's character jumps from the top floor of the university. And once that key characters in the movie are ruined, you can kiss the whole movie good-bye as well. Everything looks just too artificial thereafter.
Virus vs Virus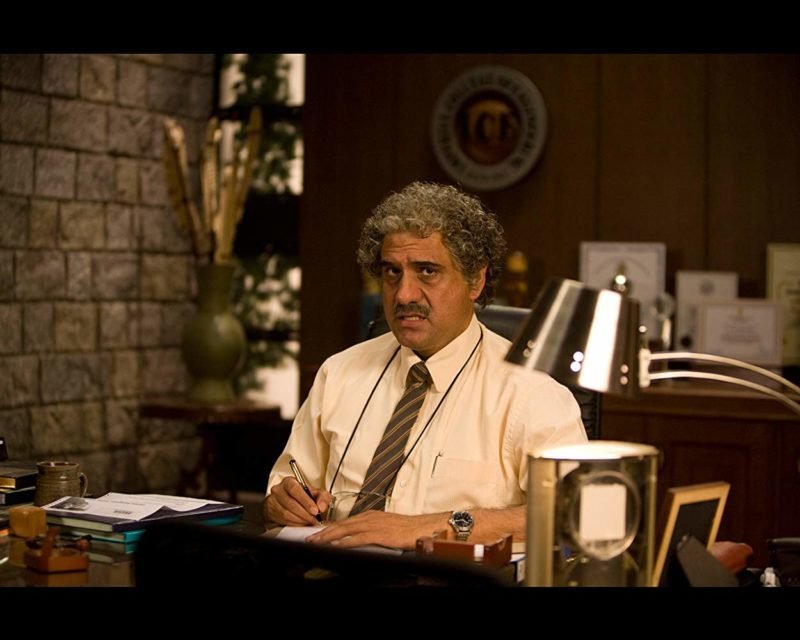 (Who is the better "virus"? Boman Irani was a class better as Viru Sahastrabuddhe than Sathyaraj as Virumandi Santhanam in the same role. Image source: https://cinemovika.blogspot.com)
Even the well talented Sathyaraj seemed to have wasted his energy and time here as well (you want to see Sathyaraj in his elements? Watch Kannamoochi Yenada and you will see why I say that he has wasted his energy and time here).
The award-winning Boman Irani who acted in the same role (as the much-hated "Virus") in 3 Idiots has done his role just too well – In 3 Idiots, it was a clear fight between the 3 idiots and the virus but here in Nanban, Sathyaraj hardly come close and ends up playing a very minor role.
Perhaps the filmmakers with all that raw talent and resources at their disposal should have done something different that sets Nanban apart from 3 Idiots. Perhaps the filmmakers should have localized Nanban to more South Indian settings (yes, they tried but it was not enough – speaking in Tamil instead of Hindi does not really count) – perhaps even dropping "All is Well" to something more localized in Tamil.
Saving Grace – Music
The only saving grace in Nanban is Harris Jayaraj's music – it is good to be heard on its own although you need to forget that it was made for Nanban (if you do that, 1 + 1 ends as something else and not 2). My favourite would be Irukkaannaa – nice touch of the various background instruments by Harris.
Good song (although given it is from Harris Jayaraj, it sounds so familiar), eye-candy visualisation but it does not really connect to the movie called "Nanban". What is the objective of the belly dancers and scantily clothing in this song and how this narrates the core story of Nanban? At most, it is sheer exploitation of women by Shankar and it is too bad that they think that the moviegoers are only thinking of this.
The score and the songs in 3 Idiots were not bad as well but they did a better job than Nanban on the picturization. Compare example with the above song from the 3 Idiots, I love the way, the fused the much-hated Virus into the song scene and the indirect feelings towards Rancho. In other words, there is still a continuation of the 3 Idiots story in the song as well.
Summary
I have seen 3 Idiots several times before and I still love it but Nanban, despite a "brave" attempt to rekindle the magic that 3 Idiots did, failed miserably in almost every department.
And if you are intending to watch this latest Tamil flick, I strongly suggest you not waste your time and money watching it. Despite the big names in the acting roles and film-making and having copied almost 100% of 3 Idiots which was released in 2009, this remake in Tamil sucks big time.
Don't get me wrong – those acting in this movie is highly talented in their own standing but coming together in a remake of the 3 Idiots, something did not just click right.
It is missing the fire that we saw in Amir Khan's 3 Idiots.
It's sad because we were expecting something better and entertaining from the famed Shankar. If you want to watch any recent movie that is far better than Nanban, I suggest instead you watch Porali – starring M. Sasikumar.