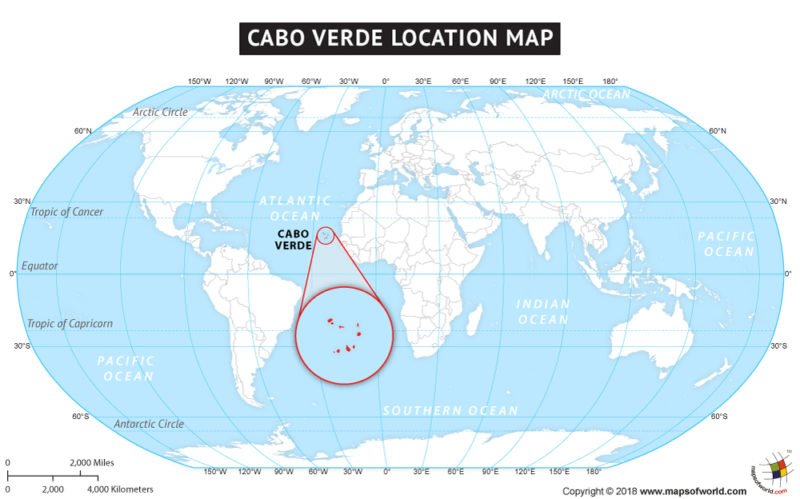 (It is on the other side of the world – Cape Verde or Cabo Verde in Portuguese and it is going to take 3 different flights to do the trip. Image source: www.mapsofworld.com)
There is a good reason why I did not post this earlier – details coming up soon.
When I first heard the name of the country; I had to google it up as well. Some of my friends & family members even mistook it as Cape Town in South Africa. Interestingly initially I was not scheduled to fly as I usually had managed things from the office. But as we started to go into the details and with some of the key team members made unavailable to fly at the last minute, the signs were obvious that I had to fly to manage things onsite.
Before that, I had to sit down with my wife to plan out how she is going to take care of the tasks at home & offline payments that needed to handle when I am not around. On the positive side, it was something that I looked forward to breaking the monotonous routine lately.
Cape Verde was 9 hours difference behind Malaysia so communication with both the office and home would not be easy.
The last I had this problem was when I was in Ghana where the time difference with Malaysia was 8 hours. When we start work, the colleagues in the office would be finishing work so we had very little room to communicate whilst both teams are still working. For calling back home, since it was cheaper to call via the internet, I had prepared that the family is available on Whatsapp, Skype, Telegram and emails.
Cape Verde has its own currency called Cape Verdean Escudo (CVE) which is tagged at a fixed rate of 1 EURO = 110.265 CVE. Unfortunately, CVE is only available in Cape Verde, so we had to change MYR to EURO first and then change EURO to CVE only after we had landed in Cape Verde.
The trip to Cape Verde is not going to be a straight forward trip…
Travelling in a team of 7 including me as the lead, it will take us flying first from Kuala Lumpur to Dubai (flying hours = 7 hours), change to another flight to fly from Dubai to Lisbon, Portugal (flying hours = 8 hours 15 minutes) and finally from Lisbon to Praia, Cape Verde (flying hours = 4 hours 20 minutes). The flying hours do not include the transit hours of 12 hours including 8 hours in Lisbon.
We would be flying from Kuala Lumpur to Lisbon on Emirates and from Lisbon to Cape Verde, on TAPS Portugal. On paper, it does look like a very, very tiring flight.
(Frankly, this is the first time I am flying A380 and what a better way to start off the experience than flying on an Emirates A380 which many claimed to provide the best A380 experience. Image source: www.khaleejtimes.com)
From Kuala Lumpur to Dubai, we were flying the quiet, trusted Emirates A380 and our seats were at the upper deck which meant fewer passengers & more space for the long journey. The check-in and the immigration process at KLIA were good & professionally done as usual.
Good thing we did not encounter any disruption in KLIA then, otherwise it would have been chaos early in the morning. A team of 7 is not small so it took some time for the whole team to assemble at the designated point – just to confirm no one was missing. Just to ensure we are not sitting next to strangers during the flight, we arranged so that we are sitting next to same team members.
The friendly Emirates staff at the KLIA check-in counter even assisted us to ensure our luggage are tagged to be flown all the way to Praia, Cape Verde, even though the last leg of the journey we will be flying on another airline. Customer service by Emirates is top-notch as expected. We were worried that given the long flight, the last thing we need was missing luggage.
And speaking about luggage, there was a dilemma – Emirates was allowing up to 30 kg of luggage which worked wonders for the long stay in Cape Verde (there was enough space to stuff Maggi instant noodles, biscuits, 3 in 1 instant coffee, etc).
But moving on to TAPS Portugal, they only allowed a maximum of 20 kg even with paid options. I don't blame them – after all, it is expected that the flight would be full and the plane was a smaller plane. But in the end, we were worried for nothing – after stocking up with clothes & foodstuff for 2 – 3 months onsite, the luggage weight age did not pass 20 kg in the end.
The flight to Dubai was full – it was apparent from the long queue at the boarding gate and we had to walk around looking for empty seats to wait until they call in for the final boarding. There was a sense of excitement before the boarding and having a water cooler & charging points helped us to charge our phones & our thirsts. And then the call to board was made and the journey started.
To be continued in Part 2