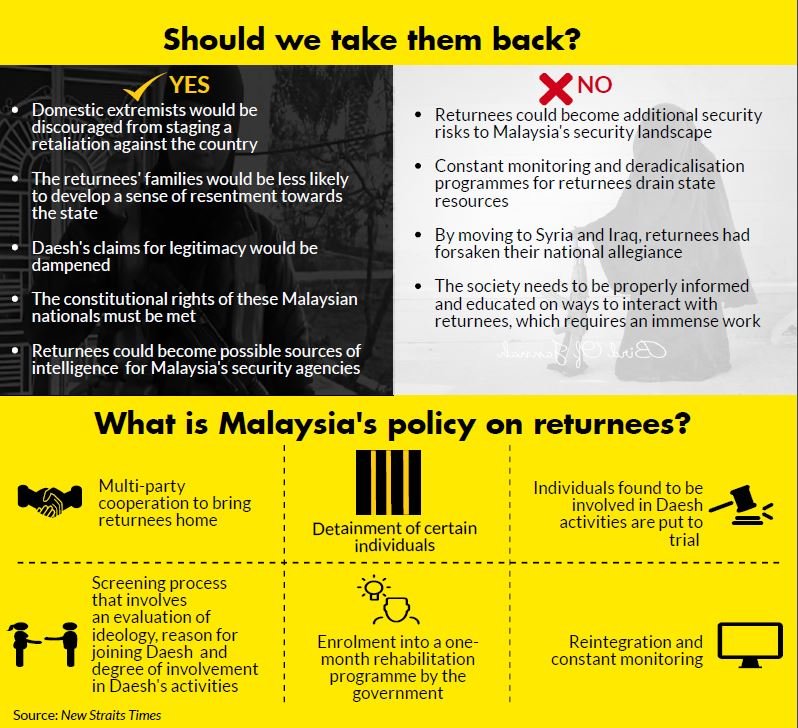 Seriously, the Pakatan Harapan government needs to go to a corner and reflect on its decision when it comes to bringing former ISIS terrorists and their radicalised families back to Malaysia. Why we are rolling out the red carpet to these terrorists? Infographic source: ISIS
These ex-Malaysians had gone willingly to Syria (in fact, sneaked in), joined the Islamic State (ISIS) and participated openly in the orgy of killing & torture of innocent people. Now, these terrorists have been defeated, they want to return to the safety & comfort of home – all paid by Malaysian taxpayers.
In case anyone has a delusion on how evil ISIS was, this is a summary of wrongdoing that was documented by the United Nations:-
The latest report issued by the Office of the UN High Commissioner for Human Rights and the UN Assistance Mission for Iraq, "The Protection of Civilians in Armed Conflict in Iraq," catalogues the human rights atrocities committed by ISIS, making it abundantly clear that this group is evil. They include:-

1. Attacks directly targeting civilians and civilian infrastructure,
2. Executions and other targeted killings of civilians,
3. Abductions, rape and other forms of sexual and gender based violence perpetrated against women and children,
4. Slavery and trafficking of women and children,
5. Forced recruitment of children,
6. Destruction or desecration of places of religious or cultural significance,
7. Wanton destruction and looting of property, and denial of fundamental freedoms.

(Source)
So while one wonders why Malaysia decides to allow these former terrorists and their families when there is a serious risk to public safety, Indonesia decided to take a strong stand on these former terrorists and their families:-
Indonesia has sealed the fate of hundreds of its citizens and former nationals drawn to fight for the Islamic State group, in a Presidential decision blocking a return to their homeland.

Immediately after his two-day state visit to Canberra, Joko Widodo settled on a decision that had vexed his Government for months.

Most of the estimated 689 men, women and children who joined the fight for the Islamic caliphate in Syria and Iraq will be left stranded in the Middle East because of the ban.

At the end of a cabinet discussion at the Presidential Palace in Bogor, Indonesia's Coordinating Minister for Security Affairs, Mohammad Mahfud MD, said the safety of 267 million citizens had to be protected from what he called the ideological "terrorist virus" of the foreign fighters.

Cabinet's deliberations had been based on advice from the anti-terrorism agency BNPT and police.

President Jokowi's cabinet meeting in Bogor did not discuss the finer points on their legal status before reaching a decision Mr Mahfud said was made "because if these people are returned, the terrorist virus could make the rest of Indonesia feel insecurity".

(Source)
Yes, terrorism is a major concern to all countries including Malaysia and with respect to our Counter-Terrorism Division of PDRM, we have arrested a generous number of Malaysians and foreigners suspected of being involved with terrorism.
Are we ready for the influx of former ISIS terrorists coming back to their home countries? Do we really think that they have changed and have washed the blood off their hands?
Of the 41,000 people believed to have travelled to join the self-declared caliphate, an estimated 1,000 people were from Southeast Asia, some of whom have already returned to plot attacks in their home countries.

"If you see the fall of ISIS (Islamic State in Iraq and Syria) and say that we're going to enter a peacetime period, (you'd be) wrong," warned Ahmad El-Muhammady, a counter-terrorism analyst at the International Islamic University Malaysia.

People often make the mistake of thinking that once a terrorist organisation has been crushed, "it's dead". But its members would spread globally and could remain "hidden from the government radar".

"We're going through the hibernation period. We're going to see another rise," he told the programme Insight.

(Source)
We need to take a stronger stand and ensure that these terrorists do not filter into the country. We should stop them, not roll out the red carpet for them. Yes, we will be closely monitoring them or imprison them if they are guilty of terrorism.
Why then waste taxpayers money and resources on these terrorists? They are nothing but in the end, sleeper cells that are dormant because they wanted to escape Syria but once they are back home, there is nothing to stop them from becoming active again.
These former ISIS terrorists have burned their bridge the moment they left their home country and joined the terror group that had tortured and killed so many innocent people. They have innocent blood in their hands. The stand that is made by the Indonesian President is the correct way to go.