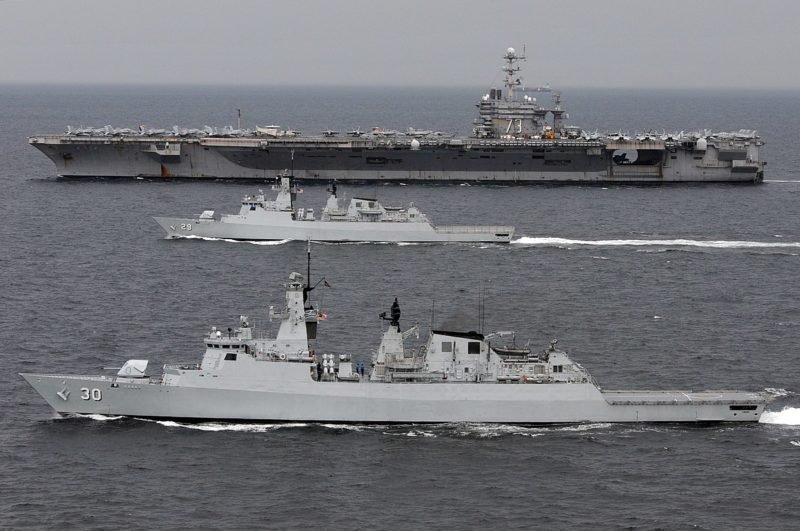 When it comes to guarding the illegal refugees, illegal fishermen and terrorists from intrusions of the borders of this nation, one can say that the Malaysian military such as RMN has been done rather quite well. Of course, there are some shortcomings in the form of coordination enforcement and equipment that need to be fine-tuned. Image source: Wikipedia
Gempita Mobile Intrusion Detection
It feels very proud to acknowledge the capabilities of our military forces to maximise and reutilise military assets when it comes to deterring the influx of illegal refugees/immigrants:-
An attempt by five Indonesian men to sneak out of the country through an illegal route in Kota Tinggi was foiled by the 61st Royal Artillery Regiment (61 RAD) of the Malaysian Armed Forces (MAF) 61st Royal Artillery Regiment (61 RAD) today.

The Malaysian Third Infantry Division Headquarters, in a statement today, said those detained were aged between 23 and 40 years.

It said the arrest was made at 4 am in Kampung Gambut Punggai following information from the Second Regiment of the Royal Armoured Corps (2 KAD) which detected a boat approaching the village through it Gempita armoured-vehicle radar surveillance system.

"Based on the information, a team from 61 RAD, led by Captain Norhisham Iswandy, from the Tanjung Sepang military post was deployed to conduct security patrol around the village, where they came across a suspicious boat located 50 metres from the beach.

(Source)
Even though Malaysian Armed Forces have moved on from 1970s equipment, I always find SIBMAS impressive and well designed. Image source: Wikipedia.
Before AV8 Gempita entered into service with Malaysian armed forces in 2014, we had the SIBMAS (of which Malaysia is the sole operator) and Condor (of which Malaysia is one of the largest operators in the world). Both of which was developed in the 1970s may not have the necessary mobile detection radars even though in 2016; there were plans to upgrade the overworked Condor APCs.
Lahad Datu Intrusion
Of course, this type of detection was missed out in 2013 when about 235 militants sneak into the State of Sabah from the southern Philippines and this started a war of which 10 of Malaysian armed forces was killed in action.
Despite the fact that there always been one form of turmoil after another, kidnappings and robberies South of Philippines and there was been intrusions (which involved kidnappings & murders) in the past, a possible intrusion of hundreds of heavily armed militants did not cross the mind of the authorities?
But then lesson learned and now these borders are watched even more closely than ever. The threat is there still and the detection of such intrusion is more critical
Since 2018 to date, the security forces have thwarted 40 kidnapping attempts in the waters off seven districts in the Eastern Sabah Security Zone (ESSZone), Eastern Sabah Security Command (ESSCom) commander Hazani Ghazali (photo) said this was due to the close cooperation of the Royal Malaysia Police, Malaysian Armed Forces and the Malaysian Maritime Enforcement Agency.

He said measures to enhance security by tightening control at risky routes were able to detect the kidnap-for-ransom activities carried out by terrorist groups from the southern Philippines.

(Source)
The solution for this need to come from the Philippines – either promote greater autonomy with zero tolerance for armed resistance or total annihilation of all armed factions at South Philippines.
MH370 Turnaround Detection
Another event that highlighted the failure of military detection is when the MH370 went missing.
In this case, the air force detected the airline made the turnaround back to Malaysia but it was not triggered as an intrusion which is why the air force did not scramble the fighter jet to intercept it. It was not deemed as a hostile element which caught some off-guard:-
When the plane disappeared from secondary radar near a waypoint called IGARI it was on the boundary between Singapore and Ho Chi Minh FIRs.

It then turned around and flew along the border between Kuala Lumpur and Bangkok FIR.

According to 2015 book 'The Plane That Wasn't There' MH370 was picked up by both Thai and Malaysian military radar, but both ignored it thinking the other would respond.

"Because if you fly down the FIR boundary the controller on each side might assume the other was controlling you.

The evidence collected by Mr Wise suggests that, in this way, MH370's hijackers used the boundary to fool the air traffic controllers into inaction.

Neither side tried to find out what the aircraft was doing or why.

Mr Wise said: "Not until it was practically on top of the Malaysian Air Force base at Butterworth did the plane break into the middle of Malaysian airspace and dash out of radar range.

"If MH370 was being steered in such a way as to avoid detection, the plan worked.

(Source)
This is consistent with the latest revelation here where based on simulations, the air traffic controllers were misled on purpose.
Detection of Rohingya by the Thais
As everyone in this region knows, the main destination of Rohingyas running away from Myanmar is firstly Bangladesh and then Malaysia. There have been numerous times when RMN vessels managed to intercept boats carrying these refugees and turn them away.
Interestingly such detection of these boats carrying the Roghinyas is lacking with the Thai Royal Navy:-
Thailand's navy insisted Friday that its ships had not located a boat carrying hundreds of Rohingya refugees after Malaysia's coast guard chief claimed it was in Thai waters and had been blocked from entering Malaysian territory many times.

"The Navy only heard about Rohingya boats in territorial waters from news reports. Malaysia did not contact us over the boat's presence there," Royal Thai Navy Spokesman Rear Adm. Prachachart Sirisawat told BenarNews on Friday.

(Source)
One wonders if this is because the Rohingyas end destination is Malaysia and not Thailand.
China's Intrusion in Malaysian Waters
And finally an update on the regular intrusion of China's naval and coast guard vessels in Malaysian waters:-
Anifah also criticised Hishamuddin's claim on July 15 that there has been no further encroachment in the South China Sea and said the latter was either "in denial or ignorant of the facts".

"It was only in April that a flotilla of Chinese enforcement vessels was sighted accompanying a Chinese survey vessel within Malaysia maritime areas.

"Further, I was reliably informed that Chinese coast guard vessels were sighted in the vicinity of Beting Patinggi Ali in May, June and July," he said.

(Source)
Just like the various intrusions that are happening with the Chinese military, it is foolhardy to expect Chinese after so many incidents of intrusions to just keep their hands off and restrict the movement of their naval vessels. It is, in fact, the opposite as this tweet shows:-
Malaysia's FM says there have been no Chinese ships in Malaysian waters for 100 days. But there have been. Every. Single. Day.

CCG 5203 patrolled Luconia Shoals from Apr 2; replaced by 5204 on May 22; replaced by 5202 on July 7. Here it is today. https://t.co/Y6S7NhfG2K pic.twitter.com/8vLPj1y41w

— Greg Poling (@GregPoling) July 15, 2020
We do indeed need to invest more time and assets to detect and enforce on our stand on any intrusion of foreign elements from our borders. Whilst it is easy to detect large vessels like those of China's Coast Guard vessels which has some of the bigger vessels todate, smaller ones carrying illegal immigrants, refugees, foreign fishermen and armed militants would be a bigger challenge.
After all, Malaysian coastline is not small – it is about 4,675 kilometres (comparatively Spain's coastline is 4,964 kilometres).