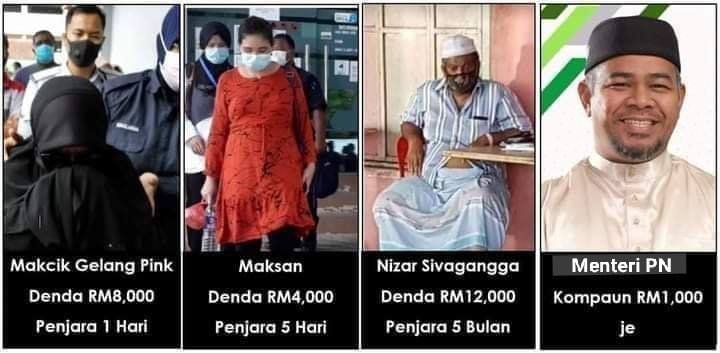 (The law is equal to all – in other words, there is no one above the law so the application of the law to anyone would need to be the same. But in reality, there seems to be some inequality when it comes to enforcing the law. Image source: Facebook) 
The problem with some politicians in the country is that once they have broken a law, instead of accepting that they have knowingly or unknowingly broken the law and apologising and taking the punishment under the law, they lie and try to cover it up with dumb excuses. This despite the SOP provided by the Ministry of Health is crystal clear on the matter.
Malaysian minister Khairuddin Aman Razali has been criticised for breaching mandatory quarantine orders after an overseas trip, and over the relatively small fine, he received.

Malaysia's social media users and opposition on Saturday criticised the Health Ministry's decision to fine a government minister who failed to self-isolate following an overseas trip just 1,000 ringgit (US$239), far less than the penalties imposed on other citizens who committed similar offences.

The government came under heavy criticism this week over the saga involving Plantation Industries and Commodities Minister Khairuddin Aman Razali, who returned from a trip to Turkey on July 7 and attended Parliament five days later.

Under current rules to curb the spread of the coronavirus pandemic, all inbound travellers must isolate themselves at home or in government facilities for 14 days and be subject to at least two tests.

Officials this week said Khairuddin's case was being investigated, raising hackles that the government was dragging its feet on the matter in the hope that his transgressions would soon be overshadowed by other pressing issues.

(Source)
It took him almost 2 weeks after furious brickbats, bad raps and yes, 27 police reports; before he finally apologised probably reluctantly and even offered to return his salary for the COVID19 fund. It is obvious that he still misses the point.
Plantation Industries and Commodities Minister Datuk Dr Mohd Khairuddin Aman Razali today apologised to Malaysians for breaching the Recovery Movement Control Order (RMCO) Standard Operating Procedures (SOPs) and regulations.

He will also return his salaries as a minister from May to August, and contribute the amount to the National Disaster Relief Fund (Covid-19 Fund).

(Source)
If the main offender did not get the point, those supporting him make an even bigger dumber statement:-
PAS deputy president Tuan Ibrahim Tuan Man has stressed his belief that the furore surrounding the case involving Plantation Industries and Commodities Minister Mohd Khairuddin Aman Razali is not warranted because the latter did not cause any Covid-19 outbreak cluster.

"He has paid a maximum compound of RM1,000, he has no cluster. He has made a swab test, and his mistake has already been paid for," Tuan Ibrahim told the media after the presentation of special donations and Covid-19 kits to schools in Kota Bharu today.

(Source)
This is a very stupid statement but what else you expect from such politicians who talk without thinking that there is nothing to worry because it did not cause a COVID19 cluster. What would have happened if this violation of SOP caused a major outbreak cluster and deaths? What excuse that these politicians will give then? Would they dared to show their faces in public?
Firstly these people need to understand why we have a strict SOP in place – it is not for showing off to others or for the sake of having something in place. It has its objectives and targets to meet. Secondly, these people who violate these SOPs are not ordinary, uneducated (well, they may be educated but it does not mean they acted logically) people. The violater is a Minister in the current Government which is in the midst of a battle against a global pandemic. It is expected that these politicians need to set a good example by following the law.
The fact is people are not dumb and given that we have been living under some form of a movement control order, the SOP and the law for quarantine is crystal clear to everyone.  By now the new norm of lifestyle in this pandemic dictates that when flies back to Malaysia, they must be in quarantine for at least 14 days. They should not be roaming around as there is a high risk of them spreading to others. The point of quarantine is to stop the spread and control so that infections are minimal. Any violation of these SOP will cause not only further infections but also deaths.
The last thing we need after such violations from VVIPs is denials, lies and dumb statements to cover the breach. A simple and sincere apology from the start would appease a lot of noises. And then needs to immediately acknowledge his mistakes and quickly rectify the mistake. He should not wait for weeks.
Stupidity and ignorance have its limits.