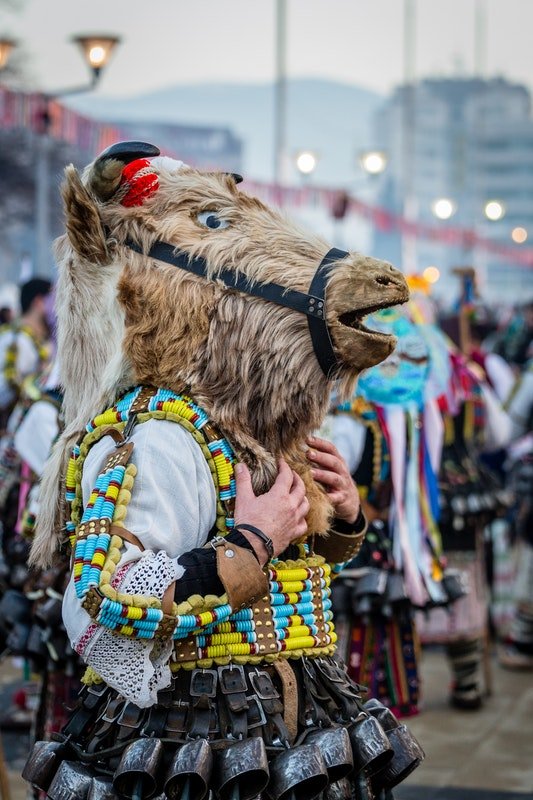 (Who is the real bogeyman in Malaysia? Some people determined to prove that it is none other than fellow Malaysians. Photo by Chavdar Lungov from Pexels)
The 53rd anniversary of our independence is just around the corner, and yet we continue to read this nonsense that causes us to go after the wrong bogeyman – we should be ashamed of ourselves.
More Malay Than A Malay Nonsense
Read this first:-
In response, Tee said that the country does not want Ang's children, whether legal or illegitimate, a favourite line he continually implies about the Chinese.

"She does not need to send her 'children' (if any were legitimate) to national school, if she is not confident with the national school or she is scared that her 'children' will become Malays. Her 'children' are not needed here.

"Just send her 'children' to schools in her homeland or overseas. The presence of 'children' are not needed here," he said in a personal attack on Ang, who has also had two police reports lodged against her over her article.

(Source)
This was the comment from Mohd Ridhuan Tee bin Abdullah (known as Ridhuan Tee) who is a Chinese Muslim who spend a good deal of his time criticising the Non-Malays and Non-Muslims trying to be a righteous preacher.  He has created a bogeyman out of nothing and spends a good deal of time and energy going after this wrong bogeyman. One has to say that he is trying to be a Malay more than a real Malay. Well, he is not alone as there are a few Indians doing the same nonsense.
When A Malay Whacks Ridhuan Tee
In response to that article, Aizuddin Danian (a well-known blogger and IT strategist) said this:-
People like Helen Ang have proven themselves capable of critical thought. She's taken an issue, examined the facts, and presented her argument in favour of her case.

Instead of engaging her in discussion (Heaven forbid, she might have a valid point, who knows?), she becomes the subject of ad hominem attacks, and rudely invited to leave the country.

The worse thing for Malaysia is for her, and people like her (people capable of analyzing a problem and presenting a rational case), to take up the Lambs' offer and leave. Just like any one of the 3 million Malaysians or ex-Malaysians who make their living away from the Motherland.

These are people who are able to compete at a global scale, world class human beings so to speak. Isn't it a shame that many prefer not to ply their trade in our shores? Can we blame them for choosing greener pastures, or do we blame Lamb's like Dr Mohd Ridhuan for driving them away by denying them the greens of our own garden and forcing them to make do with a diet of rocks and stones?
Somewhere else, we read this:-
Malay rights group Perkasa has urged the government to review the proposal to carry out open tender for the sale of strategic land, saying the move could erode "the little remaining assets owned the Malays and Bumiputera."

(Source)
That call was objected with this:-
Open tenders by the government for the sale of strategic land would not erode Malay interests, says Kedah Gerakan Youth

(Source)
In every "race" in Malaysia for many years now, we have been fed with an invisible bogeyman from time to time by greedy, twisted politicians and agenda filled race-based NGOs.
Identifying The Real Bogeyman
The Malays for example have always been told that the non-Malays in particular the Chinese are the bogeyman, out to get them, out to strip them of their "rightful" rights and powers (even more so after the opposition had a major win in the last general election).
The non-Malays on the other hand have been told that the implementation of the Islamic way of life, is the bogeyman that will erode their beliefs and cultural values. So, that is what we been told explicitly and impliedly, over many forms of media.
And for those who had never ventured out from the country, the only "foreigners" they see on daily basis are Malaysians from different cultural and racial backgrounds and with the constant lies by the politicians and NGOs; fear for fellow Malaysians is created.
The Wrong Perception of Pendatang
To create further uneasiness, fellow Malaysians are also been labelled as "pendatang" (immigrants or squatters) by, ironically, the very people whom ancestors were immigrants themselves.
Khir Toyo's father for example was from Indonesia, Ahmad Sabri's grandparents were from India and the Mohd Ridhuan who rudely asked Helen Ang to send her "illegitimate" kids to her "homeland" – ironically his own ancestors were from China. At end of the day, we are all "pendatang" but you make yourself looking like an idiot when you start calling others "pendatang" but failed to recognize that you are a "pendatang" too.
They don't realize how small we are when we are against the global community and only by being strongly united we can bring up this country at par with the developed countries. It is not the time to create fear and uneasiness among fellow Malaysians and foreign investors as a whole – not when we are seeing the Foreign Direct Investments figures plunging down in recent months.
Instead of "conveniently" putting the blame on fellow Malaysians for all the shortcomings, self weaknesses and as a means of unity in the community against the oppositions, let's focus on slaying the REAL bogeyman, shall we?
Implementation of NEP, NEM, Affirmative Policies
Some NGOs says that Malay rights will be eroded with the removal of NEP but everyone knows that whilst the spirit of NEP is highly commendable, the implementation of the NEP has not been one. The PM's banker brother even goes on to say that the NEP has been "bastardised":-
The New Economic Policy (NEP) is "bastardised" as it deviated from its goal of poverty eradication, CIMB group chief executive officer Datuk Seri Nazir Razak said.

He said the NEP, formulated by second prime minister Tun Abdul Razak Hussein, had come a longway from a social engineering experience, which was aimed at uplifting the livelihood of the people, especially Bumiputeras.

"But now, it (NEP) is so embedded in everything we do, in every part of government and businesses that it has become a problem. And every time I mention the NEP, I get blasted."

(Source)
Many in the Government do realise the weaknesses in the implementation of policies such as NEP (now re-coated as NEM) but when it is raised, it is faced with objections. Often the question on the weaknesses of the implementation (and not the policy itself) is often met with claims that it is questioning the Malay rights. At the end of the day, the weakness in implementation remains unresolved and is left to be abused further.
Tony Pua of PR recently suggested the removal of Bumiputera discounts for properties more than RM500,000 and rechannel that money for Malays who did not have enough money to buy properties. His suggestion – instead of reviewed positively (to redistribute wealth from the rich to the poor), was taken as questioning the Malay rights. Tony Pua in the end got a death threat and bullets in his mail.
Mismanagement of public funds
Wastage of taxpayers money by expensive and wasteful projects is nothing new in Malaysia. The Malays form about 60% of Malaysians on whole. So, if the Government can be more prudent with its spending, curtail unnecessary wastages and channel the available funds for development where the people will benefit to the maximum, who benefit the most? Mismanagement of public funds is one bogeyman that these racial politicians and NGOs should focus on.
And with mismanagement of funds, we all know, corruption usually tags along.
MACC has started to work its way to nab the bigger fish but it is has a long way to go before it can gain the public trust and respect. Sarawak Report has been uncovering pretty interesting revelation on a certain Chief Minister and his family's wealth. Based on the allegations (backed with documents and facts), there seems to be a clear case of mismanagement of funds, abuse of powers and no proper distribution of wealth from the state to the people. But then again, this could be just the tip of the iceberg. Corruption is another bogeyman that has been let on loose for a very long time now.
What is Quality of Life?
Malaysia is not far off in terms of quality of education but how far we are off from creating quality graduates? Students are not allowed to participate in politics and those who go against the establishment are often punished. How many of the graduates are allowed to think rationally and out of the box? How many of them is well equipped to meet the challenges of today and excel in any fields they are in?
We already dismissed the English language in favour of the national language but for the wrong reasons. Can we maintain the quality? So, instead of creating fear among Malaysians, why can't these politicians and NGOs fight for better schools and quality graduates?
There has been a call to review and revise the minimum salary for Malaysians and whilst the cost of living has gone up (what more with the removal of government subsidies on key consumer items), it has been unfortunate that the general level of disposable income of Malaysians has not gone up accordingly. At the end of the day, Malaysians find that it is getting more difficult to bridge the expense–income gap. So, instead of creating fear among Malaysians, why can't these politicians and NGOs fight for better wages? Do better wages mean a better business environment – are we in the right position for that? Fear against fellow Malaysians is not the right factor to create an ideal business environment.
Final Say
The above are just a handful of issues that the politicians and NGOs can spend time on for the betterment of the community instead of wasting time hunting for a bogeyman that is not – fellow Malaysians. It is better for Malaysia and for the community. Let's slay the real bogeyman instead of wasting time creating disunity among fellow Malaysians. Not when we are turning 53 years old.
I once watched a movie where a man is seen heading the shouting at a political rally. He looked so emotional and nothing seemed to stop him from making a point. When a friend asked him why he is participating in this rally, he said he did not know. He heard people shouting and decided to join in.
Similarly, let do the fighting where it is needed the most – real issues that affect all Malaysians. Let's not make a fool of ourselves by creating an issue that distracts the rest from the real issues and get overworked with it.  Let's not shout for the sake of shouting. After 53 years, we certainly can do better than this.