Red has been the universal colour of fire rescue trucks all around the world whilst yellow or green is the usual colour for fire rescue trucks stationed at airports (as it is more visible in low lights). Image source: Wikiwand
Some of them are capable of carrying up to 17,000 litres of water in the truck. Given the vast types of truck manufacturers and fire fighting equipment suppliers, every country had its unique fire trucks based on the infrastructure and fire fighting missions.
Read These First:-
Anatomy of Fire Rescue Truck
Malaysia Fire Service Department deploys a number of fire trucks and equipment to handle different types of fire and emergencies.
The main two types of fire trucks that one often sees in Malaysia are the Scania Medium Fire Rescue Tender (like the one above) and Mercedes-Benz Atego Light Fire Rescue Tender. Image source:  CEphoto, Uwe Aranas / Wikimedia.
This is a good video of the various equipment that the Malaysian fire truck carries during a standard fire fighting and rescue mission.
One of the key pieces of equipment that all fire trucks must-have is the high powered water pump – a standard water pump is capable of pumping around 2,250 litres per minute. This is to ensure the water can pump as far as possible and as much as possible. The other standard types of equipment include ladders, oxygen tanks for the fire-fighters, a hydraulic rescue tool known as the Jaw of Life, high-pressure hoses (capable to stand 290 PSI of pressure), spotlights and hose connectors.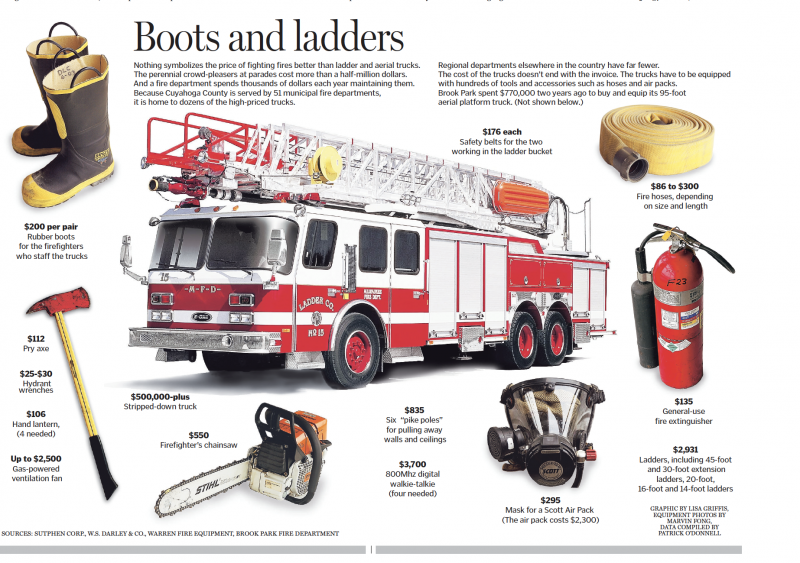 It is said that a standard fire engine and including the standard types of equipment does not come cheap. Image source: Cleveland News
Malaysian Fire And Rescue Service
The Fire and Rescue Department of Malaysia is famously known locally as Bomba (which is said to be derived from the Portuguese word bombeiros which means 'firefighters'). The fire fighting infrastructure in the country is quite good by international standards.
The Fire and Rescue Department (together with other governmental agencies and voluntary fire-fighting units) are well equipped to handle fire and rescue from land, sea and air.
This celebration from the 2019 Hari Bomba is a good event to showcase the various units within the Fire and Rescue Department together with the different types of fire fighting and rescue equipment.
This includes the Rapid Intervention Motorcycle Team (RIM) using the Honda ST1300 and Kawasaki Versys 650 superbikes to ensure a quick response within the major cities where traffic jams can hinder the timely arrival of the fire engines.
The RIM response team is usually operating in a team of 3 and carrying different types of equipment from fire extinguishers, water hose, self-contained water supply, first aid and even the large hydraulic rescue tool.
The other speciality of the Fire and Rescue Department is the Special Air Services which handles aerial fire-fighting, medical evacuation, aerial command centre and transport of men and goods to disaster areas.
The Russian made Mil Mi-17-1V heavy utility helicopter is also the workhorse of the Indian Air Force for the heavy-lift & rescue missions. Image source: Alec Wilson / Flickr
They are well trained by the Malaysian Armed Forces and operates a number of helicopters starting off with the rugged, battle-proven Russian made Mil Mi-17-1V heavy utility helicopters and moving on to the Italian made AgustaWestland light and medium utility helicopters. Not many countries' fire department has their own dedicated aerial firefighting units.
There are other specialised units such as HAZMAT that handle hazardous chemical and radioactive spills and STORM (Special Tactical Operation and Rescue Team of Malaysia) that handles specialised search & rescue.
Fire Rescue Volunteers Teams
In addition to the standard full-time fire-fighting units, Malaysia also deploys volunteer fire and rescue units that are usually attached to large factories, rural villages, local communities or local businesses.
There is a big difference in the level of equipment between a Government-backed fire department and a volunteer fire department that relies on donations. The volunteer fire truck seems to be from the 1960s but it gets the job done. Image source: Pasukan Bomba Sukarela- PBS Kg Lalang Facebook Page
Unlike the regular Fire and Rescue Department units, the fire truck, fire fighting equipment and even uniform (which is yellow compared to the standard orange) are sponsored by the local businesses or by the volunteers themselves. It is unlikely to be brand new – I recall watching a video of a local workshop donating a second-hand water pump that they managed to source from China for one of these volunteer fire and rescue units.
This is a video of the volunteer fire rescue unit stationed at Sungai Puyu, Butterworth as they rush to the scene of a car caught on fire. You will noticed even the siren sounds different but kudos to fellow Malaysians who quickly give way to these volunteers to reach the scene as quickly as possible. Notice their spotters and other volunteers are not in uniform but they treat the matter seriously.
Never underestimate their fire-fighting skills and commitment by the old weary fire trucks and the lack of proper fire retard uniforms of these volunteers. They get the job done as good as the normal Fire and Rescue Department units but in their own ways namely by having their spotters to be on-site to evaluate the situation and update the fire-fighters as they rush to the scene.
At times of large fires, they also provide additional support in terms of manpower and backup water supply to the Fire Department.
Final Say
Whether it is a case of falling World Trade skyscrapers in New York during the 9-11 attack or a car on fire due to a riot at a temple, the brave firefighters have always been the first ones to rush in to rescue. Unfortunately, some of them have lost their lives doing what they were trained and committed to.
Personally, I count Malaysia as blessed with 2 main things – a well equipped Fire Department that can handle any situation including chemical spills and Malaysians who acknowledge and give priority to emergency vehicles whenever they are rushing to an emergency.
They deserve our respect and admiration, always…