Frankly speaking, the Malacca state elections was an event that should NOT have happened in the first place and caused the taxpayers RM46 million. Image source: Wikipedia
It happened because 4 politicians from the ruling BN + PN coalition decided to rebel and pulled out their support for the existing State Government. Back then BN+PN had 14 seats against Pakatan's 11 seats and once this happened, PH had one seat advantage that could have seen them taking over the state.
Read these first:-
The 4 who rebelled were:-
Datuk Seri Idris Haron – assemblyman for Sungai Udang. He was from BN but later jumped into PKR for the state elections
Datuk Nor Azman Hassan – assemblyman for Pantai Kundor. He was from BN but later jumped into Amanah for the state elections
Datuk Norhizam Hassan Baktee – assemblyman for Pengkalan Batu. He was from DAP before becoming a pro-BN independent candidate. He remained as an independent for the recent state elections
Datuk Noor Effandi Ahmad – assemblyman for Telok Mas. He was from Bersatu faction that formed part of the Perikatan Nasional coalition. He did not contest in the recent state elections
Malacca State Election Outcome
The outcome of the election favoured BN who not only saw them holding on to the reins of the state government but also increased their number of seats from the earlier 14 seats to 21 seats.
Barisan Nasional (BN) candidates romped to victory in the Melaka polls yesterday, winning 21 seats from a total of 28.

In total, 95,157 votes were cast for BN candidates with the largest margin of victory coming in the Lendu seat where the party's chief minister candidate Datuk Seri Sulaiman Ali won with 4,486 votes compared to Bersatu's Major Abdullah Mahadi with 1,382 votes, a difference of 3,104 votes.

BN component parties MCA contributed two seats (Machap Jaya and Kelebang) and MIC one seat (Gadek) to its total 21-seat tally

PH component party DAP's candidates won with huge margins in their constituencies.

PH's main party PKR, meanwhile, lost in all 11 seats that it contested and saw its state chief Datuk Seri Shamsul Iskandar Md Akin losing in Paya Rumput.

PN component party Parti Pribumi Bersatu Malaysia (Bersatu) won two seats in the form of Sungai Udang and Bemban.

However, PN's other component parties PAS and Gerakan won no seats yesterday.

(Source: Malay Mail)
The biggest loser was Pakatan Harapan who saw their 15 seats in 2018 trickle down to just 5 in 2021 with PKR who initially had 3 seats winning none in 2021. DAP saw a half of their seats going to BN whilst there was no change for Amanah who held 2 seats for both 2018 & 2021. The 3 rebels who recontested did not win to keep their seats.
PAS who won nothing in 2018 understandably did not win anything in 2021 despite their presence at the Federal level.
What Went Wrong For Pakatan Harapan?
Frankly speaking, I did not expect Pakatan to regain control after the state elections considering they have been screwing up their chances long before the actual Malacca elections. It has nothing to do with the other screw-ups when they were in power after they unexpectedly won the 2018 general elections.
Let's consider some of the missteps that happened before the elections.
Well said – frogs or politicians who "jump" ship from one political party to another in any form just before the elections will not be acceptable as credibility works both ways. The worse ones are the frogs who caused the elections in the first place. Image source: Fahmi Redza
Accepting Rebel Frogs
Accepting rebel politicians who caused the fall of the State Government and State Elections into Pakatan Harapan would probably be the key factor of dissatisfaction. Many were not happy with this move and despite the warnings, disagreements and even DAP raising it to PKR & Amanah, these rebel politicians were accepted.
Rafizi Ramli has warned PKR not to take risky shortcuts in their zeal for power in Melaka by embracing "problematic frogs" like former state chief minister Idris Haron and three other assemblymen.

Their defection led to the collapse of the Barisan Nasional-led (BN) state government, resulting in the Melaka state election that has been fixed for Nov 20.

"The people have suffered from the Covid-19 pandemic because of the struggle between BN and Perikatan Nasional politicians for political power and wealth.

"Plus, these four have a bad track record, with some of them having the knack for insulting others. These are not the type of candidates that we want to present to the people."

(Source: Free Malaysia Today)
Even MCA from BN found it "amusing" that Pakatan was willing to roll out the red carpet to the very politicians that brought chaos to the state government, causing elections.
Pakatan Harapan and its chairman Datuk Seri Anwar Ibrahim's attempt to legitimise the "two Melaka frogs" contesting under the pact's banner is amusing, MCA Melaka's Bemban candidate Datuk Koh Chin Han said.

Koh pointed out that PH's decision to field former Umno men Datuk Seri Idris Haron and Datuk Nor Azman Hassan for the Asahan and Pantai Kundor seats respectively went against the coalition's promise to never accept political frogs.

(Source: NST)
The Timah fiasco would probably be one the dumbest issues that were raised by politicians this year that saw a lot of noises but caused nothing – the manufacturer keeping the name and image in the end. Image source: Winepak International
Timah & 4D Shop Ban Fiasco
There was an eerie silence from PKR & Amanah on the Timah & 4D shop ban in Kedah. Only DAP was proactively pursuing this matter despite it being obvious that PAS was abusing the notion of religion with petty reasonings. In fact, PKR made it worse:-
A PKR lawmaker has likened drinking the controversial Timah brand whiskey to "drinking a Malay woman".

Rusnah Aluai (Pakatan Harapan-Tangga Batu) said the brand and the imagery used was too confusing and should be changed.

"It is not good for women, because Timah is imagined as a Malay woman, kak Timah, mak Timah, mak cik Timah, so when we drink the whiskey it is as though we are drinking a Malay woman," she said in the Dewan Rakyat today while interjecting in a debate amendments to the Trade Descriptions Act.

(Source: Malaysiakini)
Although she apologised after criticisms, the damage has been done. Amanah on the other hand was the trigger point for the Timah fiasco:-
However, Amanah, which is deemed a progressive Islamic party, has also perpetuated the Timah race-baiting in an effort to attack its rival PAS – a tactic the latter has caught on to.

Malaysia Dateline – a portal closely linked to Amanah – also published an article on Oct 15 claiming that the name Timah is a derivative of Prophet Muhammad's daughter Fatimah.

Amanah vice-president Mahfuz Omar said branding an alcoholic beverage as Timah was insensitive to Muslims.

(Source: Malaysiakini)
Pakatan's MOU with Sabri's Government
Back in September 2021, Pakatan Harapan signed an MOU with Ismail Sabri that covered a number of understandings such as:-
1. Parliament will not be dissolved before Jul 31, 2022
2. PH to support or abstain budget 2022 vote
3. Anti-party hopping law (but PKR & Amanah accepted party hoppers), UNDI18 (delayed with the excuse of maturity) and limiting PM's term to 10 years
4. Equal funding for the government, PH MPs
5. Strengthening COVID-19 management
The push for transformation and stability in the memorandum of understanding (MoU) between the government and Pakatan Harapan is not reflected in the 2022 budget, says DAP's P Ramasamy.

"It appears that the MOU is seen as benefiting the government more than the opposition.

"It has failed to respect and honour the support given by the opposition. It has not mitigated the pernicious effects of racial and religious extremism," he said in a statement today.

(Source: Free Malaysia Today)
Pakatan's partner in Sabah also had voiced the same concerns.
Datuk Seri Mohd Shafie Apdal has slammed Pakatan Harapan for signing a memorandum of understanding (MoU) with the government.

He said Pakatan received their mandate, as Federal Government, but was "stolen" following the "Sheraton Move" last year by the same parties they now seek to work with.

"Yes, we agreed (the mandate was stolen) and yet, now, we are working with them. As a leader and a politician in this country, we have to have clarity," the Parti Warisan Sabah president said while debating the Royal Address in Parliament on Wednesday (Sept 15).

(Source: The Star)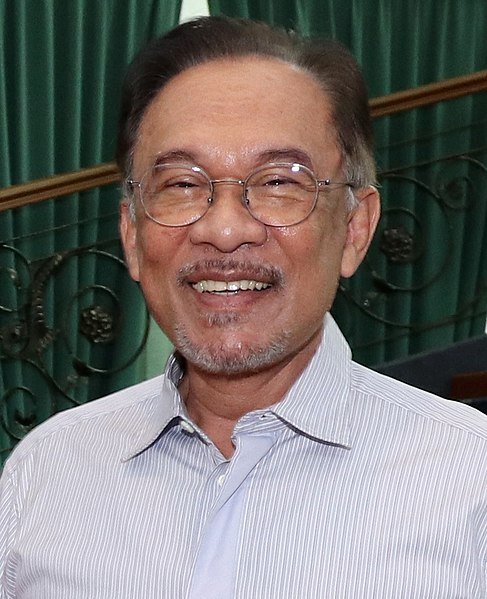 To be frank, without Anwar Ibrahim, there is no Pakatan but after sodomy cases and failed claims of politicians changing sides to support Pakatan, the question has been raised on whether he still needs to be the main face of Pakatan before the next General Elections. Image source: Wikipedia
Issue With Anwar's Leadership
Whilst Pakatan Harapan works on the basis of an agreed decision taken up in the Presidential Council, the main thrust leadership under Anwar has been rather weak. That gap was filled by Dr M when he took rein before the 2018 general elections and remained the real leader until Dr M's Bersatu & factions from Anwar's own PKR decided to join forces with BN.
There have been some misses with Anwar wanting to bring in the number of MPs over to Pakatan and it has come to a point of the boy who cried wolf – no longer anyone believing him on politicians crossing over. Anyway, people have now decided on the position of 'frogs' jumping from one political party to another just before major elections – it is not acceptable.
In fact, Pakatan has started to look elsewhere for leadership for the next elections. The talk of Anwar being replaced by Shafie Apdal has been ongoing since last year:-
On Thursday (Dec 17) morning, as Parliament was about to wrap up its meeting, Datuk Seri Anwar Ibrahim (pic) was blindsided by what seemed like a plot to replace him with Datuk Seri Shafie Apdal as the leader of the Opposition.

It began with a joint press statement by Amanah president Mohamad Sabu and DAP secretary-general Lim Guan Eng that left PKR leaders fuming.

The pair called for a "political reset" in Pakatan Harapan, which many read as a not-so-subtle nudge for Anwar to make way.

The "reset statement" was actually quite politely crafted but there was no mistaking the message between the lines.

The gist of it was that since Anwar had failed to get the numbers needed to topple Muhyiddin, Pakatan should stop courting MPs from the other side of the political divide and instead expand its numbers with "friends from within".

The statement even described Anwar's bid to get the numbers as a "mirage".

(Source: The Star)
So should Anwar let go of the overall leadership of Pakatan Harapan or should he remain as the Opposition leader and try to fix the unfixable for the next elections?
It is a fact that he was unable to control the factions within PKR that saw Rafizi getting out in favour of Azmin who then backstabs the coalition by the infamous Sheraton Move. PKR elections are always a nightmare and often had issues at end of the day. So not surprisingly there are already voices within Pakatan Harapan questioning his ability to continue to lead the coalition to regain the lost seats from the last general elections.
It will be a tough mission considering that Dr M is no longer involved in Pakatan Harapan. Even if Dr M wants to come back to Pakatan and take up the lead, he has lost the creditability to keep his promises starting from the elections manifestos to agreeing to pass over the reign to Anwar.
The question is who can replace Anwar at the top before the elections then?
Presently the best choice would have been Mohd Shafie Apdal from Warisan of Sabah. But this again may have an issue considering how the East Malaysian politicians rather selfishly focus on East Malaysian issues rather than the one from Peninsular Malaysia. Just see how GPS in Sarawak operates on basis that they will support whoever agrees to their Sarawakian agendas.
So the next best thing that Anwar can do now is to groom and elect new young dynamic leaders who can take the team and he moves back into the background as an elder statesman and an advisor. In DAP, Lim Kit Siang has done the same but let's not talk about DAP for now – they have different demons to conquer.
Frankly speaking, the way to move forward would be with young leaders and not the same recycled old politicians who have not much in terms of progress and come up with policies that seem to keep the country in a vicious cycle, We need to start looking at the state of the country against others globally.
Final Say
Pakatan has a lot to ponder after the recent Malacca state elections that saw PKR not winning a single seat in the elections. What they have done to deserve such a bashing from the voters? Will the Pakatan leaders and their advisors see through their ego and past mistakes to see what went wrong and be brave enough to make the relevant changes?
More importantly, will they now instil discipline within their ranks not to indulge with race and religion-based issues but go beyond that? There should some sense of maturity by now considering how PKR and DAP are multi-racial, multi-religion political parties that will appeal to the newer generations who look at things globally.
There should not be mudslinging in the open between the various component parties under Pakatan and they should gain more parties against BN and PN. One needs to always show that Pakatan is united in all manners and in all situations. Pakatan definitely needs a reset in the form of more multi-racial, multi-religious young leaders and is disciplined enough to enforce the principles and to look at the bigger picture.