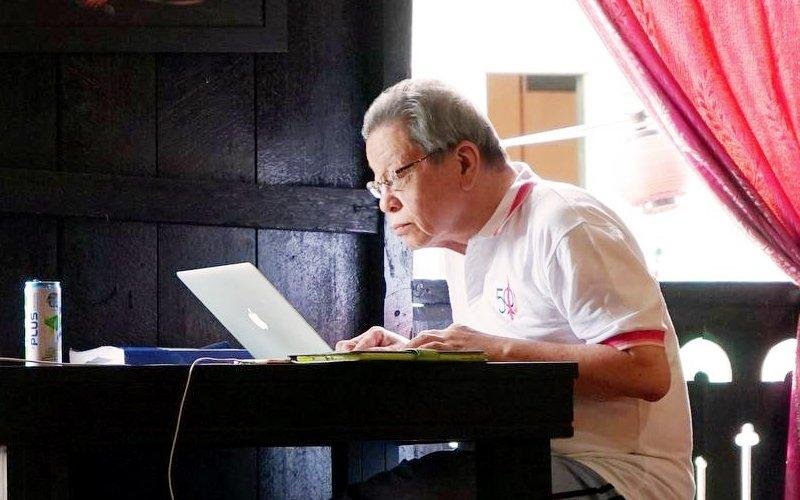 End of an era where YB Lim Kit Siang who has been instrumental in getting DAP to be part of Pakatan Harapan has finally called it a day and retired from active politics.
He was one of the first politicians to embrace the new school of using blogs and social media to share his political thoughts and concerns. Rest assured that he will remain an important advisor for DAP & Pakatan Harapan. Image source: Free Malaysia Today
Read these first:-
.
Rafizi Ramli Is Officially Back
There was an interesting talk show last Saturday where Rafizi and Permatang Pauh MP Nurul Izzah Anwar answered some tough questions and their aspirations now for Pakatan Harapan, now that they are back actively in PKR.
One of the reasons former Pandan MP Rafizi Ramli chose to return to politics at this time is the worry that Pakatan Harapan has lost support from fence-sitters.

When asked why he chose to return now, instead of before the Johor, Melaka or Sarawak state elections, Rafizi raised his concern that Pakatan Harapan is losing the battle to win over fence-sitters, who will ultimately become the kingmakers.

"A lot of my work before was not so much focused on Pakatan voters, but a lot of the work centered on voters on the fence. If there is any contribution that I can give during this short time before the general election, the time is now for me to provide assistance which may prove helpful," he said.

Pointing out a political situation in which three coalitions are vying for power – Barisan Nasional, Perikatan Nasional and Pakatan Harapan – Rafizi explains that oftentimes in the dynamic of coalition politics, in which there are more than two coalitions, the choice of voters will be focused on the two top parties, while the third will be pushed to the side, such as is seen in the United Kingdom.

In this case, Rafizi warned against national politics which are monopolised by two coalitions without much difference in principles and in their offering to the public; for example, having two Malay-focused coalitions dominating the political arena.

"They will compete on which coalition can be more Malay. Whereas to address policy, economic and technological challenges that are far more complex now compared to five or ten years ago, we need competition at the top level between coalitions that are very different from one another.

We need a progressive coalition so that people can make a choice. If not, voters and especially fence-sitters will only have two choices," he explains.

(Source: The Star)
One interesting point that Rafizi that politicians are more closely observed on social media and thus politicians have to be more alert on what they are doing and saying. In the video above, he highlighted the point of the "product". What are all the political parties are selling? How that does impact the needs of the voters?
This is why election manifestos cannot be taken lightly because the political party trivialise their own election manifesto-like how Pakatan Harapan did, no one will give the due respect and attention that the political party deserves.
.
New DAP Leaders
The other Pakatan Harapan component party, DAP, is also making drastic changes to its leaders' lineup.
The veteran DAP leader, YB Lim Kit Siang have formally retired from politics considering that he has been in DAP's central executive committee for the past 56 years. Another major change is this:-
After 17 years at the helm of DAP, Lim Guan Eng will make way for a new secretary-general at its 17th national congress on Sunday (March 20), which comes in the wake of the party's underwhelming performances in the last three state elections.

Guan Eng was first elected as the secretary-general in 2004 but he cannot be re-elected this time as the party constitution has since been amended to limit a person to holding the post for a maximum of three terms.

However, he is still expected to wield a strong influence as he is likely to remain in the Central Executive Committee (CEC).

Seremban Member of Parliament (MP) and DAP national organising secretary Anthony Loke Siew Fook, who is tipped to replace Guan Eng as the secretary-general, is among 93 candidates vying for 30 CEC posts for the 2022-2025 term.

(Source: The Edge Markets)
The other major change is the new Youth leaders:-
Bandar Kuching MP Dr Kelvin Yii has won a three-way contest for the top spot in DAP Youth's national leadership while Ketari assemblyperson Young Syefura Othman, better known as Rara, has won the deputy chief post.

(Source: Malaysiakini)
YB Dr Kelvin Yii has masters in both medicine and law – a double professional achievement. He is 35 years old and has been a Member of Parliament for Bandar Kuching, Sarawak since 2018. He has Facebook and Twitter pages for his social media updates.
YB Young Syefura Othman on the other hand is a trained nurse and has been elected as state assemblywoman for Ketari, Pahang. She is 32 years old and she has Twitter and Instagram pages to engage complaints & requests from her constituency, she even has a website.
Certainly, a very strong youth wing with this line-up and hopefully they maximise the use of social media for updates on DAP activities and news and also on Pakatan Harapan with other youth wings.
Final Say
It is good that we are seeing some form of changes taking place in both PKR & DAP key leadership after the last 3 state elections. At least it shows that people in both parties accept the fact that things must change for Pakatan Harapan for the better.
DAP probably is making the biggest changes with the veteran YB Lim Kit Siang calling it a day and new leaders have all been elected.
PKR, on the other hand, may have Rafizi Ramli and Nurul Izzah back in the party but the problem is whether Rafizi will indeed be voted in a position where he can make a difference and whether his proposals of change will be accepted or not.
PKR can start the change by dropping the issue of the logo in future elections and sticking to just one Pakatan Harapan logo.