It is said that it cost the taxpayers RM100 million for the 2022 Johore State Elections – an election that was unnecessary and basically meant a change of Chief Minister from the same political party. Image source: Wikipedia.
Despite being redundant, there was a blessing in disguise – to identify Pakatan Harapan's (PH) shortcomings upfront and also the people's sentiment since the backdoor government took over in February 2020.
Read these first:-
2022 Johore Elections Statistics
We just had the Johore state elections concluded on 12th March 2022 and before that, the Malacca state elections on November 2021. We can leave aside the Sarawak state elections that were held in December 2021 primarily because it is difficult to unseat the existing State Government.
Let's compare some key points of both the elections for further analysis:-
| | Malacca State Elections (Nov 2021) | Johore State Elections (March 2022) |
| --- | --- | --- |
| Registered Voters | 495,195 | 2,597,742 |
| Valid Votes | 319,689 | 1,391,162 |
| Invalid Votes | 6,379 | 35,411 |
| Total Votes | 326,068 | 1,426,573 |
| Voters Who Did Not Vote | 169,127 | 1,171,169 |
| Voters Turnout (%) | 65.85 | 54.92 |
| Votes for BN | 122,741 | 599,713 |
| Votes for PH | 114,457 | 367,525 |
| Votes for PN | 77,731 | 334,457 |
| Votes for MUDA | 0 | 48,072 |
| Votes for Independent & Others | 4,760 | 41,355 |
| Votes Against BN | 196,948 | 791,409 |
| Votes For BN (%) | 37.64 | 42.04 |
| Votes Against BN (%) | 62.36 | 57.96 |
| Votes Against BN + Voters Did Not Vote | 366,075 | 1,962,578 |
| Overall Votes Against BN (%) | 73.93 | 75.55 |
Data source: Wikipedia
For the Malacca State Elections in 2021, only 37.64% of the votes actually went to BN and yet they won more seats because firstly there was a split of votes against BN to PN and secondly there was some backlash when PH decided to take in 2 politicians who had jumped ship.
For the Johore elections, the bigger challenge for PH was again the split of the votes against BN to PN (almost equalling the votes received by PH) and the 1.17 million voters who decided not to go out and vote. Perhaps they thought that it is was pointless to vote in an election that is triggered by power-hungry politicians.
It is clear that PH needs to bypass PN one way or another if they want to give BN a real run for their money. They need to attract the fence-sitters to come out and vote for them. If the majority of the 1.17 million voters had come out and voted, there could be a big difference on how many votes that PH would have gotten.
DAP are giants and have been in politics for a longer time than PKR and yet they did not think twice to put the Pakatan Harapan logo and the PH spirit 100% into their election campaigns and the same was with Amanah which is the smallest of the 3 political parties in PH. Image source: DAP Twitter Page
What Went Wrong for PH & PKR?
It was an unnecessary election as nothing would have changed if BN had won as they were already governing the state. However, it was a blessing in disguise as this election can be analysed and PH's shortcomings can be identified and rectified before the election that really matters takes place. It did not take long for PKR who is the key founder of PH to go rogue and in my opinion, make elementary mistakes.
PKR vs PH Logo
PKR supporters argued that PKR's logo is more well known, more acceptable by the masses and is "untainted" with the mess that is made by Dr M's administration when PH was in power. They even argued that in the general elections, PH won using PKR's logo so it can be done again.
But then this does not make sense to do the same in 2022 as the PKR logo was used in 2018 because Amanah & Bersatu was new, unknown to the masses and DAP has always been wrongly labelled as anti-Muslim/Malay. Further, PH stood only in name and was not a registered coalition.
Those who supported the use of the PKR logo over to PH's own logo was ignoring the bigger problem with the perception of the new and young voters. Using PKR's own logo instead of PH's logo implies a major split between the PH component parties. You will NEVER see this nonsense with BN regardless of how strong and large component political parties can be. They remain BN from start to end and maximise their BN colours in all events.
Election Campaigns in Silo
PKR not only insisted on using their own logo for the election campaign but they also were obviously missing from Pakatan Harapan's launch and events. PKR only focussed on their own events leaving DAP & Amanah to share their resources and time to promote their respective candidates under the common Pakatan Harapan banner. The same goes for PKR's events despite all being under the same coalition.
Be mindful that beyond the coalition, there are voters who favour the individual political parties and thus a joint campaign by PKR-DAP-Amanah would be a positive move. Be mindful that there are still voters who are still under the wrong impression about DAP and their stand on Islam & the rights of the Malays. There are still voters who labelling DAP as a pro-communist party whilst the close cooperation between the BN politicians and China.
A combined campaign will balance up the perceptions and clear the doubts on the candidates and political party.
Too Much Of Anwar
It could be one's personal perception but then again, it seems like PKR was relying much on Anwar as the key attraction. In fact, most of the campaign posters have Anwar as the main guest/main speaker and one have to wonder how tired Anwar would have been considering he has limited time to do speak and promote PKR candidates.
The question is what happened to all other PKR leaders?
PH election campaign did not fare better considering that they decided to use a different strategy of making their candidates in the centre of attention. Some of these candidates were still young and new and thus may not have given confidence to the voters.
Blame Game
PH & PKR as a whole need to do more to engage the voters in coming elections. They need to move out from the tactics of blaming others, namely Najib and focus on what matters i.e. what PH can deliver to the people.
PH also needs to focus on having better quality politicians at all levels and they need to focus on election manifesto & future plans for the state.
Mat Sabu had never been the one who was very aggressive as a politician but he always made a lot of sense when he spoke out. He was the first of the 3 PH leaders who said the obvious – that PH was not united facing the competitors for the Johore State Elections 2022. Image source: Malay Mail
What PH Needs To Do Next
Now with several defeats in the last 3 state elections, PH needs to review their gameplay and how they can make the voters, especially the fence-sitters and those who are not in favour of voting for PH. Their fight against BN is not made tougher with PN representing another large opposition bloc.
So what could PH do in light of the recent defeats and challenges from other political parties? There are several actions that PH can look into now and work on it before the next general elections where it really matters.
Avoid Collaboration with PN
Despite the growing calls for PH to combine with PN for the next election, the PH voters will never forgive PH if this is done. Never forget that PN politicians were instrumental in the PH Government fall in 2020 and forming the back-door government with BN. They still looking at national policies from a race and religious point of view.
Further, you have the PAS political party part of PN and everyone knows how much troublesome, unproductive and extreme these politicians have been in the last 2 years.  Its president strongly supports the Taliban who ousted a legitimate and democratically elected government. The last thing we want is to be cosy back to these unworthy, backstabbing politicians and sacrifice our core values just to have more votes.
Unify And Strengthen PH
Lesson learned from this election where it was clear that there was less unity with the ranks of PH with PKR deciding to go out on their own. If you look at some of the comments made by the die-hard PKR supporters, they are in fact urging PKR to leave PH and stand on their own. The same dangerous sentiment is echoed by DAP die-hard supporters. One has to question these supporters as to whether they are blindly supporting their political parties OR keen on sabotaging the PH coalition.
Moving forward, PKR-DAP-Amanah and any other political parties from East Malaysia are keen on the larger umbrella for the oppositions to use a common logo, strategy, mission and election manifesto. If they feel that the PH brand is tainted by Dr M's style of governance, then they should do a major rebranding and marketing. Change logo colour from red to bright yellow if need to.
Work closely with MUDA
The youthful political party, MUDA has proven themselves in this Johore election by gaining one seat although they have only started to form up for this election and their candidates are all unknown.
Further, they approach PH for collaboration despite there are still instances of their members still being immature & indisciplined. PH cannot have a discussion with MUDA in a silo but instead, it must be done together so that MUDA will be forced to make some concessions in the number of seats without compromising their support to PH.
MUDA also need to prove themselves that they are not agents of Dr M and will not be silent enemies to PH as these allegations are actively discussed especially after MUDA members have made some disturbing posts on PH partners and MUDA key leaders did not discourage these acts.
Focus on deliverables & realistic manifestos.
If the opposition only harps on the wrongdoings of the ruling political party, they are only showing that they can be a good opposition politician instead of able to prove that they are capable of taking over the Government, both at the State and Federal level. The setup of a shadow cabinet to oversee the country's issues and formulate plans to overcome them.
This way the voters will be able to see how capable the PH politicians can be once they have taken rein of the government. Good thing for PH, they have managed to show that most of them, especially from DAP like YB Anthony Loke, YB Gobind Singh, YB Lim Guan Eng and YB Liew Ching Tong.
New Young And Dynamic Leaders
PH needs to push forward young leaders to take key roles in the coalition and be beyond the known Anwar Ibrahim, Lim Guan Eng and Mat Sabu. We need more recognisable PH leaders who can take over the leadership at any time.
The PH politicians must show that they do not practice dirty politics and one class above the rest when it comes to the people's welfare & management of taxpayers' money. They are better administrators in the respective states governed by PH, especially in Selangor where the issue of flood & water supply management.
In cases where PH politicians are in the opposition, they need to focus on being an effective opposition to the Federal & State Govt where dubious policies are questioned and mismanagement is highlighted to the attention of the voters. In other words, they must keep the ruling government politicians on their toes all time.
MOU with Backdoor Government
PH needs to immediately throw away the useless MOU that they signed with the current Government as it is tying PH down in silly and redundant politics
Warisan vice-president Junz Wong has accused Pakatan Harapan (PH) of being complicit in the government's failures by virtue of a memorandum of understanding (MoU) it has with Prime Minister Ismail Sabri Yaakob's administration.

He said it was time for the opposition coalition to ditch the agreement.

"Every day, PH leaders are coming out with statements criticising the government over Azam Baki's share ownership, but they are the ones strengthening the administration," he told FMT.

"How much longer will they be complicit in the government's failures?"

Under the MoU, signed last August, PH agreed to work with the government to restore political stability and bring about economic recovery and to let Putrajaya handle the pandemic.

Wong said: "What political stability? We've had two state elections and speculation is rife about another election in Johor.

(Source)
Fight Rumours With Hard Facts
Something that is severely lacking with PH is the free flow of information and the use of social media. PH must go aggressive on social media (Facebook, Twitter, Youtube), the communication mode of today's generations considering that some PH politicians don't even have a Facebook/Twitter page. Just compare how BN make use of little twisted information into a mountain of information to promote themselves.
There would be a smear campaign against PH especially when there is an election around the corner. For this, PH needs to fight allegations and accusations with facts & figures instead of being general & emotional responses.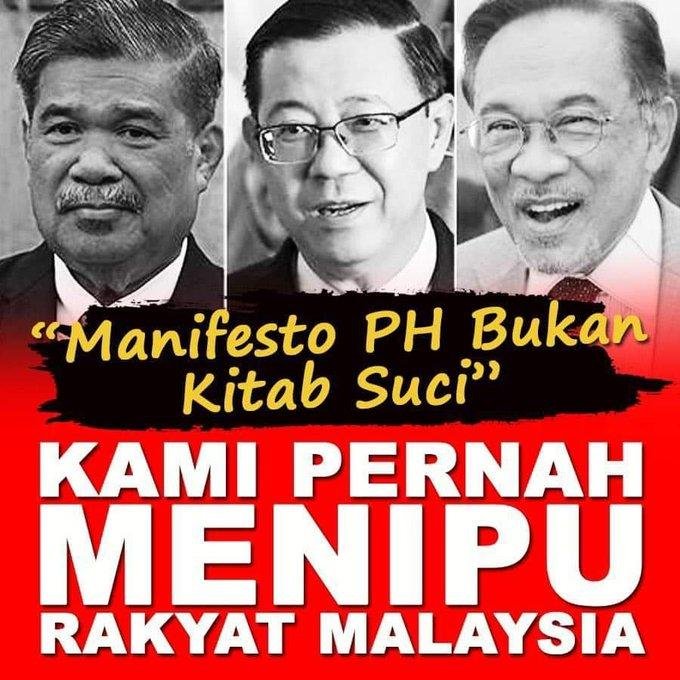 The biggest mistake done by Pakatan Harapan was to allow Dr M who was the Pakatan's Prime Minister to tell the whole world that the election manifesto is not cast in stone and was not serious. The impact of this remains to be brought up to this day. Image source: Twitter
Election Manifesto Reiterated
I wrote this back in 2019 when PH started to lose control of their initial election objectives and left Dr M to run things like how he did as a one-man show when he was in UMNO. It was clear that he was not looking forward to handing over the rein to Anwar considering that he was building up his own political party and getting the ex-UMNO politicians to cross over.
Revisit the "impractical" Election Manifesto

For every election, the voters are bombarded with various promises, encoded in something called the manifesto.

Back in GE 2018, it is clear that most voters voted for PH not because of their manifesto but then again, as months passes by and reality sets in, people especially the new opposition politicians now started to look at the election manifesto.

And yet, it does not mean that PH cannot continue to put in effect actions to fulfil the election manifesto later. In total there are 60 promises, 10 of which PH promised to fulfil within 100 days of PH ruling and the remaining ones within 5 years before the next general elections.

To be frank, PH's manifesto is a very good manifesto – good enough to be the bedrock of the New Malaysia that everyone wishing for. And one have to admit & understand that some of the promises is not an easy tasks to achieve and it will take time.

In general I am looking at these promises that PH Government needs to revisit immediately are these:-
Promise 6: Abolish Tolls (Still a pain in the neck for most of us in Klang Valley)

Promise 27: Abolish oppressive laws (the point is if there is evidence to arrest, then those who been arrested need to be charged in courts immediately)

Promise 36: Implementing EPF scheme for housewives (my wife was excited on this but I think my monthly transfer to her account is more than expected EPF contribution, ha ha)

Promise 44: Improving the quality of education (appointing a new Education Minister would be very helpful here) and healthcare services

Promise 49: Making government schools the best choice for its people (take out religion out of the schools, promote science and maths in English and seriously look into one school system)
This notion of meeting the election manifesto remains the same and remains crucial as the key factor to engage the voters. It contains the political parties' promises, vision and action plan on what they will do once they are voted in. It was dumb to dismiss the election manifesto as something trivial.
Final Say
BN is certainly testing the waters by a series of state elections before having the confidence to call for the general elections which will see them coming back with a two-third majority. Unfortunately for PH, ever since they lost powers in 2020 and no longer have a powerful statesman like Dr M leading the herd, seems to be clueless and have not made drastic changes.
Rafizi Ramli who had long been PKR's key strategist is joining back PKR after he left after the clash with Azmin Ali for the Deputy President post and after Anwar sided with Azmin Ali. Azmin Ali of course was part of the Sheraton Move that overthrew the Pakatan Harapan Government after 22 months in power.
PH needs to reinvent itself so that the voters have the confidence to vote them in to manage the country. The added benefit of PH administring the states of Penang and Selangor should be used to the maximum to showcase the leadership and management capabilities.
Change must happen nonetheless for PH before the next general elections.