When it comes to personal gadgets, one thing is clear is that it is getting smaller, cheaper, more sophisticated and more intelligent and one of the improvements that I have seen is the fitness tracking where it was used to be manual before step tracker apps started to appear on smartphones. Photo by Ketut Subiyanto from Pexels
However, it is cumbersome as one has to bring along the bulky phone when one is out walking or running. Then we started to have smartwatches and thereafter health band watches that are lightweight and are able to sync with your smartphones.
Read these first:-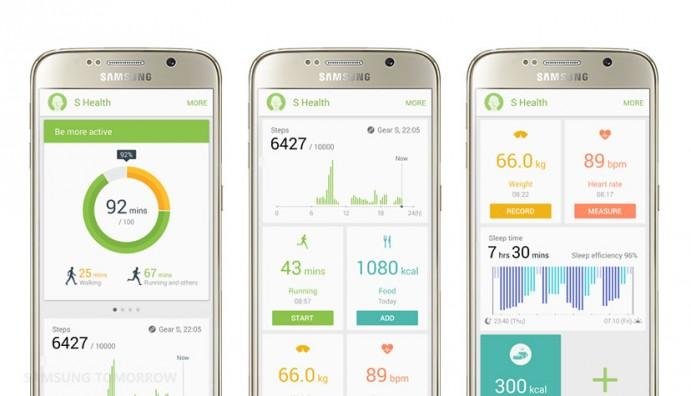 This is an older version of Samsung Health but the functions are more than enough to cover most of the health metrics. With the smartphone's built-in sensor, updating the results is a breeze. The app however is not perfect – some of the metrics are not easy to automatically update and it does not integrate with other apps. Image source: Samsung News
Personal Experience
Given the fact that I have always been using a Samsung smartphone, my choice of a health app is the Samsung Health which is also connected to the heart rate sensors in the phone.
It also has a good feature of generating monthly challenges where you will pit against other Samsung Health app users around the world whilst at the same time, clocking a good number of steps. I also like the explanations provided behind each of the metrics collected by the app.
.
Samsung Health even comes with Samsung smart television which means you can do your fitness training at home and still clock the health metrics.
But as mentioned, it is cumbersome to bring the whole phone when I am out for walks – it makes the exercise uneasy and there is always the risk of the phone getting damaged or wet if it starts to rain halfway. The other option is to get a smart health band but the good ones are too expensive and the cheap ones stop working after a couple of days and had to be dismantled to charge them up.
That is until I got a Garmin Vivosmart 4 fitness band as a free gift (online price: RM600) and immediately I realised what I have been missing.
.
This is a short video that showcases the feature of the Garmin Vivosmart 4 and it is quite comprehensive.
Garmin Vivosmart 4 Specs
.
This is a comparison of the Fitbit Charge 4 and Garmin Vivosmart 4. Fitbit is one of the first companies to start the concept of a smart health band before it become famous and others followed suit.
No
Specification
Results
1
Lens Material
Polycarbonate
2
Bezel Material
Aluminum
3
Strap Material
Silicone
4
Physical Size
Small/medium: 15 x 10.5 x 197 mm - Fits wrists with a circumference of 122-188 mm
Large: 15 x 10.5 x 223 mm - Fits wrists with a circumference of 148-215 mm
5
Touchscreen
Yes
6
Display Size
0.26" x 0.70" (6.6 mm x 17.7 mm)
7
Display Resolution
48 x 128 pixels
8
Display Type
OLED
9
Weight
Small/medium: 16.5 g, Large: 17.1 g
10
Battery Life
Up to 7 days (excluding pulse ox sleep tracking)
11
Water Rating
Swim
12
Memory/History
7 timed activities, 14 days of activity tracking data
13
Wrist-Based Heart Rate (Constant, Every Second)
Yes
14
Daily Resting Heart Rate
Yes
15
Abnormal Heart Rate Alerts
Yes (high and low)
16
Pulse Ox Blood Oxygen Saturation
Yes (spot-check and optionally in sleep)
17
Fitness Age
Yes (in app)
18
Body Battery™ Energy Monitor
Yes
19
All-Day Stress
Yes
20
Relaxation Reminders
Yes
21
Relaxation Breathing Timer
Yes
22
Sleep
Yes (advanced)
23
Hydration
Yes (in Garmin Connect™)
24
Women'S Health
Yes (in Garmin Connect™)
25
Elevate™ Wrist Heart Rate Monitor
Yes
26
Barometric Altimeter
Yes
27
Accelerometer
Yes
28
Ambient Light Sensor
Yes
29
Pulse Ox Blood Oxygen Saturation Monitor
Yes
Garmin Vivosmart 4 Review
The brand Garmin as far as I recall is more known for the GPS devices so I was a bit surprised to see a Garmin brand on a fitness band. So let's look at some of the pros and cons of this fitness band after I have been using it for a couple of weeks.
Usage Pros
The smart band is light and easy to wear.
You will hardly notice the band and the screen comes on automatically when you turn to look at it. It has all the metric trackers including a sleep tracker which I think does a better job than the one I have on my smartphone. The heartbeat rate is continuous and will immediately alert if it detects an abnormal heartbeat rate – either too high or too low.
It also prompts you to move around after a certain time of inactivity which is a major plus point with me working from home and often too focussed on work to realise that I had missed moving around.
The daily steps target starts off with a very low target of 3,500 steps and gradually increases based on the targets met. Other pedometer apps often start you off with 10,000 steps which can be difficult to meet unless you have been walking all day long. The fitness band comes with a tracker to detect the number of floors you have climbed which is a great metric to collect.
Garmin Vivosmart 4 is tied to its own smartphone app called Garmin Connect which makes it easy to sync and update. Further, the user interface of Garmin Connect is easy to read and well-arranged compared to the Samsung Health app.
Usage Cons
The fitness band display is in black & white unless in full colour like other fitness bands, especially from China. The navigation is not simple considering the icons are not user friendly so I did not use all the functions to test.
The strap is not replaceable and if the strap is broken, one cannot simply buy one online and you cannot simply get it replaced in any service centres in Malaysia. Charging the band can be a bit tricky considering that the charger needs to be placed at a weird angle.
However, the biggest shortcoming is the sync of the Garmin fitness band with other apps namely the Samsung Health app which I prefer to keep as the main fitness app.
The Garmin Vivosmart 4 is slim, lightweight and easy to wear but the display is small and unattractive. Cheaper Chinese fitness bands have more features, easier to use screens and in colour. Image source: Bike24
Final Say
Personally, the Garmin Vivosmart 4 fitness band is a good start as a replacement tracker for exercise and it is well built to handle the elements. But I am not keen on having 2 different fitness apps on my smartphone considering both apps don't talk to each other and the Garmin Vivosmart 4 does not sync with Samsung Health.
It is time to look at Samsung based fitness band which can easily sync with Samsung Health and I have shortlisted Samsung Galaxy Fit 2 which has a bigger AMOLED screen, colour and easier navigation. The strap is not easy to get by but it is replaceable and the charger is easy to be fixed. It has 15 days battery life compared to Garmin's reported 7 days.
Now I have to just focus on hitting the daily steps targets and need not worry about bringing along my smartphone to track the steps that I have taken.