A screengrab from the 1971 Tamil movie, Babu starring the late Nadigar Thilagam, Sivaji Ganesan and a very young Sri Devi. It was pointed out that the first of October was Sivaji Ganesan's birthday and had he lived, he would have been 94 years old this year.
Sivaji Ganesan passed away on 21st July 2001 at an age of 72 and by then had acted in some 288 movies; a majority of it has been in Tamil movies.
Read these first:-
Premise of Babu
Of all the Sivaji Ganesan Tamil movies, Babu which was released in 1971 is one of the few that I don't mind watching over and over again. Perhaps it is due to the fact the storyline reminded me of my childhood and when we had a very tough life then and my Dad worked hard so that we had our education done without delays.
In the movie Babu, Sivaji Ganesan plays the role of a rickshaw puller named Babu who one day takes in a rich family when their car broke down after an accident although the rich man, played by K.  Balaji was not keen to trouble Babu. After sending them to their grand house in heavy rain, he was surprised when he is treated as part of the family and was given a fresh set of clothes, invited to have a meal with the family and then gets emotional when the rich man's daughter, Amu played by the late Sri Devi becomes close to him and calls him, uncle.
Time passes by and one day Babu noticed Amu with torn clothes & begging for food and then noticed the rich man's wife, played by Sowcar Janaki now lives in a poor hut. When Babu asked further, he found out that the rich man has passed away in a car accident and the family had fallen into troubled times since then. Babu promised to work hard for the family so that Amu can further her studies and graduate as dreamed by the late rich man before he passed away.
.
Tense Climax Scene
In Babu, in the end, Amu graduates and now is arranged to be married to a very rich man's son, played by Sivakumar but Babu who is now old and very sick decided to stay away from Amu's new life. However he decided to come to see the marriage from afar and when the wedding food was served, decided to join a group of beggars for food, only to be found out by Amu and her husband who did not like Babu staying away from them.
.
The Song Scene
Idho Endhan Deivam is one of the best, memorable songs from this movie and is composed by the late Maestro M.S. Viswanathan, sung by the late T. M. Soundararajan and lyrics written by the late poet Vaali.
.
This is a modern rendition of the same song that was done by various artists during the COVID19 lockdown (fast forward to 4.26 minutes of the video)
The lyrics are simple and about how God lives in form of a smiling child in front of him (referring to Amu). With passionate eyes and a caring heart (of a child), God lives on and builds His temple. The whole picturisation of the scene for this song is well done with Sivaji Ganesan and Sri Devi.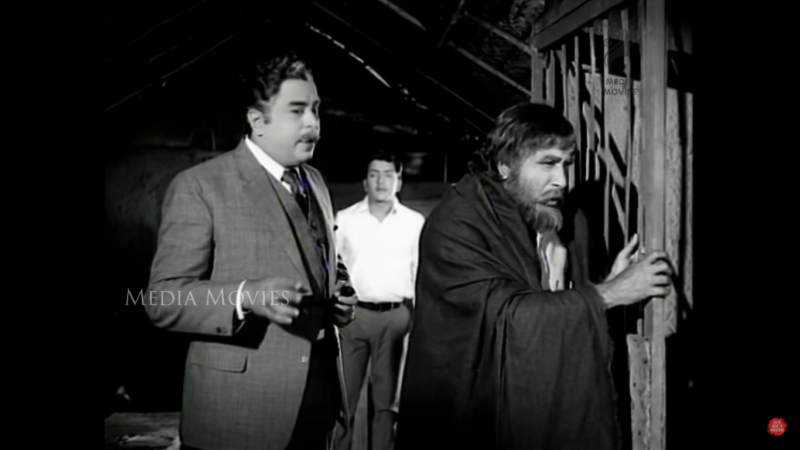 Sivaji Ganesan was in his mid-40s when this movie was out and yet he can play a very old man with an incurable sickness with such ease that you will actually think an old sick man was playing the character – both from the manner of his body movement, style of vocals and image. Image source: Screengrab/Youtube
Final Say
The Tamil movie, Babu which is a remake of an earlier Malayalam movie was also remade in Hindi and released in 1985 starring the famous Rajesh Khanna. Of course, to many of us, the one that was acted rather majestically & naturally by Nadigar Thilagam, Sivaji Ganesan will forever be etched in our minds.
There were several scenes in this movie that reminded closely me of my childhood especially when it comes time to pay for exams and my late Dad had to manage and arrange for the cash even though he was not well. My Dad drives a tipper truck and he often had to work late so that he can make up the hours for extra cash.
Going back to Sivaji Ganesan, it is a good thing that we can find a good number of his movie still available for viewing on Youtube although one has to wonder for how long this will remain viewable. In the same manner, we have P. Ramlee who was a great actor in the Malay cinema world in the early years, we had a good number of talented actors and actresses in the Tamil cinema world.
One has to wonder who from the new line of actors can match the diversity of roles that Sivaji Ganesan and Kamal Haasan have done although Surya comes in close.