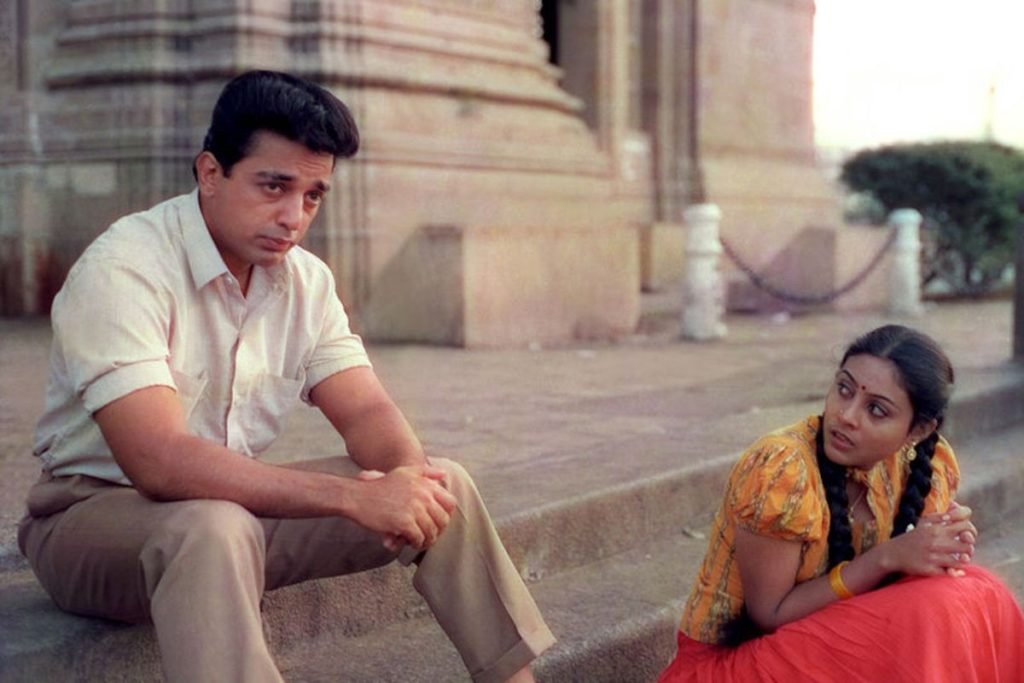 I dare say that this is probably one of the most iconic image of Naicker & Neela from 1987 Tamil movie Nayakan (aka Nayagan). Kamal's facial expression tells a million things happening in his mind with Neela looking back at him innocently – Image source: www.medium.com.
Seriously one of these days, I really need to take time to do a proper review of Mani Ratnam's 3 main classic Tamil movies – Nayakan, Thalapathi and Mouna Ragam – a fine combination of strong back story, some of the most evergreen music from Illayaraja and picture perfect cinematography.
Related: Kamal's Ponmaanai Theduthey Classic
Nayakan was released on 21st October 1987 and immediately won numerous awards at national level for Best Actor, Best Cinematography and Best Art Direction. This movie was also India's official submission for the 60th Academy Awards for Best Foreign Language Film in 1988.
Regarded as one of the best Indian films ever, 'Nayagan' (1987), directed by ace filmmaker Mani Ratnam, is one Tamil film that earned a global audience.

Loosely based on the life of the Mumbai gangster Varadarajan Mudaliar, 'Nayagan' chronicles the life journey of Sakthivel Naicker (Kamal Haasan) from his teens to death.

Upon release, 'Nayagan' became a trendsetter of sorts and went on to become a landmark film in the history of Tamil cinema. In fact, it marked the first and only collaboration of Mani Ratnam with Kamal Haasan, who won his second National Award for Best Actor.

It's also one of the few films that got featured in Time Magazine's 100 Best Films of All Time. 'Nayagan' opened to terrific reviews and became a monstrous success at the box-office.

Even after all these years, the film is widely popular for Haasan's confrontation scene with his daughter Charu.

(Source)
But for now, let's focus on Nayakan soundtrack and in particular this background music dubbed Saranya's Theme. I say dubbed because in reality there is no soundtrack dedicated to BGMs back in those days (AR Rahman started this trend a few years later after he became famous with the movie Roja).
This is really a tragic because maestro Illayaraja has composed some of the best background music in the Indian movie industry!
And if you try running it with a full orchestra and you have compositions that in par with great composers from the West. Just listen to this composition from the 1989 movie Apoorva Sagodharargal, replayed recently by an orchestra.
Related: Tamil Movies: Sad Scenes That Can Make Anyone Cry
The title Saranya comes from the name of the actress playing the role of Neela – Saranya Ponvannan and incidentally Nayakan was her debut film. Perhaps it should have been called Neela's Theme. It is a special theme music done by Illayaraja to tie Naicker with Neela who plays his wife to his character in the movie.
Let's start with the Saranya Theme only – this is a refreshing retake of the said theme by Ashwini Koushik
And the specific scene with background music is beautifully captured by P C Sreeram:-
Related: Ilaiyaraja: Project "Then, Now & Forever"
The theme starts with a beautiful string of guitar before settling down to humming in the background. Then there is the communication between the electronic piano and the violin – electronic piano representing Neela crying for help and the violin representing Naicker replying to assure her.
It tells of the innocence & the calm in the vicinity of a chaos. There is glimpse hope in the end – in the form of a white knight (Naicker).
Match this background music with the scenes from the movie where Saranya character's Neela started from and where she is happily married with Kamal's character in the end. You will then realise and appreciate how beautifully Illayaraja came out with this theme.
It simply enhances the mood of the scene and Mani Ratnam's visual magic.
Simply brilliant!