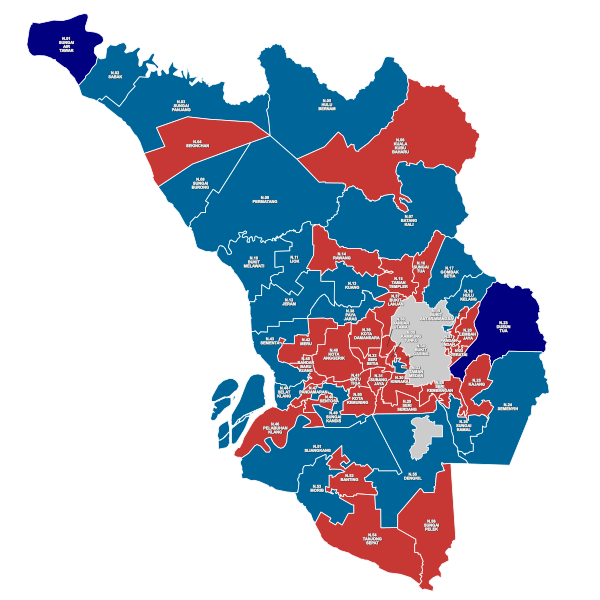 Elections in Malaysia are getting more complex and unpredictable every time it is held and the recent Selangor state elections were not different although there was some hindsight on how the end results would be. To reduce the possibility of split votes like how it happened after the last general elections, Pakatan Harapan (PH) has joined forces with Barisan Nasional (BN) once again to fend off the unstoppable Perikatan Nasional (PN). Image source: Wikipedia
Read these first:-
State Elections Preamble
Perhaps it was a blessing in disguise not to schedule the state elections for PH-controlled states at the same time as the general elections in 2022. If that was done, most probably the state of Selangor & Negeri Sembilan would have fallen to PN as well. The 8 months in between were good enough to showcase what PH can do as the Federal government.
6 states were up for grabs namely Selangor, Negeri Sembilan, Penang, Kedah, Terengganu and Kelantan. From what was impressed in the social media & predicted by experts, there was a serious threat that Selangor and Negeri Sembilan may fall to PN as well. This fact was further supported by the lack of countermeasures in place by PH on the various misinformation & fake news that is consistently posted by PN & its supporters.
Election Time
We have never failed to vote in the past elections and we did not intend to give this a miss even though we were confident that the PH candidate would win the DUN seat. The voting centre opens at 8 am and we managed to be there around 8.30 am. The weather was good and there were plenty of empty spots right in front of the voting centre so we did not need to park far unlike the last elections.
We noticed the queue was not long and there was hardly anyone around which indicated that the morning turnout was going to be very low which is not a good sign. Perhaps it will pick up in the afternoon once those voters who are working are able to vote. It hardly took 5 minutes to go in & come out voting.
The PN wave is quite clear with them sweeping 3 states clean and making substantial gains in Selangor which is a big concern considering that the state of Selangor is the jewel crown for all who are contesting. It is safe to say that the state of Penang will remain with PH for a long time just because DAP is just too strong there. Map source: Wikipedia
Final Outcome of Elections
Note of disclaimer: It is not fair to compare the performance of the various parties in the 2023 Selangor state elections against the Selangor state elections in 2018 as the opponents were different and there was a bigger mission in hand although Selangor was under Pakatan rule since 2008.
In summary:-
PN under PAS (rather than Bersatu) kept 3 states under them – Kedah, Kelantan & Terengganu
PH+BN kept 3 states under them – Selangor, Penang & Negeri Sembilan
There is no opposition in Terengganu with PN sweeping all seats clean
PH denied a two-thirds majority in Selangor but PH managed to have a two-thirds majority in Penang & N. Sembilan
It was clear that the transferability of the votes to BN in Selangor was negligible due to the screw-ups putting Noh Omar as the Selangor UMNO chairman in the last election & then he came back with his daughter running under PN. That is why BN fared badly in Selangor than in N. Sembilan where they only managed to win 2 seats out of the 12 seats contested. In N. Sembilan, they won 14 seats out of the 17 seats contested.
Overall PH+BN received more than 1.6 million votes against PN's 1.0 million votes and gained 34 seats against PN's 22 seats in Selangor. To have a two-third majority, PH+BN should have 37 seats and the loss of one crucial seat to PN was attributed to the MUDA political party:-
N.49 Sungai Kandis
PH – 28,759 votes – lost by mere 167 votes
PN – 28,926 votes
MUDA – 1,341votes
Malaysian United Democratic Alliance or MUDA in short led by ex-Bersatu (part of PN) Syed Saddiq supposed to be a pro-Pakatan Harapan, youthful political party but their actions of placing their candidates in places of PH strongholds and not in PN seats begged the question of their motives. Further, the focus of MUDA remained in Selangor and not in PN-ruled states and it was clear from the start that they were not ready for the state elections focussing on petty matters.
Why participate in the elections when you know your candidates were not ready if not with the intent to split the votes for PH? Thankfully they did not cause too many seats to be lost due to the split and they themselves lost in all the seats that they were contesting & lost their deposits too in all the 14 seats that they contested.
PN lost their deposits in 6 DUNs namely Seri Kembangan, Subang Jaya, Bukit Gasing, Kampung Tunku, Bandar Utama & Pandamaran whilst PH & BN did not lose any of their deposits.
Some Key Results
Whilst PN managed to get a sizeable 22 seats, PH still commanded the majority of the votes in Selangor.
The biggest margin that BN had won by was in N.23 Dusun Tua with 3,014 votes majority
The smallest margin that BN had won by was in N.01 Sungai Air Tawar with 846 votes majority
Average majority = 1,930 votes

The biggest margin that PH had won by was in N.30 Kinrara with 54,535 votes majority
The smallest margin that PH had won by was in N.15 Taman Templer with 467 votes majority
Average majority = 21,384 votes

The biggest margin that PN had won by was in N.51 Sijangkang with 11,308 votes majority
The smallest margin that PN had won by was in N.33 Taman Medan with 30 votes majority
Average majority = 3,585 votes
Whilst Rina Harun who was famous as one of the most useless ministers after the Sheraton lost, did receive sizeable votes of 25,682 votes against PH's 29,064 votes. In Hulu Kelang, Azmin Ali who was one of the architects of the Sheraton Move managed to get 25,597 votes against PH's 23,980 votes.
It is clear that the increased votes for PN also stem from the protest votes coming from the UMNO ex-politicians & supporters who did not agree with Ahmad Zahidi joining PH as the unity government but instead trying to push UMNO & BN to break away from PH & join PN instead. Image source: The Malaysian Insight FB
Shortcomings & Action Plans
The biggest winner from the elections thus far has been PAS who have only been going from strength to strength by gaining more seats & votes. In Selangor, PN managed to grab an additional 17 seats. However, their strategy of winning is questionable as they use religious & misinformation to influence the voters to vote for them.
On the other hand, DAP who have been consistently winning all the seats that they contested in and even gaining more votes including from the Malays, wins based on actual work done on the ground & excellent service provided by them.
Certainly, PH as a whole needs to make drastic changes if they expect to not only keep the states presently under them but also to make inroads to regain PN-governed states.
Revamp Communication & Religion Ministries
PN strives on 2 main factors to influence the uneducated namely religion & misinformation. Thus in this matter, it is critical for PH to ensure it has a very able, tactical person heading the Ministry for Religious Affairs and the Ministry of Communication & Digital.
Presently, the effort to curtail this misinformation falls on Mohd Naim Mokhtar and Ahmad Fahmi Mohamed Fadzil who are in charge of the above ministries has not been great despite the existing laws on sedition & fake news. Abuse of religion & misinformation still exist on social media without any legal action to curtail them.
Zero tolerance for sedition & fake news
There are too much fake news, misinformation & seditious statements put up by irresponsible people with agenda which is designed to create uncertainty, uneasiness & disunity among the people so that they can gain from this chaos.
In a continuation of his pro-Malay rhetoric, PAS president Tan Sri Abdul Hadi Awang has today called for non-Muslims to just let the majority ethnic group continue to hold the reins of the country.

In a lengthy opinion piece, the Marang MP said non-Muslims should be grateful that they have been given "a place" in this country through the jus soli citizenship policy that he claimed would not be afforded everywhere else.

(Source: Malay Mail)
Whilst there have been few legal actions taken on these misinformations that are political in nature, there are dangerous ones that are designed to create chaos and riots especially those coming out from senior politicians who are able to dictate huge followings.
They should be charged with high treason & locked away in prison regardless of their age, motives, status in society or rank in their political party. They cannot be allowed to spew their poison to others.
No last-minute parachuted candidates
For the voters to appreciate & decide which candidates are truly working for them, there must be a precedent. PH cannot simply parachute someone new into an area & expect the voters to pick their candidate based on their political party alone except in instances where they are known to be giving exceptional service in other areas before they were tasked to run in other areas.
One example would be YB Hannah Yeoh from DAP who took the state seat at Subang Jaya, Selangor for 2state elections before being tasked to run for the Segambut Parliamentary seat in Kuala Lumpur in 2018 and winning it in 2018 & 2022.
On the other hand, whilst it is true that some voters vote based on the political party that they support, others want to vote for someone who will work hard for their constituency. This is why PH should maintain all candidates who have lost their respective seats in the same constituencies and continue with the service & assistance to the people. This is because it is not certain that the winner will do the best for the people as we have seen in Permatang Pauh:-
The post by Nurul Izzah has since gone viral and drew plenty of praise from netizens. Meanwhile, a few Malaysians took to the comments to question why it was her who had to take action rather than the MP or ADUN of the area. It even managed to capture the attention of Bayan Baru MP Sim Tze Tzin who criticised the new MP and ADUN for not doing anything.

"Why on earth is the new MP and ADUN of the area not doing any work? How is this possible," wrote Sim.

(Source: World of Buzz)
This happens on both sides of the political borders where you will only see some politicians in your local neighbourhood only when the elections are around the corner. In some places, you will see the roads resurfaced or some allowances given to the poor just because it is the elections soon. Then you will not see these politicians for the next few years until it is time for the next elections.
From PH's point of view, best to focus on what is immediate & realistic. All candidates who had contested & lost MUST be maintained, set up a working service centre & work their asses off servicing the people and at the same time, actively countering misinformation & fake news.
Follow DAP's strategy of focusing on service
DAP won 40 seats from the total 55 seats it contested for the Parliamentary seats in 2022 and won 46 seats from the total 47 seats it contested for the state seats in 2023. It remained the only party to successfully win the highest number of seats for all the seats that they contested compared to other political parties within PH or even PN.
So, the question is why DAP is able to successfully win the most seats.
Unlike other politicians, you will rarely see DAP politicians riding on the issue of the 3Rs but rather often fall on the quality of service & work done by their constituents. And this attracts more voters including from the Malays.
Anwar & Rafizi can certainly pull the crowd before the elections but unfortunately, large turnouts did not convert into an informed voting crowd as misinformation, emotions and protest were the driving factors for votes against PH. Image source: Yahoo News/Malay Mail
Go beyond Anwar as the centre of attention
Do we know more about the other Ministers in PMX's cabinet and their achievements?
Personally there overachievers & ones that have consistently met their KPI & objectives and this includes the Transport Minister (YB Anthony Loke), Local Government Development Minister (YB Nga Kor Ming), Youth and Sports Minister (YB Hannah Yeoh) from DAP, Agriculture and Food Security Minister (YB Mohamad Sabu) from Amanah, Economic Affairs Minister (YB Rafizi Ramli) from PKR and Minister in the Prime Minister's Department (Law and Institutional Reform) (YB Datuk Seri Azalina Othman Said) from UMNO.
But other than the above, the rest of the Ministers seem quiet or yet to impress with their change of policies and out-of-the-box thinking. Even worse would be the Member of Parliament or the State Assemblyman who have been elected but they are nowhere to be seen by their constituents or in Parliament or even in State Assemblies and there are some well-known culprits.
Thus PH needs to do better with Anwar ensuring that all their politicians at all levels maintain the highest level of service, attendance & visibility. It must go beyond Anwar at the end of the day.
Final Say
As much as PH+BN still commands the majority in the Parliament and the number of states compared to PN, it is not safe to say that PH will remain the lead in their current seats. However, there are 2 major risks that PH need to face consistently.
Risk No. 1 – PN continues to influence more of the Malay voters with fictional threats of race & religion. Even now, PN & its supporters have continued to post narrations that border sedition, misinformation & fake news, especially on social media on a daily basis. The slow response from PMX to curtail such misinformation is further fueling the fire of misinformation especially towards the young, delusional Malay youth voters.
Risk No. 2 – The fact is PH's option to work with BN is not a voluntary one. It only happened after the impasse in the last general elections where both PH & PN did not have the majority to form a government on their own. And after PN's snub on the King's advice of the King for form a unity government, PH agreed to work with BN together with GPS component parties from Sabah & Sarawak.
Presently this loose alliance between PH &BN is kept intact thanks to PH's Anwar Ibrahim & BN's Ahmad Zahid Hamidi but it may break any time if a number of BN politicians who had won seats decided to work with PN instead.
Considering the lack of any credible alternatives, one has to admit that PH is the only best option for a multi-racial, multi-cultural & multi-religious country like Malaysia. There is no strong Third Force in the country.
However one has to admit that PH is not perfect and there are times when some of their politicians make a fool of themselves and this includes the PMX. These incidents only fuel the substance that is needed by the opposition to further discredit & add the oil to the fire of extremisms of race & religion. PH will definitely need to improve itself if it wants to win substantial seats in the next elections.
No tags for this post.No tags for this post.