(PKNS used similar earthmovers with huge tires just in front of my grandma house to construct their PKNS low-cost houses – they looked scary to small kids when they are driven fast all over the place. Photo source: http://southwood.typepad.com)
My heaven in this world must be my grandma's house (from my mother side) and as long as I could remember; I have always been treated with extra care and gentle when I am in her house.
It was no surprise that perhaps this "special treatment" comes with me being the eldest grandchild in the family. I dreaded staying in the other grandma's house, so it was a blessing whenever my maternal grandma comes to other grandma's house (paternal grandma) and conveniently take me back to her house.
Continuing the weekly series – read Part 1 here
The location
My maternal grandmother's house is in Seri Kembangan (back then was known as Serdang Baru) – a couple of kilometres away from paternal grandma's house in Serdang Lama, so it was no surprise that my maternal grandmother would take a bus in the morning, "grab" me from the "hated" place and within 30 minutes, I am resting comfortably in maternal grandma's house.
The area where the house used to be (my grandma sold off the house in the late 1990s and bought a double-storey house in another housing area) is located along the busy main road, away from the main town. In front of the house, there are "PKNS" houses and shop lots – in the early 1980s, there was nothing but flat vacant land, being developed back then by PKNS for low-cost residential houses (I used to get scared whenever I see the huge PKNS tractors and bulldozers).
At the back and at the side were houses occupied by our Chinese neighbours – one was having a restaurant, so we used to get good dishes and fresh "ayam kampung" eggs from the good old lady.
It was no easy to reach the house – usually one needs to take the Toong Fong Bus no. 107 (the old buses had the engine inside the cabin – so for those who were sitting in front, will be deafened by the loud noise – I wonder how the driver was able to drive it on a daily basis) from Puduraya and reach the Seri Kembangan town (Toong Fong later had bus number 133 passing the main road in front of my grandma's house).
Get down at the makeshift bus stop and walk for 2 kilometres to the house. These days there is a direct bus passing by the house but in those days, we walk. Walk, walk and walk with all the heavy bags and tiredness to reach the house. If we are lucky, one of my uncles would wait for us with his bicycle or motorbikes (his friend's bike). During the long walk, one of the memorable "landmark" that we often pass by a huge replica of a rocket in the compound of a house (DAP was strong in these areas those days).
(We had the small type guava fruits – it is very hard to bite but very tasty if add a little bit of salt. Photo source: www.walkingloka.blogspot.com)
There was a guava tree on both side of the house – my uncles made sure that we were expert enough to climb the trees and get the ripe guava fruits (one need to climb higher and one would reach the roof – it was a good hiding place there).
The house
Grandma's house was a wooden house with a brick kitchen – one can see the huge wooden beams crisscrossing up the ceiling (the house was built by my grandpa from an earlier house in Serdang Lama after the family moved from Port Dickson in 1970s). There is a huge hall – something that can't be missed when one walks past the main door and with a large sofa and a huge hi-fi system belting out SP Bala evergreen songs.
There were 3 bedrooms in the house to sleep – 2 for my uncles. I often sleep holding my grandma's hands (it used to get very creepy at nights – unfamiliar noises passing the bedroom windows). One open area was maintained as a prayer room. Towards the kitchen was a small room – we call it storeroom and it had many items – tools, old stuff and sundry. We used to spend a lot of time here, going through the stuff and playing with the tools.
Next was the kitchen which had 2 bathrooms attached – in the middle was a huge table – one can always find delicious meals on the table, no matter what time of the day one goes to have the meal. In the mornings, one can find packets of "nasi lemak", "kuih-muih" and wonton noodles.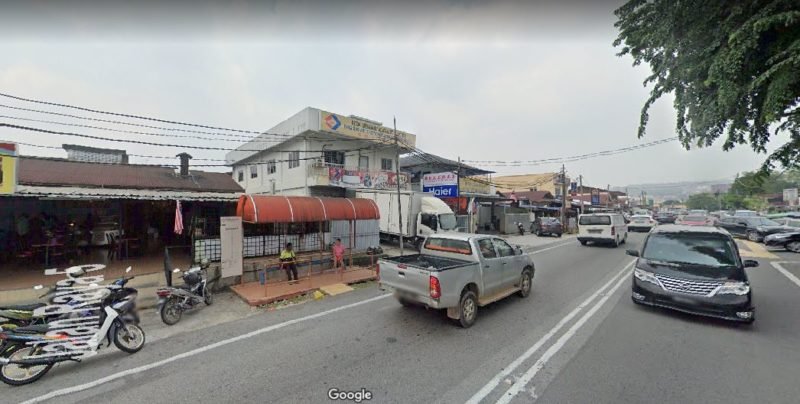 (The area where the house used to be just behind the bus stop – you can see how bad the traffic is even on the off-peak hours – Photo source: Google Earth)
In the late 1990s where the wooden house started to fall apart and the main road became so congested, my uncles advised my grandma to sell off the house and move to a quieter housing area (as opposed to renovating it). The real estate price was good too – so my grandma did just that and a new "grandma" house started in a housing area 10 km away from the old place.
The new house was better and spacious but lacked the nostalgia feeling whenever myself and my cousins sit around and chit chat on the good old times.
Utilities
The 'heaven" had piped water and uninterrupted electricity all around – so, there was no lack of entertainment in the evenings and a cooling fan in the warm nights. We did not have a fridge for ice water back then, so our source of ice cubes was from the restaurant at the back (10 cents for a big packet of crushed ice). After PKNS had built houses in front of my grandma's house, restaurants sprout out – so there was an easy avenue for us to get Chinese meals.
Breakfast
The day starts with my grandma getting early in the morning readying the hot water for my shower. Once done, I would dress up whilst my grandma goes through the items to be purchased at the wet market (a good 2 km walk one way). I still recall her holding a plastic basket on one hand and holding my hand on another.
(The entrance to the wet market which is a bit 1.1 kilometres away from the house and takes about 20 minutes of leisure walk one way. The journey back was often by bus since it is too heavy for the ladies to walk back with both hands full of groceries. Photo source: Google Earth)
We would walk slowly at the beginning often with another lady from the neighbourhood – it is a tiring walk but I was able to match my grandma's stamina and pace. We will reach the wet market and often, my grandma will buy a basketful of sundry goods – sometimes 2 fat chickens in addition to the full basket.
It's heavy just by looking at it but my grandma has none of that – she will take me to a stall selling fried noodles (I still remember it being wrapped with Chinese daily paper and the sweet sauce mixed with the noodles). In addition to the noodles, she will also buy "ang koo" cakes (my favourite was the red ones). One basket full, breakfast for the grandson and probably a plastic full of chicken – we then head back to the house, 2 km away.
Best thing
Where else you can get someone asking everyone else to "tone down" the voice because the grandson is sleeping in the afternoons and switching on the fan when it is warm if not at the favourite grandma's house. Hot water for showers, good food (without asking for it) and a big area to run around – it is truly my "heaven" in this world.
My grandma (I gather that she is about 70 years old now and still looks in her 50s) is still alive and when I go over to her house on the weekends, she still gives me the VVIP treatment (probably a little less now, my son gets more attention now).
To be continued…