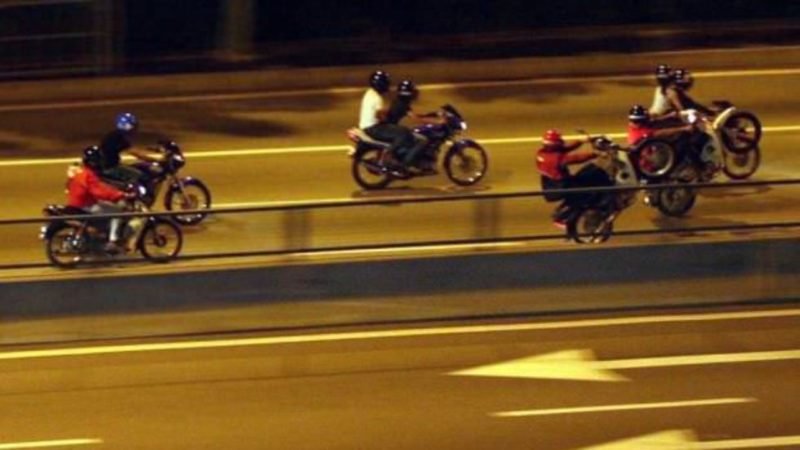 (War on the menace of civilised society, Mat Rempit is on-going – Image source: Perak Today)
Mat Rempit, the darlings of UMNO Youth are at it again.
From theSun:-
The police have declared war on mat rempits.

Inspector-General of Police Tan Sri Musa Hassan said police are carrying out a nationwide crackdown on illegal racers, and vowed to put a stop to all their activities, including crimes that they also commit. Musa told Sin Chew Daily he had directed all state police chiefs to take effective measures to remove this cancer of the society.
Hopefully unlike most politicians that we know, one can hope that the police will keep their words and teach the mat rempits a lesson that they will never, ever forget.
Mat rempit menace is indeed getting out of hand.
Just last week, someone who I know was mobbed and robbed by mat rempits whilst he and his wife were on their way to work. About 15 mat rempits against the couple was something they had not expected – the wife's neck was cut when one mat rempit pulled her gold chain.
The mat rempit bike plate numbers were blackened out and crime was done in the open. Thankfully nothing serious was encountered despite some serious bruises here and there and loss of valuables and important documents. When they went to make a police report, they were encountered by another victim who been robbed by the same mat rempit group – brutal and merciless.
Apparently the stretch of road was famous with mat rempit menace for some time and it is interesting how the police had allowed the menace to continue. Hopefully, with IGP's latest direction, the local police will double their efforts to take out these mat rempits off the street.
Either that or since the police can't be everywhere all the time…provide some of us with some heavy 4 wheel drive vehicles to ram some these mat rempits down under the heavy tires when they high in "action". For an added bonus – we will be more than happy to do this on a volunteer basis and ya, we will even pay for the fuel and maintenance.