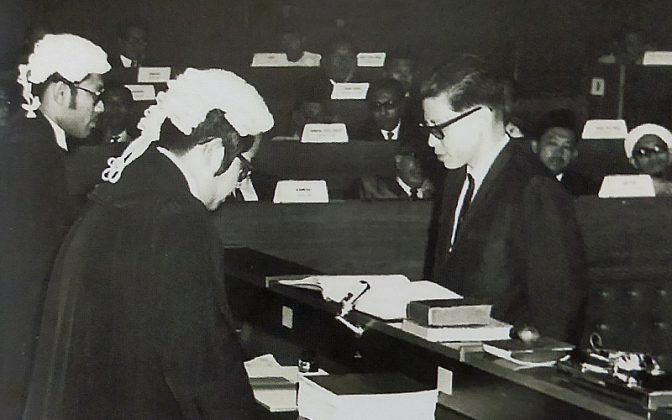 I always regarded Tan Sri Lim Kit Siang as a true Statesman who had only looked at things beyond race & religion and had always fought for the rights of ordinary Malaysians. Here's the photo of him being sworn in as a Member of Parliament for the first time in 1971 at the age of 30. He was elected in 1969 but Parliament was suspended for two years under an Emergency. Image source: Free Malaysia Today.
Read these first:-
An interesting gesture from the King putting his hand on Uncle Kit's shoulders to calm him down as it looked like Uncle Kit was overwhelmed by the award-giving event and the fact that he is receiving an award from the King for the first time due to DAP's long stand not to allow any awards for active politicians. Image source: Reddit/RTM
The Tan Sri Award
Regretfully formal recognitions & awards especially Datukship or Datoship has been made on undeserving individuals who were later found to be involved in crimes or works undermining the country's stability.
And over the years, it has to come to a point where no one really respects a Datuk or Dato unless you know the person personally and know why they got the Datukship or Datoship. I know some people who proudly use the title Datuk or Dato but it is a fake title.
Veteran DAP politician Lim Kit Siang was also conferred the prestigious "Tan Sri" title, months after he announced his retirement from active politics.

The former DAP Parliamentary leader would be the first from his party to receive the second-highest federal title, following its convention for the party leaders to not accept such awards while still serving voters.

The "Tan Sri" is the second-highest federal title after "Tun", bestowed under the awards of Panglima Mangku Negara (PMN) and Darjah Panglima Setia Mahkota (PSM).

DAP lawmakers have previously been conferred the "Datuk" federal title following their retirement, such as Datuk Wong Han Yoke, Datuk Tan Loo Jit and Datuk Chian Heng Kai.

Several former DAP state assemblymen have also been conferred the "Datuk" (or spelt "Dato'") state titles such as Datuk Ngeh Koo Ham, Datuk Lim Hock Seng, Datuk A. Tanasekharan, Datuk Danny Law Heng Kiang, Datuk Tey Kok Kiew, Datuk Wong Fort Pin, Datuk Stephen Wong, and Datuk Frankie Poon.

(Source: Malay Mail)
To be frank, Tan Sri Lim Kit Siang is one of the more deserving individuals that deserve the country's formal recognition from the country and would have gotten at least Dtukship a long time if not for DAP's long-standing convention not to allow any of its politicians to get any awards whilst they are still in active politics. Even so & despite the title, Tan Sri Lim Kit Siang remained humble and asked all to just call him "Kit".
Way before BN came up with slogans like 1Malaysia which means something on paper but means something else on execution, DAP in general have embraced the concept of Malaysians Malaysia where it profess equality for all the citizen of this country above the notion of race & religion and have consistently acted accordingly over the years. Image source: Shopee
Parliamentary Records
Tan Sri Lim Kit Siang was born on 20 February 1941 and is one of the longest-serving Opposition Leaders for a total of 29 years and has been a Member of Parliament since 1969.
A member of the Democratic Action Party (DAP), Lim Kit Siang started as the national organising secretary and editor of the Party organ, The Rocket, from 1966-1969. He became the Party Secretary-General from 1969 and National Chairman from 1999-2004.

Lim Kit Siang led the Malaysian Parliamentary Opposition bloc from 1974-1999, checking government excesses and exposing many government scandals. He was detained twice under the notorious Internal Security Act (ISA) for speaking up for ordinary Malaysians. No charges were brought against him in both occasions.

Electoral Record:-

Parliamentary Opposition Leader: 1974-1999, 2004-2008.
Member of Parliament:
Bandar Melaka (1969 – 1974);
Kota Melaka (1974 – 1978);
Petaling Jaya (1978 -1982);
Kota Melaka (1982 – 1986);
Tanjong (1986 – 1999);
Ipoh Timur (2004-2013);
Gelang Patah (2013-2018);
Iskandar Puteri (since May 2018).
State Assemblyman:
Kubu, Melaka (1974 – 1982);
Kampong Kolam, Penang (1986 – 1990); and
Padang Kota, Penang (1990 -1995)

Lim Kit Siang published 36 books since 1978.

(Source: Lim Kit Siang Blog)
And interestingly he is one of the few who dares to stand for elections outside their "safe" seats considering that Tan Sri Lim Kit Siang have stood for elections in 5 different states:-
Bandar Melaka, Melaka (1969–1974)
Kota Melaka, Melaka (1974–1978)
Petaling, Selangor (1978–1982)
Kota Melaka, Melaka (1982–1986)
Tanjong, Penang (1986–1999)
Ipoh Timor, Perak (2004–2013)
Gelang Patah, Johor (2013-2018)
Iskandar Puteri, Johor (2018-2022)

(Source: Wikipedia)
The most challenging one would have been the election in 2013 when he was challenged to stand in Gelang Patah, Johore and face off against the Menteri Besar of Johore, then Tan Sri Dato Abdul Ghani Bin Othman and Tan Sri Lim Kit Siang took up the challenge despite the odds and won the seat with a clear majority of almost 14,800 votes.
He retired from active politics on 20 March 2022.
An interesting talk between DAP's YB Ong Kian Ming and the hosts, Khairy Jamaluddin & Shahril Sufian Hamdan on why the Malays do not like DAP. And I have to agree that one of the dumbest things that DAP often do is to make the wrong statements at the wrong time which can be easily manipulated by race & religion-based political parties. It is good to note that Shahril admit that for UMNO, DAP was the easy bogeyman to divert the attention from the actual issues.  
Detention Under ISA
Tan Sri Lim Kit Siang was not new on detention without trial under the Internal Securities Act and this includes detention in view of the 13th May 1969 civil riots. Based on political propaganda, most blamed the riot as a result of Tan Sri Lim Kit Siang & DAP celebrating their win in the general elections of 1969 & provoking riots although others were also involved in this tragic event that saw unnecessary deaths.
The fact is Tan Sri Lim Kit Siang was not in Kuala Lumpur during the time of the riot and was in Sabah on 18th May 1969 for more than a year. Then in 1987, he and a good number of opposition politicians under "Operasi Lalang" and 2 newspapers' publication license was cancelled.

Operation Lalang (Ops Lalang) was Dr Mahathir Mohamad's worst abuse of power during his 23-year rule when he arrested and detained more than a hundred innocent Malaysians without trial under the infamous Internal Security Act (ISA) in 1987.

In the run-up to Ops Lalang and before the assault on the judiciary resulting in the sacking of the Lord President and several other Supreme Court judges, the ruling party had orchestrated a tense situation in the country by creating various "sensitive" issues involving the sending of non-Mandarin qualified administrators to the Chinese schools, conversion of Muslims to Christianity, and even threatening to organise a 500,000-people Umno rally in the capital.

All this was to justify unleashing Ops Lalang to deal with the so-called "threats to national security" identified by the state.

(Source: Free Malaysia Today)
In other words, DAP was used as the bogeyman over and over again by UMNO for years and now PAS is doing the same to hide their own shortcomings whilst DAP have demonstrated a consistent fight for a country that respects all races & religions. As one of the critical partners of Pakatan Harapan, DAP under Tan Sri Lim Kit Siang & his son, YB Lim Guan Eng have in fact bowed down on demands to allow PKR in particular to take the lead and this continues in the current Unity Government.
Final Say
Seriously, what do we want from our politicians at the end of the day?
What values that our politicians should uphold and fight for the rest of us? If one looks at Tan Sri Lim Kit Siang's service since he was appointed as the Member of Parliament, there are several areas where he excels compared to the other members of Parliament.
Promoting Democratic Values: Lim Kit Siang has consistently advocated for democratic principles, including the right to free speech, freedom of the press, and the right to participate in fair and transparent elections. These principles are essential for ensuring of the rights and interests of all Malaysians, including Malays.
Fighting Corruption: Lim Kit Siang has been a vocal critic of corruption in Malaysia. His efforts to expose corruption and promote transparency have been instrumental in raising awareness about the issue and putting pressure on the government to address it. The fight against corruption benefits all Malaysians by ensuring that public resources are used for the common good.
Promoting Good Governance: Lim Kit Siang has consistently emphasized the importance of good governance and the rule of law. By advocating for accountability, transparency, and effective governance, he has played a significant role in pushing for reforms that benefit all Malaysians, including Malays.
Challenging Racial Discrimination: Lim Kit Siang has been a staunch advocate for equality and non-discrimination. He has consistently spoken out against racial discrimination and worked towards building a more inclusive and harmonious society in Malaysia. His efforts to promote unity and understanding among Malaysians have benefited Malays and other ethnic groups alike.
Defending Civil Liberties: Lim Kit Siang has been a strong advocate for the protection of civil liberties, including freedom of expression, assembly, and religion. His unwavering commitment to upholding these fundamental rights has had a positive impact on all Malaysians, ensuring that their voices are heard and their rights are protected.
DAP's core objectives have always been Malaysian Malaysia where all citizens can enjoy justice, freedom, democracy, and good governance regardless of race, religion, or creed. Tan Sri Lim Kit Siang has been a key implementer in driving DAP to achieve its objectives considering that DAP has a better class of politicians in active service who will go down to the ground to resolve the people's issues.
Congratulations, Uncle Kit!