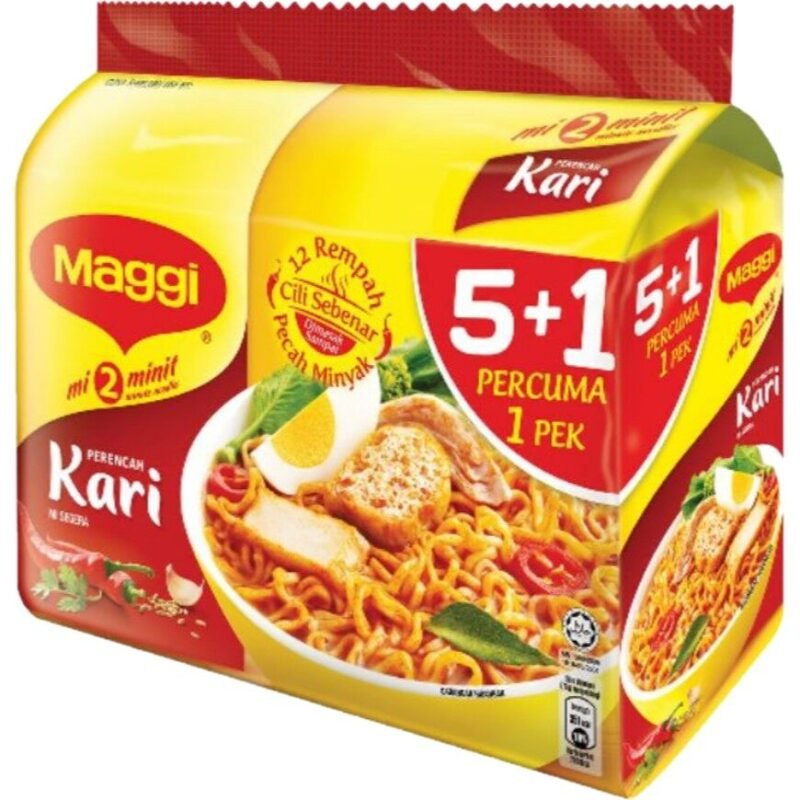 Maggi instant noodles can be classified as the Malaysian dish as an instant, hot meal that you can quickly cook over by just adding hot water and is a life saviour when you are away on an overseas project and you are hungry at night. Image Source: Lazada
"Buy 1 packet of Maggi, Curry, For Breakfast, Tomorrow"
That was the message I got from my wife on my phone late last night, as I was packing up to return home. Hmm, Maggi instant noodles? It has been some time since I had a hot bowl of instant noodles. I recall when I was young, these instant noodles were a lifesaver.
History Of Maggi Instant Noodles
The brand Maggi was not born in Asia as one used to think but instead in Switzerland:-
Julius Maggi took over his father's mill business in Kemptthal, Switzerland, in 1869. In 1897, Julius Maggi founded the company Maggi GmbH in Singen, Germany.
Shortly after Julius Maggi's death in 1912, the company was converted into a holding company, the Allgemeine MAGGI-Gesellschaft.
In 1947, following several changes in ownership and corporate structure, Maggi's holding company merged with the Nestlé company to form Nestlé-Alimentana S.A., currently known in its francophone home base as Nestlé S.A.
(Source: Wikipedia)
Even so, it is interesting to note that Maggi instant noodles itself was created in South East Asia and in particular Singapore but are now manufactured in Malaysia:-
Nestle factory in Jurong produced MAGGI tomato and chilli sauces in 1973. In 1975, commissioned line to produce MAGGI Instant noodles.

MAGGI started producing MAGGI noodles since 1975 to meet consumers need for quick and convenience light meals. MAGGI proud itself as having noodles that can cook in just 2 mins.

MAGGI noodles are currently manufactured in Nestle factory located in Malaysia

(Source: The Ramen Rater)
And from the many flavours that Maggi instant noodles are sold, the best would be the curry flavour which makes it even tastier when it is raining heavily on the outside followed by the tom-yam flavour (a must if you are buying the cup version) and finally the chicken soup flavour which is a good option when you are not feeling so well.
.
One great thing about the instant noodles is that it is so versitile with so many other items so much it becomes another whole meal itself. Maggi "Goreng" is one of the options that can be done using the same Maggi instant noodles.   
Childhood Memories
When we were small, plain cheap biscuits were the first option when finances were tight and we need to have something in our stomachs. Instant noodles come in a distant 3rd place (2nd place was empty rice congee). There was once, my siblings and I had to share one packet of instant noodles – we added a lot of water for the "gravy" so that we have enough to keep our stomachs full. Of course, this was a long, long time ago when life was tough and sometimes unforgiving.
However, at the grandma's house, Maggi instant noodles were very common as cooking is rather free-range and we can always get food no matter what time it is. All that need to be done is to add some vegetables and an egg into the Maggi curry and wait for 2 minutes before the meal is ready.
Overseas Assignment
When you are at home in Malaysia, the choice of food is almost limitless – you can cook at home or just head over to one of the many 24 hours establishments for a hot cooked meal.
Food, when you are away on an overseas assignment, is a different story.
Firstly, some of the countries don't have the same midnight meals culture and some close as early as 7 pm causing us to either get packed food early and keep it in our bags for later or head back to the hotel and order room service with limited food options. This is where Maggi noodles especially with the cup come in very handy,
The same also assist us on our holidays when you suddenly feel hungry in the middle of the night and the room service is closed for the night and you do not want to drive out & lose your parking spot at the hotel.
Conclusion
The message from my wife caused me to have this sudden urge for a hot bowl of Maggi noodles for late-night dinner.
I stopped at the neighbourhood petrol station (which has a good stock of Maggi noodles variations and at a reasonable price too). Grabbed a packet of 5 Maggi noodles and headed toward the counter. Half way I stopped, ponder on it for a moment and went back to grab another 2 packets.
I returned home and gave clear instructions to my wife before I head to take my shower – needed 2 packets of Maggi noodles, added with eggs, special chilly powder from India, onions, vegetables and with less water for thicker gravy. Done with instructions, I headed for my shower and had plenty of anticipation. My wife, being one of the best cooks around, added her own recipe to the preparations.
Dinner, despite the warm weather at night, was one the best in recent months.
Read Also