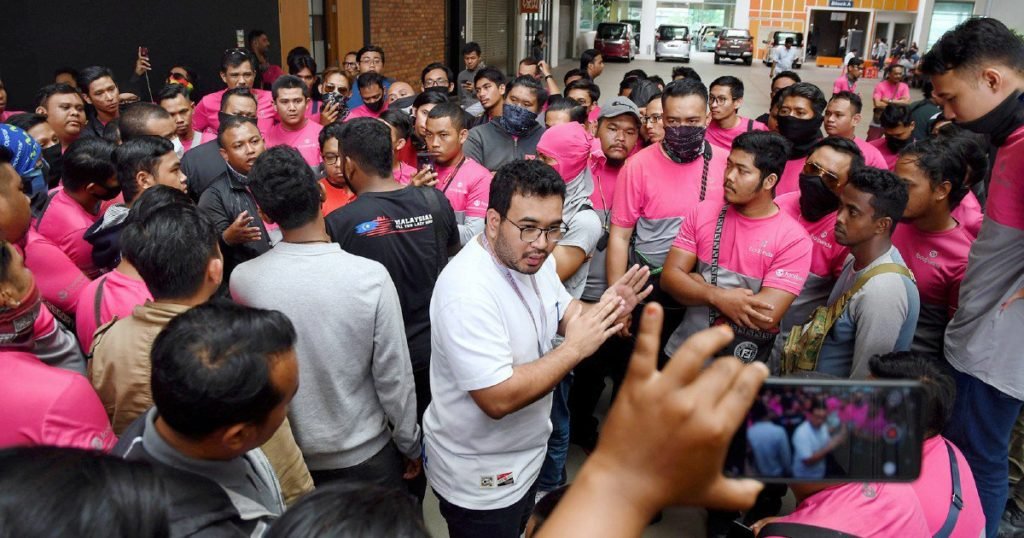 Foodpanda riders protest is nothing new – on regular basis, we had employees' protest over unfair treatment, low wages and improvement of working conditions. Back in August, there were even protests from Utusan daily workers for salaries not paid for last 2 months – image source: NST
Ok I used the word "crisis" for fun – seriously I think the Foodpanda riders are taking the clueless Pakatan Harapan politicians for a ride. Personally I don't use delivery service to order my meals – it at times expensive, it takes time for the food to arrive and if need to get food from outside, I can easily drive out.
The only 2 times I recall using an online services to order for lunch is when I was in Dubai and another when I was in Sarawak – both for work assignment and there were no food court nearby & we did not have any transportation available as well.
The Foodpanda riders are not happy with the revised payment structure; there have been protest by them with the ministers personally getting involved and even to a point asking the company to revert to the previous payment structure. However I think this dissatisfaction on the new payment structure have been blow out of proportion. Just look at these headlines over this past few days and you just want to puke on the nonsense.
First from Malaysiakini:-
Three ministries to form committee to look into Foodpanda issue

The cabinet, which heard the issue of Foodpanda delivery riders at their weekly meeting today, has decided that three ministries would form a committee to look further into the matter.

Human Resources Minister M Kula Segaran said the ministries were the Human Resource Ministry, Youth and Sports Ministry and Domestic Trade and Consumer Affairs Ministry.

In a statement today, Kula Segaran said his ministry had also met with representatives from Foodpanda Malaysia, namely its managing director Sayantan Das and head of marketing Fabian
Emanuel in regards to the company riders that went on strike
Why it involves up to 3 ministries? Doesn't these 3 ministers have nothing else better to do? Why they putting their noses into a profit driven entity over pay restructuring exercise? It is not like the company had terminated and left the rider high & dry without any pay and even so, the affected parties can always bring the matter to the courts to decide. There is still room for negotiations – on worse case, they can always join another food delivery services.
Foodpanda is an international based online food delivery brand company operating in some in 10 countries. It is owned by another food delivery company, Delivery Hero is a global leader in categories such as orders, restaurants and active customers. It is mentioned that Delivery Hero processed more than 369 million orders in 2018.
And then it gets better:-
According to Kula Segaran, the representatives mentioned that in all states apart from Johor, riders had accepted the new pay scheme that works on an efficiency model – the more deliveries, the more the rider would make.

Nevertheless, he said the government urged the company to revert to the old pay scheme that suited all of their riders.
Ok, in case you missed it, let me rephrase it again – new pay scheme that works on an efficiency model – the more deliveries, the more the rider would make. It works on an efficiency model.
But then why the ministers want a profit driven company to fall back to a model that was not efficient? Doesn't promote further losses and delays? This is the problem with clueless, opposition mindset politicians in this country.
The same echoed by others:-
A think tank says Putrajaya should focus on developing the business environment rather than on individual business decisions, after the government stepped in to solve a dispute between food delivery company Foodpanda and its riders over a new payment scheme.

"It might create concerns within the business community that the government is prepared to intervene in decisions of individual companies when things get political," IDEAS research director Laurence Todd told FMT.

He said the government should be clear about its focus on the business environment, not individual businesses.

(Source)
Foodpanda argues that the new payment structure works on a more efficient model which is a win-win situation for both company and the riders.
At the end of the day the company needs to make enough profit – enough to sustain their operations, up keeping of the servers (it must run like a well oiled machine), new research & development of their apps and yes pay salary, commissions and bonuses, not only to their riders but also all the supporting staff and management.
They need to make enough profit to keep their shareholders happy. And more importantly making enough profit to pay the necessary taxes to the Government. If it is a loss making company, then what is the point of the company still doing business? They might as well close shop and cut their losses.
Why the riders are not happy anyway? Let's look at the new and old payment first:-
The new payment scheme, effective September 30 2019, increases the amount that riders outside the Klang Valley earn from payments-per-order: from RM3.50–RM5 to RM5–RM7, with a RM100 bonus given if a rider has completed 60 hours per week.

However, riders will not be paid the RM4 hourly rate (the reported current pay), which Foodpanda says "ensures riders who want to work more have high volumes of deliveries available to them and vice versa."

(Source)
So they are no longer paying by hours – which meant they cannot be paid for loitering around which is grossly inefficient from the company point of view. In fact when I go the KFC branch near my house, I often see a big group of delivery boys (mostly Foodpanda and occasional Grab Food) would be waiting for orders to come.
Obviously there are more delivery boys waiting for orders to come than the customers making orders online (if there are too many orders coming in, the boys will not have time to loiter around).
The payment structure between the company and the delivery boys (the heart and crust of the food delivery services) need to be worked out for the best interest of employer & employee. They cannot have politicians intervening unnecessarily on business decisions of the company.
Echoing IDEAS' statement – the government should be clear about its focus on the business environment, not individual businesses.