News snippet – Still remember this so-called Professor Kamarul Zaman who in 2018 was one of three panellists and was criticising and stressing why Dr M should not be a Prime Minister.
It was reported that the Professor wetted himself (which the Professor strongly denies) when Dr M gatecrashed the Shah Alam event and posted on Twitter "I am here guys. Say it to my face." Well, he is back with wild allegations of veiled religious conversion by using charity. Image source: Malaysiakini.
It is NOT a joke and can never be a joke – any physical threats are real and need to be considered seriously. Image source: HER
Snippet 1 – Rape Threat Joke Is Not Funny At All
This comes after numerous police reports made against the student's teacher and her classmates who have threatened her with rape. It has caught the attention of many Malaysians who have called the authorities to take actions against the teacher.
Fortunately, the seriousness of the matter has now been clarified by the police:-
Bukit Aman has denied that the deputy IGP described reports of teen rape as "a joke" and alleged that headlines of two media outlets on the issue were confusing.

It also released transcripts of the interview to show what the deputy IGP had really said.

In a statement, it said the police take any report lodged "seriously".

"It is the media's responsibility to avoid the wrong perception among the public as investigations are still ongoing," it said.

The statement was referring to two articles published on April 26 on Malaysiakini's website with the heading "Deputy IGP describes rape threat against teen as maybe a joke" and a China Press heading "Pelajar wanita dihina bergurau".

Bukit Aman further released a transcript of the press conference:

Question from reporter (inaudible)
Minute: 09.20 – 09.31

Deputy IGP
Minute 09.31 – 10.39
As of now, I was told the student has made two police reports. The first was on what she felt, focusing on the teacher's action, and last night she made another police report on perhaps the jokes by classmates (which) cannot be accepted.

(Source)
The only matter with this clarification is how the police deduced that the rape threats on the second police report were jokes by the classmates. Anyway, the investigations are ongoing and we will need to wait and see the outcome of the investigation.
The response from the Education MInister seems to be equally disappointing as well:-
On a video that went viral on the Tik Tok application where a female student claimed her physical education teacher suggested that students should rape someone above 18, Radzi said the teacher was out of line.

"It has become a police case, we do not want to talk much about it. But the act should not have happened, all of us do not agree, moreover it involves the manners and integrity of our children," he said. — Bernama

(Source)
Will the teacher be punished for uttering such words and making the wrong impression on his students? Or they will too consider that these are jokes and thus is nothing serious.
And considering how some in this country often blames DAP for all things that went wrong in this country, it was convenient for the Professor to cook up his story considering the MP is from the DAP. Image source: Zunar
Snippet 2 – FoodPanda Rider "Hunted Down" for Accepting Charity
It is clear that there are some people out there who have absolutely nothing better to do. These same people however will have negative doubts and start questioning the very intent of charity without doing charity themselves. In the latest incident, it was the same Professor who got upstaged by Dr M almost 3 years ago.
He is now going after not only the DAP MP who helped a FoodPanda rider but also going after the FoodPanda rider as well. One needs to question his real intentions.
In an update, the professor, Kamarul Yusoff, posted on his Facebook that he will be offering a reward of RM2,000 for information regarding the FoodPanda rider that Steven Sim helped.

He added that this to clear any air of mystery surrounding the rider and the effort will be aided with the help of his two Facebook friends.

Kamarul offered the cash for any information including the rider's phone number, home address, and office address. "I would want to meet him to present him with a certain contribution," he said.

(Source)
If you read his earlier posts on social media, it boils down to the dumb notion of religion and the hidden intention of Christian Evangelists. He implies that during Ramadan, non-Muslims should not be helping fellow Malaysians who are Muslims and publicise the act of charity.
Bukit Mertajam MP Steven Sim said today he will be pursuing legal action against controversial academic Kamarul Zaman Yusoff Kamarul, after the latter accused his charity works of "Christianisation".

Sim said he had initially refrained from pursuing any action owing to the sanctity of the fasting month of Ramadan, but lamented that Kamarul continues to make baseless accusations against him which have fanned ethnic and religious flames.

Yesterday, the Universiti Utara Malaysia (UUM) senior lecturer took to his Facebook, saying that he has never disputed all the help given by Sim to his constituents or to anyone else, but that he was uncomfortable over the publicity Sim had received during the month of Ramadan.

The post was a statement he had given to Malaysiakini, which he republished on his Facebook page under the headline titled: "Warning to Steven Sim: Don't provoke race and religious tension by over-sensationalising aid distribution to the Malay-Muslims".

Sim had in his previous Facebook post, expressed sadness after Kamarul listed his various charitable deeds, cautioning Muslims to be wary about accepting help from "Christian evangelists".

(Source)
It is good that the Professor is now facing a civil suit for defamation since his comments and going after the FoodPanda rider does not sound sincere and more of an evil intrusion.
Does it make any sense that more than 20 people got a collective fine of RM60,000 against one guy getting one fine of RM50,000 for a similar offence? Image source: SAYS
Snippet 3 – Burger Seller Fined 50K, VVIPs Fined The Same?
The SOP in relation to COVID19 is very clear and yet we have the SOP breached on daily basis – some are clear cut, some are on the borderline.
A burger seller at Kampung Rambutan Rendang near here was issued with an RM50,000 fine yesterday for violating the movement control order (MCO), including operating beyond 10 pm.

Kota Baru district police chief ACP Abdul Rahim Daud said the man also violated the standard operating procedure (SOP) by setting up tables for customers and failing to provide a body temperature scanner.

"Due to the offences, we issued the maximum compound of RM50,000. However, he can appeal to the Health Ministry for a reduction," he said when contacted here today.

Meanwhile, the 38-year-old burger seller, Wan Mohd Faisal Wan Kadir, when contacted, said the incident happened at about 11.10 pm, and there were no customers at the stall when several policemen approached him.

"I have folded the tables but haven't closed the stall as I was preparing orders for factory workers," he said, adding that he had been slapped with a RM1,000 compound previously for the same offence.

(Source)
The fine is heavy and swiftly given indeed but the same cannot be said for VVIPs who not only breached the SOP but also lied to the authorities.
Police are proposing that Noor Neelofa Mohd Noor, better known as Neelofa, and her husband be issued compounds for violating standard operating procedures (SOPs) at their wedding.

Dang Wangi police chief Mohamad Zainal Abdullah said this after the police completed its probe on the celebrity couple's wedding, Berita Harian reported.

They have since handed over their investigation papers to the deputy public prosecutor (DPP).

"However, the DPP will decide whether they are to be charged or not," the Malay daily quoted him as saying.

Police initiated a probe into the alleged breach of SOPs last month under Section 21A of the Prevention and Control of Infectious Diseases Act 1988 (Act 342).

Zainal had previously said their probe found that the ceremony failed to comply with the prescribed SOPs, while social distancing was not observed.

The actress-turned-entrepreneur married televangelist Haris Ismail, better known as PU Riz in an elaborate ceremony at a hotel in Kuala Lumpur on March 27.

Neelofa has since apologised for violating SOPs at her wedding and for visiting Langkawi despite interstate travel being prohibited.

(Source)
Neelofa and her wedding party have now been fined a total of RM60,000 and that too after a lengthy police investigation (the offence occurred in March 2021). Further, this quantum of RM60,000 is based on a combination of several fines for various offences (Neelofa personally only got an RM20,000 fine).
The burger seller on the other hand only got one fine amounting to RM50,000 and that too was immediate (on the spot).
This is not the first time double standards have been imposed on SOP breaches by VVIPs
Just moments earlier, MOH issued a statement announcing that plantation industries and commodities minister Datuk Mohd Khairuddin Aman Razali had been slapped with a RM1,000 compound for failing to be in home quarantine for 14 days, as per the ministry's standard operating procedure.

MOH's statement, however, did not appease social media users who were quick to point out the seeming biases in the way the authorities penalised everyday people for breaking the Covid-19 SOPs, as opposed to lawmakers and the elites.

"I'm sorry, I have lost all trust on MOH, all the procedures issued, to me, are mere cover page decorations, regards," a Facebook user, Muhammad Anis Daud wrote.

Athenz Yu meanwhile called on Malaysians to simply ignore the self-quarantine rule which the social media user noted only caused a RM1,000 fine, compared to the RM2,100 for a two-week hotel stay.

"Come people of Malaysia. Rather than you undergoing quarantine with a cost of RM2,100, it is better to break the quarantine, as it is only a fine of RM1,000. If you are told to pay more than that, please use this case as a reference in court," the comment read.

"MOH, this hardly seems fair by anyone's standards, especially the ideals set by MOH for the rest of us," another user Vanitha Rangganathan wrote.

Wan Taimong, meanwhile, compared the penalty received by Khairuddin to the one faced by an elderly woman in Perak, who was fined RM8,000 and jailed for one day.

"RM1,000 only? That aunty was fined RM8,000, one day in jail wooo," the comment read.

(Source)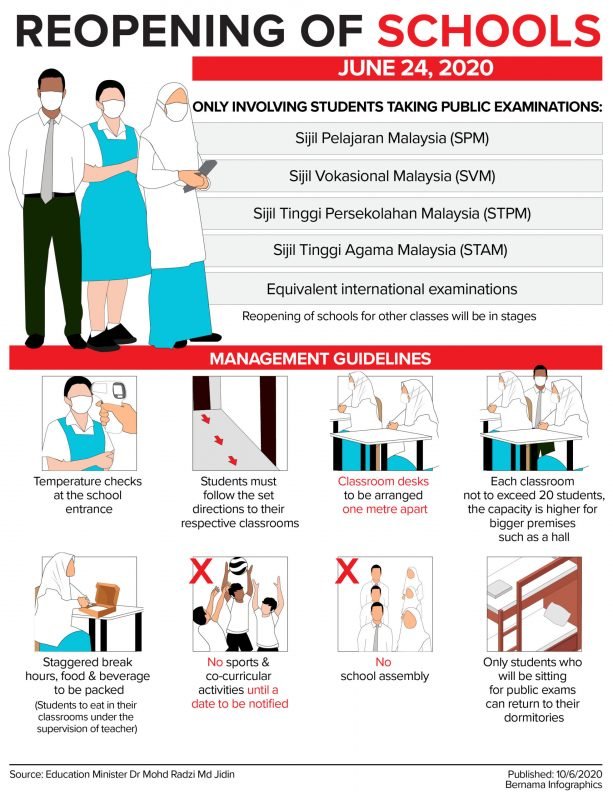 We had a very strict SOP when we decided to re-open the schools so did we get relaxed with the SOP enforcement till it caused COVID19 clusters to emerge now? Image source: PMO
Snippet 4 – Schools Becoming New COVID19 Clusters
This is actually frightening considering that after a long time children were studying from home and they have only recently gone back to school.
The Education Ministry (KPM) is committed to continuing with the school session as it is confident that the standard operating procedure (SOP) implemented in schools can curb the spread of Covid-19, said Senior Education Minister Datuk Mohd Radzi Md Jidin.

He said the data available showed that schools were safe to attend and not the cause of Covid-19 clusters as claimed by various quarters.

The latest data from the Health Ministry (MOH) showed that of the 99 education clusters, 52 involved schools under KPM with 2,274 cases, he said.

"This is 4.8 per cent of the clusters or 2.07 per cent of cluster cases.

(Source)
Frankly speaking, statistics mean nothing to concerned parents like me – the fact is the frequency and number of schools being closed is alarming:-
A total of 79 schools in Selangor have been ordered to close today and tomorrow after Covid-19 cases were reported.

A circular from the Selangor Education Department said the closure will affect 19 schools in Hulu Langat, 18 in Petaling Perdana and 15 in Klang.

Nine schools in Gombak have also been ordered to close, nine in Petaling Utama, two in Sepang, five in Hulu Selangor and two in Kuala Langat.

This follows a spike in Covid-19 clusters involving schools and education centres reported by the health ministry recently.

Previously, the ministry had said there were 49 active clusters and 2,617 active cases involving the education sector.

(Source)
Shouldn't we be more worried now?