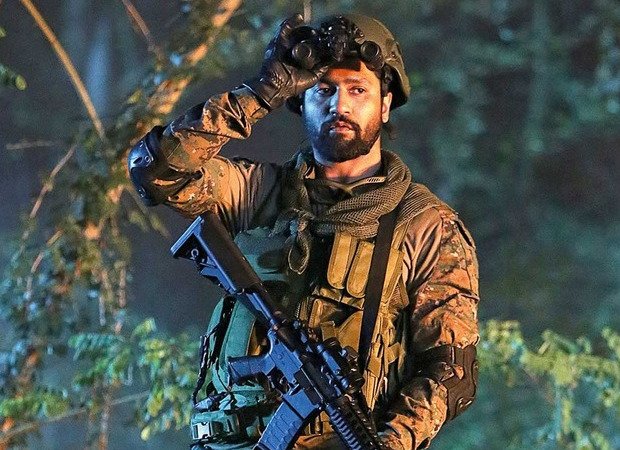 Every movie regardless it is romantic, action, war or comedy, there must be a sense of good storyline and when it comes to action or war, there must be a good use of tactics. If it involves the military, then we expect nothing but the very best when it comes to tactics, skills, strategy and use of specialised weapons.
Just look at the tactics and weapons used in the 2019 blockbuster – Uri: The Surgical Strike. They even got the badges and stripes on the uniform just right. Image source: Bollywood Hungama.
Read these first:-
Over the weekend, I watched Wild Dog which was a 2021 Telugu action thriller film starring Nagarjuna – it supposes to be based on some true events which include terrorist incidents that happened in India, including the Gokul Chat bomb blast in 2007 and the capture of Yasin Bhatkal. Image source: Social News
Despite the big names and impressive settings, it simply failed flat on military tactics. Understandably the movie bombed at the box office. Why it bombed? If I was the audience, I would have blamed the movie made a total mockery of military tactics and professionalism.
The Plot
This plot as described in Wikipedia:-
On 13 February 2010 at John's Bakery in Pune, a bomb explosion claims many innocent lives. Two weeks later, the Ministry of Home Affairs hands over the case to the National Investigation Agency and its top officer Vijay Varma, also known as Wild Dog, is reenlisted by his senior friend DGP Hemanth. Through a series of investigations, Vijay and his team come across the CCTV footage of a man entering the bakery with a bag and exiting without it.

Further, with the help of a survivor's testimony, they are able to create a sketch of the culprit. On the other hand, Hemanth explains to Vijay about a two-week older incident involving killings of two cops inside a truck at the Andhra–Tamil Nadu border, three days before which he had received a tip-off from the Intelligence Bureau about 50 kilograms of RDX being transported at the border.

As the culprit's sketch is circulated everywhere, a shop owner quickly recognizes the suspect and explains to the cops that he let the suspect live in his house on the recommendation of a man named Mirza Baig. Vijay and his team manage to nab Baig and torture him into revealing the culprit's name: Khalid, who bombed the bakery, and his accomplice, Khatil who was supposed to blow up the Dagdusheth Temple but could not, given the tight security at the temple due to a VIP's visit.

Vijay orders a search for Khalid, and sends his teammate Ali Reza undercover in prison where one of Khalid's allies, Mohammed Peerbuoy, who instructs Ali to visit a library named Darul-ul-Islam in Darbhanga, Bihar under his recommendation. Through further investigating, Vijay reveals the culprit to be Khalid Bhatkal, a member of the Indian Mujahideen. On the other hand, Khalid targets Indian Premier League and enlists Khatil for the job. However, Khatil is nabbed by Vijay's team in Bihar while visiting his ailing son and provides them with Indian Mujahideen's details in exchange for his son's treatment.

With his help, police nab several suspects. Asadullah, the librarian, enlists Ali to meet with a special person at Mumbai, and learning of this, Vijay believes him to be Khalid himself. In Mumbai, Khalid instructs Ali through a phone call while watching him. Vijay also keeps an eye on the movements and is about to nab Khalid as the latter prepares to meet Ali inside a taxi, but the mission is foiled by the Mumbai ATS who were following Ali due to a tip-off from the Bihar intelligence.

Enraged, Vijay slaps one of the cops and is suspended from the mission. However, he continues working unofficially and through Arya, a source in Nepal, learns Khalid is hiding there. He asks for Hemanth's help, but the ministry turns them down. Vijay finally flees to Nepal along with his team to execute the covert "Operation Wild Dog".

At the rendezvous point, they are attacked by armed men, before Arya arrives and helps them fight off the attackers. Hemanth is suspected for blowing their cover, since he was the only one aware of the mission. Laxman, a senior inspector at Nepal Intelligence, reveals they were attacked by the henchmen of a don named Bomzan, who is ambushed and reveals he was ordered to kill them by Abdullah, an MP working for the ISI.

Vijay executes Bomzan before ordering him to lie to Abdullah about killing them. Vijay and his team fail to capture Khalid at the wedding of Abdullah's son, but later succeed following a shootout with the Maoists guarding him. Laxman betrays them by revealing to Abdullah about their escape in an ambulance, but Vijay improvises the route. Khalid awakens and attacks Vijay who overpowers him as the ambulance reaches the border.

Two of Vijay's teammates disguised as Indian Embassy officials request the ambulance's entry for a "VIP's operation". Vijay's defibrillation experiment involving Khalid works and seeing his life in danger, the ambulance is allowed to pass through the borders. It is further revealed Vijay secretely texted Hemanth about a traitor in the agency and it was discovered to be Hemanth's friend Vinod, who was assisting with the operation. Vijay hands over Khalid to Hemanth, and salutes the tricolor along with his team.
Initial Impressions
If you have read the plot and watched the trailer, it was impressive – it had all the elements for a great action movie. A specialised team that does not have rules and answerable to no one is formed and instructed to go after the terrorist. The team leader is experienced, smart and thinks out of the box when it comes to operational issues. He has a way out and gets the job done.
Total Failure of Tactics & Illogical Storyline
Unfortunately despite having good first impressions, the movie simply sucks. The lack of tactics and storyline that does not make any sense was just too glaring.
Tactics Failed: Killing Terrorists Without Hesitation
In the beginning, the NIA team will go after a group of terrorists hiding in a safe house – it was all ok until one of the terrorists gives up to one of the agents only to be shot in the head by NIA leader, Wild Dog. He will say this to the other agent – you need to kill others before they kill you. The terrorist already gave up which presents a huge opportunity for intelligence on the terrorist network, the key players and the next targets.
When the US Navy SEAL Team 6 killed the most wanted man back in 2011, their secondary mission was non-other collecting whatever information that they can gather. It was reported that they took ten computer hard drives, documents, DVDs, almost a hundred thumb drives, a dozen cell phones, and "electronic equipment" for later analysis
With Wild Dog in the picture, all terrorists just get shot in the head and whatever information that these terrorists may have goes down the drain. Perhaps Wild Dog is doing a fast one on John Wicks'shootout in the house.
Tactics Failed: Operations in Silo & Lack of Coordination
Wild Dog is not a Rambo and this is not a small operation. You need to have a team and this team need to work in coordination with other supplementary teams. Of course, there will always be a danger of sensitive information may be leaked to the terrorists' cells (more so in India).
This was evident when they were trying to nab the main suspect, Khalid in Mumbai with their undercover agent, only to be nabbed by the Mumbai ATS and Khalid goes missing in the crowd.
The question is where is the coordination? And how these NIA agents missed the part that their own undercover agent is being chased by the other enforcement agencies? Don't they coordinate with each other on the information and what and who will be doing what?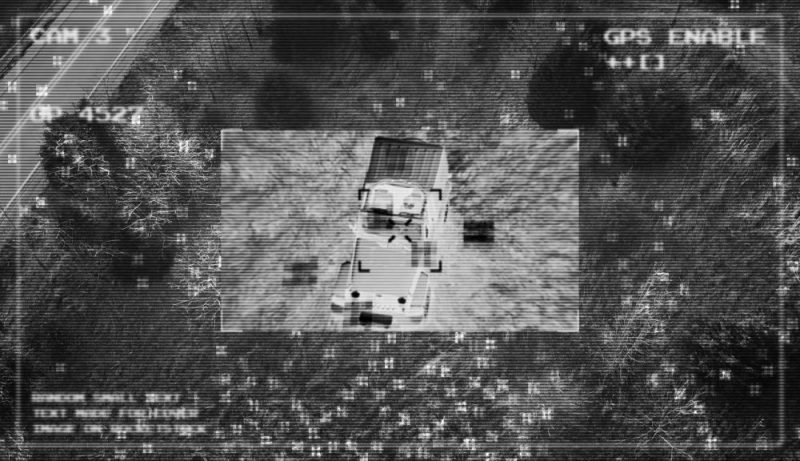 With AI, robotics and big data science, you don't really need a man in the street to follow another to do surveillance. All you need is a drone that tracks some form of signal from your undercover agent. Image source: Rocket Stock
Tactics Failed: Old Style Tailing Khalid Using Same Agents
Yes, I know NIA is a small team but that does not mean they cannot use the latest technology, one called drones. It is reasonable to expect Khalid to keep a close eye on his undercover agent who supposes to meet him to take him to a safe house.
So it does not make sense to have an actual person tailgating the undercover agent. They should have different lookout points from the numerous high, away from the suspicious eyes of Khalid. They should have also deployed drones to keep up with the undercover agent.
Tactics Failed: Why Sneaking Into Nepal?
NIA goes rogue after finding out Khalid in Nepal, under the protection of a local politician and the Indian Government did not want NIA to go into Nepal. A known terrorist hiding place is known and the Government goes back to the bedroom and goes sleeping? Does this make any sense? What kind of tactics is this?
I saw this as a sheer failure of tactics because there are no indications that RAW agents then assigned a mission to go after Khalid since NIA is unable to do so. After all, it is not the first time RAW agents have been involved in counter-terrorism missions overseas included missions in Malaysia.
NIA sneaks in and gets help from a RAW agent who may be working outside the agency but it quickly marked for a kill by the local politician. It was later clarified that there is a leak of their undercover activities in Nepal by a traitor within the NIA.
The police and the military are after you rigorously but you somehow managed to escape because the office at the border only is contacted by the old-style telephone. In this movie, that what happens and you managed to escape. Photo by Grégory Costa from Pexels
Tactics Failed: Escaping Nepal- Seriously How?
Let me reiterate how these rouge NIA agents and Wild Dog escaped Nepal with Khalid in this movie:-
The NIA agents local police contact, Laxman betrays them by revealing to Abdullah, the local politician who is protecting the terrorist, Khalid about the NIA escape in an ambulance but Wild Dog in surprising wisdom improvises the route by taking another route. They ended up at the border and queuing to pass the immigration.

Two NIA agents disguised as Indian Embassy officials request the ambulance's entry for a "VIP's operation".
To cut short the story, the immigration officer allows the ambulance to go through together with two NIA agents disguised as Indian Embassy officials!!
Unbelievable and how this is done? This is because despite the local politician and the local police knows where exactly Wild Dog is crossing the border with the ambulance, they just could not get through on the phone to the immigration officer in his tent. It must be one of the dumbest immigration officer around and walkie-talkies yet to be discovered in this part of the world.
Final Say – It Is About Tactics, Tactics, Tactics
It is difficult to recount the torture of watching action movies that has zero tactics and zero logics – Nagarjuna is a good actor but what's the point of this if the overall movie sucks? The plot thickens as time goes on but the logic and tactics disappear at the same time.
These directors and scriptwriters tend to forget one key element – it is all about tactics at the end of the day.