My closest encounters with our Malaysian diplomats were when I managed a project in Cambodia where the Malaysian Embassy staff helped my staff who was stuck in Phnom Penh with special flights due to COVID19 lockdown. Image source: Malaysian Embassy Phnom Penh
The embassy arranged special flights out of the country, back to Malaysia and to ensure a smooth return, they escorted Malaysian citizens throughout the checkpoints in the airport. The embassy came to our rescue with first-class service when we ourselves need to fly to Malaysia.
Read these first:-
.
This video summarises the history of diplomacy and we have diplomacy in the first place.
Definition of A Diplomat
Firstly, let's understand the meaning of a diplomat and why we need to make the distinction considering we have unnecessary political appointments that overlap professional diplomats. A simple definition provided in Wikipedia can be summarised as follows:-
A diplomat is a person appointed by a state or an intergovernmental institution such as the United Nations or the European Union to conduct diplomacy with one or more other states or international organizations.

The main functions of diplomats are: representation and protection of the interests and nationals of the sending state; initiation and facilitation of strategic agreements; treaties and conventions; promotion of information; trade and commerce; technology; and friendly relations.

(Source: Wikipedia)
No Tom, Dick and Harry can simply walk into any country and call themselves diplomats. A country's diplomats are usually hand-picked for their experience and negotiation skills and most of them are public servants who started working with the Ministry of Foreign Affairs. There are times, former politicians are appointed as diplomats for specific foreign missions and they usually work closely with the Malaysian embassy in the country.
Malaysian diplomats and their staff have a number of important tasks – from promoting and protecting the country's interests & policies overseas, facilitating business opportunities & investment in Malaysia and by Malaysian businessmen overseas, promoting tourism and handling administrative work such as visa issuance for foreigners and renewal of passport of Malaysians who are living & working overseas.
They are also probably the first and most trusted place one look when in an emergency overseas. Let me assure you that I have experienced this first hand where the embassy staff goes the extra mile to ensure the safety & welfare of fellow Malaysians are taken care of.
.
Being a diplomat is not easy especially when you consider this incident where the Pakistan diplomats get a firm dress down from the Pakistan Prime Minister for failing to do their jobs which is to serve the Pakistanis overseas and to attract foreign investments.
Promise to Taliban
Recently, the Special Envoy to the Middle East, a known supporter of Taliban decided to take things beyond his scope of duty:-
Malaysia has promised to help Afghanistan with humanitarian and economic assistance, including aid to redevelop the country, according to a spokesman of the Taliban-run Afghan government.

Suhail Shaheen said the assurance was given by Abdul Hadi Awang, Malaysia's special envoy to the Middle East, in Qatar yesterday.

(Source: Free Malaysia Today)
For those who may not be familiar, the post of Special Envoy to the Middle East is one of the useless and unnecessary posts that has been created by the new Government considering we have many excellent professional diplomats in the various Middle East countries who are handling the same functions.
The post of special envoys should be made for special reasons for example to act to reconcile two warring factions or when there is a specific mission that the normal diplomats cannot handle as it is beyond their experience and skills. One example is when Tan Sri Dato' Razali bin Ismail acted as a special envoy for the UN to facilitate the discussion between pro-democracy leader, Aung San Suu Kyi and the Burmese government.
But the special envoy to the Middle East is a money-wasting post and one that does not have any significant Malaysian interests in the Middle East. He has yet to prove that he managed to bring in large investments from the Middle East as well. Moreover, he is working on the wrong agendas. Seriously, who is he to promise to give taxpayers money to known terrorists? Does he even have the powers to do so?
The pledge by Malaysia's special envoy to the Middle East Abdul Hadi Awang to provide aid to the Taliban-led Afghanistan government has raised many questions, says Amanah deputy president Salahuddin Ayub.

"His announcement has caught many by surprise and he must answer a few questions.

"Firstly, Malaysia has not officially recognised the Taliban government of Afghanistan.

"Secondly, did the Cabinet authorise him to make such a statement on behalf of the government?

(Source: Free Malaysia Today)
The Special Envoy is known to come out with irrational statements is obviously is not thinking rational here when he flew to Qatar and meet up with the Taliban and promised a lot of assistance which is very likely include monetary assistance. The monetary assistance will be from the hard-earned taxpayers' money.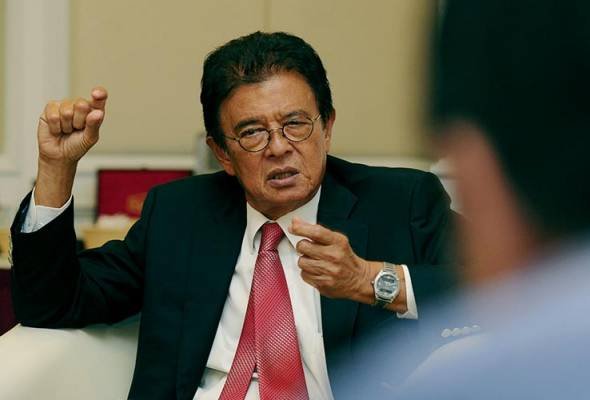 Tan Sri Dato' Razali bin Ismail remained in active service in the fine art of diplomacy from being a diplomat with the foreign ministry to a UN ambassador and special envoy and to be the Chairman of SUHAKAM. Image source: Astro Awani
Samples of Brilliant Diplomats
For Malaysia, I had always rated Tan Sri Dato' Razali bin Ismail as the best diplomat that we ever had and one that is recognised widely and internationally.
Razali Ismail first joined the Malaysian Ministry of Foreign Affairs in 1962 and went on to become the Ministry's Deputy Secretary-General in 1985.

Before he was appointed to the post, he served as Malaysia's Assistant High Commissioner in Madras from 1963 to 1964, Second Secretary of Malaysia's Embassy in Paris in between 1966 and 1968, the Counsellor in the Malaysian High Commission in London from 1970 until 1972 and the Chargé d'affaires in Vientiane from 1974 until 1976.

He was later the Malaysian Ambassador to Poland from 1978 to 1982 and to India between 1982 and 1985.

After his tenure as Malaysian Ministry of Foreign Affairs' Deputy Secretary-General, he became increasingly involved with the United Nations. In 1989 and 1990, he headed the Malaysian delegation to the United Nations. At the same time, he was the chairman of the United Nations Security Council. From 1996 to 1997, he became the President of the United Nations General Assembly.

In the past, he usually headed Malaysian diplomatic delegation to various regional and international bodies such as ASEAN and the Non-Aligned Movement. Until a few years ago, he had been Malaysia's Permanent Representative to the United Nations.

Up until 2005, he was United Nations Secretary-General's Special Envoy to Myanmar and played a pivotal role in releasing Aung San Suu Kyi from house arrest in May 2002.

(Source: Wikipedia)
To quote another, there is no other prominent Malaysian diplomat that comes to one's mind, so one has to cite the Indian diplomats as one of the good examples of great diplomats in recent history. One reason because of that public servants have to undergo a tough examination for IPS, IAS, IFS before is able to branch out to key positions in the Government.
It weeds out the incapable, dumb people from holding key positions in the Government. Malaysia should seriously look at this as well because the qualification & intelligence of some of the key people in the current Government is highly questionable.
One of the fine Indian diplomats, in particular, is India's UN Ambassador from 2016 to 2020, Syed Akbaruddin who in my opinion, is a very cool diplomat and is able to reply to hard, difficult questions with ease and precise facts.
.
Just watch how clear Syed Akbaruddin speaks in English and how he brilliantly responds to the general questions with detailed answers that immediately nails the facts. His body language and his tone of voice clearly show experience he is a diplomat. Those are the very traits that one sees when looking for an ideal diplomat. 
Akbaruddin is a 1985 batch Indian Foreign Service officer. In his distinguished career spanning over 34 years, Akbaruddin has served in different capacities in India and abroad, starting his first foreign assignment in Cairo where he also learned Arabic.

He also served twice in Saudi Arabia; in Riyadh from 1988 to 1992 and in Jeddah from 2000 to 2004 as consul-general of India and he is rightly considered an expert on the West Asia issues in India.

At the International Atomic Energy Agency in Vienna, he was on deputation for four years and returned to India in 2011. He was the director at the Foreign Secretary's Office of the Ministry from 2004 to 2005.

Akbaruddin was the official spokesperson of the Ministry of External Affairs of India from January 2012 to April 2015 and was succeeded by Vikas Swarup. He headed the External Publicity and Public Diplomacy division of the Ministry in the capacity of Joint Secretary to Government of India.

He was also the chief coordinator for the India-Africa Summit in October 2015. He was later Additional Secretary in the Ministry from April 2015 to September 2015.

In November 2015, Akbaruddin was appointed as India's permanent representative to the United Nations in New York, succeeding Asoke Kumar Mukerji.

(Source: Wikipedia)
Final Say
Our diplomats and the embassy staff overseas are truly doing an amazing job of looking out for the welfare and safety of Malaysians and for the best interest of the country by means of promoting investment opportunities both overseas & in Malaysia, promoting tourism (a great synergy with Tourism Malaysia) and to lend the strong voice of Malaysia to an international audience.
They are indeed our true front liners when it comes to the overseas arena where battles are fought on daily basis. We won't need any inexperienced special envoys who were appointed due to their political alliances to duplicate and overtake the work of our real diplomats.
It is obvious that at least one of the special envoys do not know when to keep his mouth shut and behave as if it is happening in his own backyard. His actions with the Taliban have bigger implications in the eye of the international community considering that NO country in the world had formally recognised the Taliban led Government who had driven the duly elected Government into exile.
We need to leave these things to the real diplomats who have the pulse of the international community in their senses and know when to manage the situation as it demands it.
There should not be any bad politics, there should not be any personal preferences. One should just demonstrate the pure art of diplomacy.