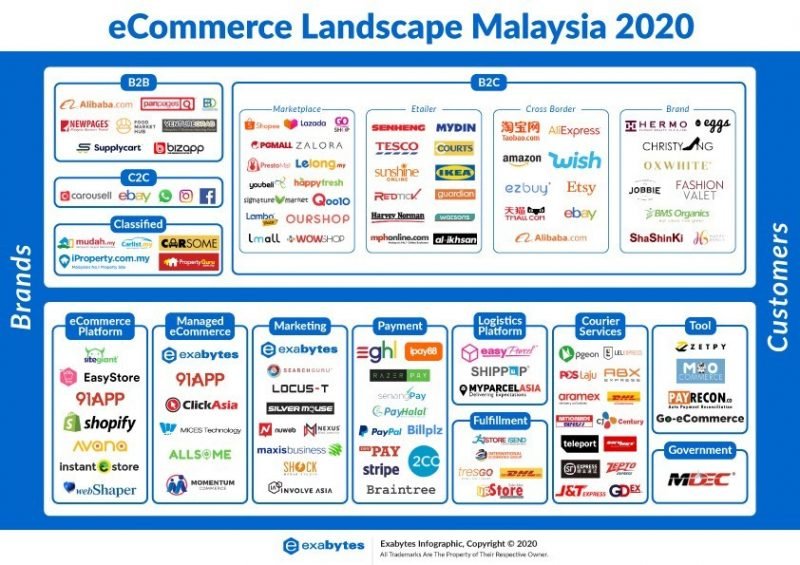 Now with "everything" being online and the delivery of the ordered items pretty much safe and on time, one will not need to go out to an ordinary shop to buy. It is just a matter of clicking a button to pick, select and pay. Infographic source: Midec / Exabytes
The downside of online purchases is that one cannot be able to physically inspect the items before purchase. And I admit that I got burned more than twice of which I managed to get a refund for some and for others, a chance to throw away into the dustbin.
Read these first:-
Image source: Shopee
6 Port USB Power Outlet Extension
Product: LDNIO SK3662 Smart Power Strip USB 6-Port Electrical Outlet Extension Power Wall USB Charger Adapter Phone Laptop Desktop Fast Charging
Purchase Date: 2nd November 2020
Price: RM24.99
One of the main things that we need at home the most is a power outlet for our smartphones. Sometimes there is a small battle on who gets the USB charger first and it boils down to the power percentage in our phones. The one with the lowest power will be the lucky one to get the charger. Something desperate need to be done and the solution is this 6 USB port power outlet which has 3 slots for my TV and Android Box. We have plenty of USB cables laying around so there is plenty for all of our smartphones and others that need to be charged up using a USB cable.
Image source: Lazada
T6/L2 Glare Flashlight
Product: T6/L2 Glare Flashlight Zoom 700LM LED Electric Outdoor Camping Hunting Magnet Super Bright USB Rechargeable Powerful Flashlight
Purchase Date: 7th December 2020
Price: RM27.41
As part of prepping, this was something necessary for the house and in the past, we used to have that huge Eveready torchlight at home but it was large and over time, the battery is worn out and the torchlight does not work. The old-style torchlight was not bright either. There was a need to get something better and a LED type torchlight that runs on rechargeable batteries was the right option. It can be converted into a lantern that came handy when there was a blackout one day – it was bright enough to illuminate the whole living room. The torch is easily charged using a USB charger.
Image source: Lazada
Hair Cutting Scissor
Product: Hair Cutting Scissor Hair Styling Appliances Professional Hair Cutting Thinning Shears for Hairdressing Salon Barber Adult Children Haircut Scissor Hair Razor Household Hair Cutting Tool Stainless Steel Health Beauty Accs
Purchase Date: 10th February 2021
Price: RM15.50
Despite the electrical hair trimmer, there was a need for good sharp scissors for the beard and moustache trimming. Further trimming the hair is more controllable with a pair of scissors than an electrical trimmer.
Image source: Shopee
Mountain Bike Face Mask
Product: Bitak Neck Gaiter Gaitet 3D UV Bandanna Bandana Headband Facemask Cooling Face Scarf Camo Shield Head Cover Snood Scarves for Women Men Bike Accessories Mountain Bike Face Mask Washable
Purchase Date: 29th January 2021
Price: RM12.50
This is the second facial mask that I bought online – the first had a military motive but it was difficult to tighten once I pull it up to cover my face. This one has a small string that can be pulled and tighten the facial mask. It is light, breathable and soft on the skin. And I often used it over my facial mask whenever I am outside and this forms a double layer of protection. It looks tactical too with the right gear – swat pants, cap, polo T-shirt and leather jacket.
Image source: Lazada
OSREN Luminous Wheel Cleaner
Product: OSREN Luminous Wheel Cleaner – 545ml
Purchase Date: 6th April 2021
Price: RM25.50
One of the biggest problems, when I wash my car, is that I could never get the tire rims clean enough despite using a toothbrush, brush, soft cloth, car shampoo and plenty of water. Even the boys at the local car wash can never get the job done right despite using chemicals on the rim and let it soak before firing it using a strong water jet. I was seriously thinking of sending the car to a professional detailing shop to finally get the job done. Then I saw this product by Osren, a local auto detailing supplying company.
One just needs to spray on the dusty dirty wheel rims and let it soak for a moment. You can see the red liquid dripping from the rims. A bit of brushing before spraying with a lot of water and the rims become really clean. It works like magic except that it dissolves any self-painted paints but not the original paint.