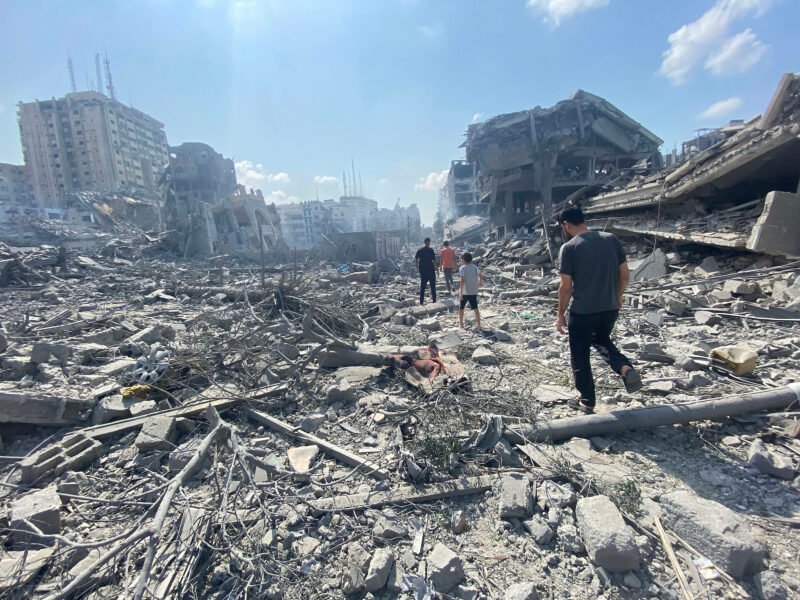 Snippet photo showing Palestinians inspecting the damage following an Israeli airstrike on the El-Remal area in Gaza City on October 9, 2023. Israel continued to battle Hamas fighters on October 10 and massed tens of thousands of troops and heavy armour around the Gaza Strip after vowing a massive blow over the Palestinian militants' surprise attack. Photo by Naaman Omar apaimages
It has been more than a month and the battle between the Israeli military & Hamas in Gaza continues every day we are seeing more protests and casualties and definitely both sides are throwing their own facts & lies to influence global opinion on this crisis.
Snippet 1: Tweeting vs Blogging
I know I have been slacking off on my blog lately, but that's because I've been hooked on Twitter and RPG games. It's hard to resist especially after a long hard day of working. With everything that's going on in the world, I find Twitter more fun and relevant than blogging right now for obvious reasons. Twitter lets me share my thoughts, opinions & facts in a snap, without having to fuss over formatting, editing, proofreading, or SEO which takes me a considerable time to do.
Plus, it has been awesome to interact with people from different walks of life, interests, viewpoints, and skills in real-time & see what they think and feel, especially on sensitive issues that most will not talk about it in the open. I may not always agree with them all the time as some of them are wrong & misinformed, but there are also some insightful feedbacks that make me see things differently.
Still, as a matter of fact, I can't ignore my blog forever because it costs me a lot to use a self-hosted WordPress instead of the free version. However, I don't plan to keep the self-hosted WordPress for long so I'll probably switch back to a free, shared version so that I'll have something to look back on when I decide to quit blogging someday.
A good checklist on how to identify & verify fake news. The Pro-Hamas narration is overwhelming to a point when real evidence to disapprove is shown, many still refuse to believe the evidence. It is made even worse with propaganda & misguided emotions. Image source: Grounds View
Snippet 2: Debunking News on the Gaza Crisis
When it comes to the humanitarian crisis in Gaza, the world is rather divided on the military actions by the IDF that are happening now. No matter which side one supports, it is clearly there will not be an immediate solution for the continued Palestinian civilian casualties that are taking place on a daily basis.
There is an overwhelming street protest all over the world which leans more towards the pro-Palestians or pro-Hamas narration. This is why it is important to understand the crisis better and debunk the incorrect narrations that are taking place.
First is this debunking video where @HilzFuld has consolidated some of the narrations that need to be debunked.
Ok, enough is enough!!

I can't stand the lies anymore!!!

I'm not referring to subjective opinions or analysis. I'm talking about facts, 100% objective, undeniable facts.

Does truth even matter anymore?

Well, I guess we can't blame people for their ignorance unless we make… pic.twitter.com/LZ9i5cxz6c

— Hillel Fuld (@HilzFuld) November 9, 2023
According to some sources, Gaza Strip is home to more than 2.2 million Palestinians and it is one of the most densely populated regions in the world, with an average of 6,507 people per square kilometre. Gaza Strip also contains eight refugee camps, where many Palestinians fled or were expelled from their homes in what is now Israel during the 1948 Arab-Israeli War. This explains the high civilian casualties.
Second is this video from @NickJFreitas, an ex-Green Beret who discusses Hamas' strategy against the more powerful military force and it is interesting to see from a warfare strategy point of view.
Does Hamas have a secret strategy? pic.twitter.com/Qx3y3sXeoD

— Nick Freitas (@NickJFreitas) November 9, 2023
For those who are not familiar, asymmetric warfare is a form of irregular warfare – conflicts in which enemy combatants are not regular military forces of nation-states. The term is frequently used to describe what is also called guerrilla warfare, insurgency, counterinsurgency, rebellion, terrorism, and counterterrorism.
Asymmetric warfare can be seen as a strategy adopted by a weaker side when the military capabilities of the belligerent powers are not simply unequal but are so significantly different that they cannot make the same sorts of attacks on each other. For example, a conventional army may have superior firepower, mobility, and technology, but may face an enemy that uses unconventional weapons and tactics, such as improvised explosive devices (IEDs), suicide bombings, cyberattacks, or propaganda.
The advantages of asymmetric warfare for the weaker side are that it can avoid direct confrontation with a stronger enemy, exploit the enemy's vulnerabilities, create uncertainty and confusion, erode the enemy's morale and legitimacy, and gain support from local or international audiences. The disadvantages are that it can be seen as illegitimate or immoral by some, provoke harsh reprisals from the enemy, alienate potential allies or supporters, and face difficulties in achieving political objectives or securing a lasting peace.
One of the challenges that any army faces when conducting ground operations in densely populated areas is the difficulty of identifying enemies from civilians. This has been a recurring problem for the US military in its interventions in Vietnam, Iraq and Afghanistan, as well as for the German Army in its siege of Stalingrad. The IDF is likely to encounter similar obstacles in its attempt to root out Hamas from its tunnels and hideouts in Gaza, where the militant group has blended with the local population.
Even the PAS President insists that DAP is communist and he says that he has concrete proof but interestingly he has remained silent to the open support from MCA & Gerakan for Chin Peng's ashes to be brought to Malaysia for the funeral and their criticism on the police raid on a coffee shop that had this Chairman Mao themed wallpaper. Image source: Malaysiakini
Snippet 3: Lim Guan Eng vs Chin Peng
PAS is in the hot soup again and no thanks to its MP making another slanderous, incorrect statement about Lim Guan Eng and other DAP leaders:-
Kepala Batas MP Dr. Siti Mastura Muhammad has come under intense scrutiny from netizens for making audacious and unfounded claims against two prominent political figures, Lim Kit Siang and Lim Guan Eng.

The allegations, which suggest that both Lim Kit Siang and Lim Guan Eng are related to Communist leader Chin Peng and former PM of Singapore Lee Kuan Yew, have ignited a firestorm of criticism and disbelief.

She also claimed that Guan Eng and his father, Kit Siang, have family ties with many DAP leaders, including Anthony Loke, Nga Kor Ming, Teresa Kok, and Ngeh Koo Ham.

(Source: DAP Malaysia)
This is not the first time PAS is linking DAP leaders with communism either with the Communist Party in China or now the disbanded Malaya Communist Party which was led by Chin Peng. Such allegations have not been proven till now. DAP have always maintained that they do not have any relationship with any communist entities.
DAP chairman Lim Guan Eng has appointed Datuk Sankara Narayanan Nair as his lawyer to file a lawsuit against Kepala Batas MP Siti Mastura Muhammad for alleging that the DAP leader is related to Communist Party of Malaya (CPM) leader Chin Peng and Singapore's first prime minister Lee Kuan Yew.

Lim, who is also Bagan MP, said Siti Mastura's remarks were a fabrication to incite fear of DAP and the ethnic Chinese community in Malaysia.

"What makes Siti Mastura's irresponsible behaviour more unacceptable is there is no remorse from Siti Mastura that she had made a hate speech full of outrageous lies, racist and extremist.

"She has refused to show proof of the alleged family ties nor recanted or apologised for her outrageous lies and malicious slander," Lim added.

(Source: Focus Malaysia)
For the records, Chin Peng, whose real name was Ong Boon Hua, was a prominent leader of the Malayan Communist Party (MCP), which fought against British colonial rule and later the independent Malayan government.
He was born in 1924 in Sitiawan, Perak, and joined the MCP in 1940. During the Japanese occupation of Malaya, he became the secretary-general of the Malayan People's Anti-Japanese Army (MPAJA), a guerrilla force allied with the British. After the war, he led the MCP in launching an armed rebellion against the British, known as the Malayan Emergency (1948-1960).
The MCP aimed to establish a socialist state in Malaya but faced fierce resistance from the British and Commonwealth forces, as well as from the majority of the Malay population. The MCP was eventually defeated and forced to retreat to the Thai-Malay border.
Chin Peng continued to lead the MCP from exile and attempted to revive the insurgency in 1968, but failed to gain much support or momentum. In 1989, he signed a peace agreement with the Malaysian and Thai governments, formally ending the conflict. He died in 2013 in Bangkok, Thailand, at the age of 88.
Syed Saddiq & his MUDA political party may have been the 3rd force that the country urgently needs but he is not. This particular event when he invited the Indian criminal fugitive Zakir Naik for dinner & told fellow Malaysians to "move on", was the time his true nature came into the limelight. Not surprisingly even the Crown Prince of Johor called him the Drama Queen. Image Source: Malaysiakini
Snippet 4: AG vs Syed Saddiq
The corruption case of Syed Saddiq is one of the most controversial and high-profile cases in Malaysia's recent history. Syed Saddiq, who was the former youth and sports minister and the president of the Malaysian United Democratic Alliance (MUDA) party, was found guilty of four charges of criminal breach of trust, misappropriation of property and money laundering by the Kuala Lumpur High Court on November 9, 2023.
Muar member of parliament Syed Saddiq Syed Abdul Rahman was sentenced to seven years jail and two strokes of the cane for charges of abetting criminal breach of trust (CBT), misappropriation of property and two counts of money laundering.

However, the court allowed Syed Saddiq's application for a stay of execution pending his appeal at the Court of Appeal.

Earlier, counsel Haijan Omar who appeared for the accused pleaded for a minimum sentence by stating that his client was remorseful and regretted the offence.

(Source: NST)
No doubt that many have said that Syed Saddiq's case was politically motivated including Syed Saddiq himself but hasn't this been said of all litigations both civil & criminal in nature when politicians are involved?
Muar MP Syed Saddiq Syed Abdul Rahman told the High Court today that he was taken to court because he did not support Tan Sri Muhyiddin Yassin as prime minister at the time.

The former Bersatu youth (Armada) chief said a request put to him to support Muhyiddin to avoid being charged in court was 'wrong'.

Syed Saddiq said this during re-examination by his lawyer Gobind Singh Deo on the second day of the proceedings to defend himself on four charges of abetting criminal breach of trust, misappropriation of property and money laundering.

(Source: Astro Awani)
Syed Saddiq can stay on as a member of parliament despite the charges, as he has not exhausted his appeal process, perhaps all the way to the Federal Court.
It is not an anticipated court proceeding like the one that the ex-Prime Minister had where he was eventually convicted & imprisoned for a term of 12 years. However, there are consequences for the PMX in view of the AG's DNAA decision on his Deputy and also the MUDA political party who had only won 2 seats in the Parliament.
The End