(Update: Final tally @ o1.12.2008 – 15,319 winners out of 119,151 writers who participated)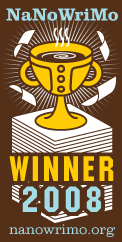 After 24 chapters, 69 pages, 50,239 words, 273,255 characters and many sleepless nights, I have finally done it!
I have won my NaNoWriMo 2008 in my first outing. From the NaNoWriMo's website – total winners todate is 5,805 out of the total 118,648. That is less than 5% from the total. There is still 3 days more to go, so we should be expecting the number of winners to increase.
It has not been easy though. I started my NaNoWriMo campaign on the second day of the month (I missed the first day). Starting was slow. I only managed to do 906 words on the first writing day when I should be averaging at least 1,600 words per day. But in time, I managed to catch up. By yesterday, I already have done 50,239 words over 23 days. That is an average 2,184 words per day.
Keeping on writing was not easy especially when I could not think the next plot for my story and the clock was ticking away. Everyday, after I went back home and had my shower and dinner, I will open my laptop and start typing the story. I will try to "draft" out the plot in my mind as I am driving back home and once I start, I will expand it from there. Often I have gotten more ideas after I have started to write, so it was a good thing too. My daily writing sessions last for about 2 hours and this is a daily event (except on the weekends where I have more time to write more). I lost some good sleeping hours but what the heck; this project only comes once in a year.
My story for NaNoWriMo 2008 titled "The Malayan U Boat" is not finished though. The story details are still in a crude form. There is plenty of polishing up to do in December. I need to fine tune the storyline, give other characters proper names, update the details of German U Boat, and give proper location details and many more. I gather I will clock another 10,000 words (or more) once the editing has been done.
I already plotting my story for the next year's NaNoWriMo… hope more will participate!