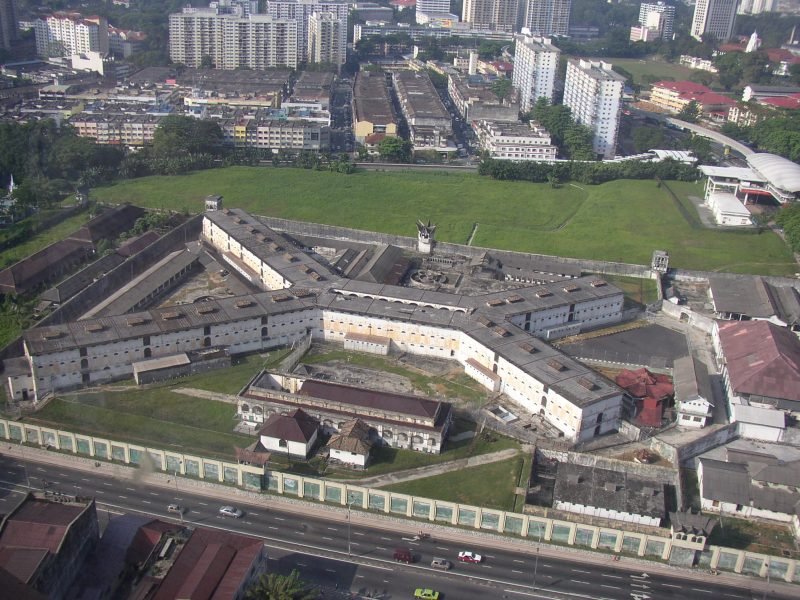 (The famous Pudu Prison which has been in operation since 1895 and is a major landmark being torn down for future development – Images source: Wikipedia)
It is an iconic landmark in KL – I used to see the mural on the wall as I sat in the bus, stuck in the traffic jam along Jalan Pudu on my way back to my grandma's house many years ago.
I also recall the hostage crisis in the 1980s – it was a big thing back then (before the Highland Towers tragedy) with the media giving around the clock coverage and so-called experts giving their analysis. We at home on the other hand were praying for a shoot-out between the cops and the hostage-takers.
The infamous Pudu Jail is being torn down for development, no big surprise there. It is sitting on prime commercial land where there should be fancy apartments and a multi-level shopping complex and not a place to hold dangerous convicts. Prisons should be situated far from civilisations and probably surrounded by deadly swamps and ruthless jungle.
But I like this quote the best –
"Although keeping Pudu Prison is a waste of space, whatever is built there will be haunted,"
Good luck to the future occupants of the area!