For many years, the reliable and trusted F-5E Tiger II had remained at the forefront of RMAF front line interception and ground attack fighter before temporarily moving on to ex-US owned A-4 Skyhawk before settling down with British made light attack combat BAE Hawk 108 & 208 jet fighters.
BAE Hawk 108 & 208 jet fighters played the role of training new pilots, ground attack and providing close air support like how it was done during the Lahad Datu intrusion, with RMAF dropping Mk 82 unguided bombs and CRV7 rockets before the troops moved in. Image source: Junchuann@Wikipedia.
Read these first:-
Background
Back in 2019, the RMAF issued a requirement for 36 light combat fighters (LCA) for a budget of RM7 billion and rightfully it was overdue and there were several valid factors for it.
Factor One – Aging RMAF Assets
When it comes to fighter jets that are capable of defensive and offensive, RMAF have limited choice at the present moment – 13 Britsh made BAE Hawk 208, 18 Russian made Sukhoi 30 MKM and 8 US made F/A-18D Hornets. RMAF still has about 16 MiG-29 in reserves which can be activated provided it can be upgraded and spare parts can be found.
Compare that with Singapore with 40 US made F-15E Strike Eagle and 60 US-made F-16 C/D Fighting Falcon. Indonesia has 33 US-made F-16 Fighting Falcon, 5 Russian made Sukhoi Su-27, 11 Russian made Sukhoi Su-30, 23 British made Hawk 209 and the newer 14 South Korean made KAI T-50 light attack fighter.
Out of the 3 types of fighter jets in RMAF's inventory, only Hawk 208 can be classified as a light attack fighter that can carry a heavy load for ground attacks but within a shorter range. However, Hawk 208 is old with the first plane starting operations on 15th April 1994. It is coming to 28 years of operations in RMAF to date and this will impact heavily on the cost of maintenance and capabilities against more modern adversaries.
Of course, the fighter jet's lifespan can be extended for many years with airframe extension programs and the inclusion of new avionics and weapons by RMAF but then there will be a cost to this. Indian Air Force is still operating Russian made MiG 21 which they procured in 1961 although they have started to phase out with the newer own built multirole light attack HAL Tejas.
.
Factor Two – Foreign Element Intrusion
On one side you have the Rohingyas waiting off the Andaman Sea to enter Malaysian waters whilst on the other side on the South China Sea, you have the might of the Chinese military periodically testing the early warning system of its neighbours and often they do it openly:-
The Royal Malaysian Air Force (RMAF) has scrambled an unspecified number of Hawk 208 light-attack/lead-in trainer aircraft to confront a squadron of 16 People's Liberation Army Air Force (PLAAF) aircraft over the South China Sea.

The encounter took place within the Kota Kinabalu flight information region (FIR) at about 1.30 pm local time on 31 May, the RMAF said in a media statement the next day.

"The PLAAF aircraft were first detected by the RMAF's air defence radar at the air defence centre in Sarawak at 11.53 am," said the service, adding that the Chinese aircraft were flying within Malaysia's maritime zone.

(Source: NST)
In the event of major air intrusion and multiple air attacks, the number of capable RMAF fighters that is still air-worthy may not be enough to sustain the defence.
Never dismiss a propeller based aircraft over a jet-powered one. During the Vietnam War, US Navy's A1-Skyraider propeller based attack aircraft were able to take down jet powered Russian MiG 17. Thailand operates Beechcraft AT-6 Wolverines whilst the Philippines operates the proven, rugged Embraer EMB 314 Super Tucanos. Image source: Pseudopanax@Wikipedia
Three: New Fighter Procurements Within ASEAN
The threat of the Chinese military expansion and frequent intrusion and internal security concerns is also forcing others in the region to start beefing up their air defence capabilities. This will pose a significant threat to RMAF if RMAF continues to operate ageing aircraft.
Thailand
The Royal Thai Air Force has awarded a $143 million contract to Textron Aviation for eight Beechcraft AT-6 Wolverine aircraft, ground support equipment, spare parts, training and other equipment.

"The RTAF is a key U.S. security ally and operator of one of the most advanced air forces in Asia Pacific. Its extensive market research and stringent procurement process sought the alignment of best cost, schedule, and performance to replace its existing fleet of aging Aero L-39 Albatros aircraft and advance the capabilities of its fleet with the latest technology," he added.

(Source: Defense News)
Indonesia
When the contract comes into effect next year, Indonesia will become the 10th nation to buy the A400M, and the second in Southeast Asia after Malaysia. The deal includes a complete maintenance and training support package.

The Tentara Nasional Indonesia-Angkatan Udara (TNI-AU, Indonesian air force) will receive the aircraft in multirole transport and tanker configuration, not only boosting the nation's airlift capabilities but also being able to expand its inflight refueling capacity, which currently relies on a single elderly KC-130B Hercules.

(Source: AIN Online)
Philipines
The U.S. State Department has paved the way for the Philippines to potentially acquire Lockheed Martin F-16 Fighting Falcon multirole fighter jets and associated weapons, as the U.S. ally moves toward a decision for a key component of its military modernization program.

In two other separate notifications released around the same time, DSCA cleared the Philippines to buy 24 Raytheon Technologies AIM-9X Block II Sidewinder air-to-air missiles and 12 Boeing AGM-84L-1 Harpoon Block II anti-ship missiles, worth about $42.4 million and $120 million, respectively.

The Block 70/72 version of the F-16 being offered to the Philippines is the latest version of the mainstay fighter of many Western or Western-aligned countries.

The key improvement of the aircraft over earlier versions is the AN/APG-83 active electronically scanned radar, which is also being retrofitted to the existing F-16 fleets of several Asia-Pacific users, including Singapore, South Korea and Taiwan.

(Source: Defense News)
One doesn't need to highlight the capability of Singapore's Air Force who is already operating the multi-role F-15E Strike Eagle strike fighter in addition to the F-35 stealth fighter.
Shortlisted LCA Candidates
The requirements for light attack combat fighters by RMAF saw a couple of entries to be evaluated and shortlisted by RMAF namely.
It will be interesting to see a delta-winged jet fighter in the RMAF's inventory and HAL Tejas continues to be upgraded and improved due to the strict demands of the IAF and IN, It is superior to many modern jet fighters out there and yet it still not found a foreign buyer. RMAF may be the first customer outside India to own one. Image source: Twitter / Wikipedia.
Indian made HAL Tejas
The HAL Tejas is an Indian multirole light delta wing single-engine combat fighter that was developed to replace the Indian Air Force's ageing MiG 21 fighter jets. The general characteristics of HAL Tejas (assuming Mark 2) are as follows:-
General characteristics
Crew: One or two
Length: 14.60 m (47 ft 11 in)
Wingspan: 8.50 m (27 ft 11 in)
Height: 4.86 m (15 ft 11 in)
Wing area: 44 m2 (470 sq ft)
Empty weight: 7,850 kg (17,306 lb) (expected)
Gross weight: 11,300 kg (24,912 lb) (expected)
Max takeoff weight: 17,500 kg (38,581 lb) (expected)
Fuel capacity: more than 3,400 kg (7,500 lb)
Payload: 6,500 kg (14,300 lb) external stores
Powerplant: 1 × General Electric F414-GE-INS6EPE after burning turbofan. (Indigenous 110KN Engine to be used in future), 58.5 kN (13,200 lbf) thrust dry, 98 kN (22,000 lbf) with afterburner
Performance
Maximum speed: 2,385.36 km/h (1,482.19 mph, 1,287.99 kn)
Maximum speed: Mach 1.8
Range: 2,500 km (1,600 mi, 1,300 nmi)
Combat range: 1,500 km (930 mi, 810 nmi)
Ferry range: 3,500 km (2,200 mi, 1,900 nmi) with 3 external fuel tanks
Service ceiling: 17,300 m (56,758 ft)
g limits: +9/−3.5
Thrust/weight: 0.89 (with 7000 lb of fuel, 2 SRAAMs and General Electric F414-GE-INS6EPE), 1.00 (planned) with Indigenous Engine of 110 KN thrust
Armament
Guns: 1 x 30 mm (1.2 in) GSh-30-1
Hardpoints: 13 hardpoints with a capacity of around 6.5 tons (expected)
(Specifications source: Wikipedia)
Korean have always made quality products and no one doubts the level of technology in their defence products. The key mission of KAI's light combat jet fighters is as trainers and light combat. The upgraded FA-50 is meant to provide a beefier version for heavier mission requirements. Image source: Republic of Korea Armed Forces@Wikipedia.
South Korean made FA-50
The KAI FA-50 is a multi-role, single-engine light combat fighter was a joint venture project by South Korea's Korea Aerospace Industries (KAI) with Lockheed Martin who is behind the US'F-22 Raptor stealth fighter. The general characteristics of KAI FA-50 are as follows:-
General characteristics
Crew: 2
Length: 13.144 m (43 ft 1 in)
Wingspan: 9.45 m (31 ft 0 in) with wingtip missiles
Height: 4.94 m (16 ft 2 in)
Wing area: 23.69 m2 (255.0 sq ft)
Empty weight: 6,470 kg (14,264 lb)
Max takeoff weight: 12,300 kg (27,117 lb)
Fuel capacity: 5,920 pounds (2,690 kg)
Powerplant: 1 × General Electric F404 afterburning turbofan engine (built under license by Samsung Techwin), 53.07 kN (11,930 lbf) thrust dry, 78.7 kN (17,700 lbf) with afterburner
Performance
Maximum speed: 1,837.5 km/h (1,141.8 mph, 992.2 kn) at 9,144 m (30,000 ft)
Maximum speed: Mach 1.5
Range: 1,851 km (1,150 mi, 999 nmi)
Service ceiling: 14,630 m (48,000 ft)
g limits: +8 −3
Rate of climb: 198 m/s (39,000 ft/min)
Thrust/weight: 0.96
Armament
Guns: 1× 20 mm (0.787 in) General Dynamics A-50 3-barrel rotary cannon, 205 rounds
Hardpoints: Total of 7 with 4 underwings 2 wingtips and one under-fuselage; holding up to 3,740 kg (8,250 lb) of payload
(Specifications source: Wikipedia)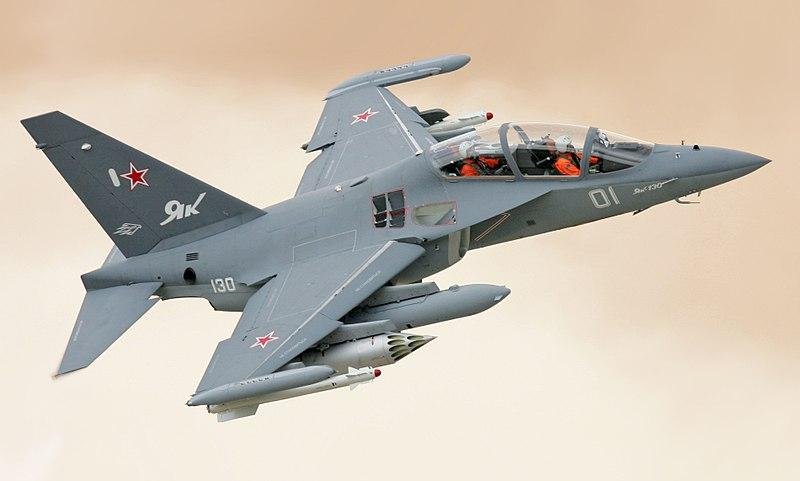 Yak-130 is a good plane as it was developed together with another giant in the defence industry for fighter jets, Aermacchi from Italy who went on to develop their own variant, Aermacchi M-346 Master. The Yak-130 jet fighters are in the inventory of Myanmar and Vietnam's air forces. The only problem with the Russians is their history of post-sale support. Image source: Ministry of Defence@Wikipedia
Russian made Yak-130
The Russian made Yakovlev Yak-130 is a subsonic two-seat advanced jet trainer and light combat fighter. It is reported that the Yak-130 is able to replicate the characteristics of several 4+ generation fighters as well as the fifth-generation Sukhoi Su-57. The problem with Russian aircraft is their after-sales support and spare parts which is why RMAF's MiG-29 had to be retired from active service.
General characteristics
Crew: 2
Length: 11.49 m (37 ft 8 in)
Wingspan: 9.84 m (32 ft 3 in)
Height: 4.76 m (15 ft 7 in)
Wing area: 23.52 m2 (253.2 sq ft)
Empty weight: 4,600 kg (10,141 lb)
Gross weight: 7,250 kg (15,984 lb)
Max takeoff weight: 10,290 kg (22,686 lb)
Powerplant: 2 × Ivchenko-Progress AI-222-25 turbofan engines, 24.52 kN (5,510 lbf) thrust each
Performance
Maximum speed: 1,060 km/h (660 mph, 570 kn)
Cruise speed: 887 km/h (551 mph, 479 kn)
Stall speed: 165 km/h (103 mph, 89 kn)
Range: 2,100 km (1,300 mi, 1,100 nmi)
Combat range: 555 km (345 mi, 300 nmi)
Service ceiling: 12,500 m (41,000 ft)
g limits: +8.0 −3.0
Rate of climb: 65 m/s (12,800 ft/min)
Wing loading: 276.4 kg/m2 (56.6 lb/sq ft)
Thrust/weight: 0.70
Armament
Hardpoints: 9 (1 on each wingtip, 3 under each wing, and 1 under the fuselage) with a capacity of up to 3,000 kg (6,614 lb)
(Specifications source: Wikipedia)
The JF-17 is an evolution from China's own Chengdu-7 (which itself is a copycat of the Russian's MiG-21) and Chengdu-10 with Pakistan's participation as a joint defence partner. Pakistan's technology partner from the West pulled out from this project due to concerns of their technology falling into the hands of the Chinese. Considering that it is using Russian jet engines may not go down favourably with RMAF. Image source: Shimin Gu@Wikipedia.
China made JF-17
The Chinese-Pakistan joint made PAC JF-17 Thunder is a lightweight, single-engine, fourth-generation multi-role combat fighter. It was developed specifically for the Pakistan Air Force who is also the largest user with almost 200 aircraft in service. Just like the Indians, the Pakistanis are eager to export JF-17 to overseas markets namely to RMAF to bring down the cost of development and manufacturing.
General characteristics
Crew: 1 (single-seat JF-17A) or 2 (dual-seat JF-17B)
Length: 14.93 m (49 ft 0 in)
Wingspan: 9.44 m (31 ft 0 in)
Height: 4.77 m (15 ft 8 in)
Wing area: 24.43 m2 (263.0 sq ft)
Empty weight: 6,586 kg (14,520 lb)
Max takeoff weight: 12,384 kg (27,302 lb)
Fuel capacity: 2,330 kg (5,137 lb) internal fuel; 1 x 800 kg (1,764 lb) centre-line drop tank; 2 x 800 kg (1,764 lb) or 1,100 kg (2,425 lb) under-wing drop tanks
Powerplant: 1 × Klimov RD-93 afterburning turbofan with DEEC, 49.4 kN (11,100 lbf) thrust dry, 84.4 kN (19,000 lbf) with afterburner
Performance
Maximum speed: 1,910 km/h (1,190 mph, 1,030 kn)
Maximum speed: Mach 1.6
Cruise speed: 1,359 km/h (844 mph, 734 kn)
Stall speed: 150 km/h (93 mph, 81 kn)
Range: 1,320 km (820 mi, 710 nmi)
Combat range: 800 km (500 mi, 430 nmi)
Ferry range: 2,500 km (1,600 mi, 1,300 nmi) with 3 external drop tanks
Service ceiling: 16,920 m (55,510 ft)
g limits: +8/-3 (limited by flight control system)
Rate of climb: 300 m/s (59,000 ft/min)
Thrust/weight: 0.95 with RD-93 (with 50% internal fuel and 2 x SRAAMs)
Armament
Guns: 1 × 23 mm GSh-23-2 twin-barrel cannon or 1 × 30 mm GSh-30-2 twin-barrel cannon
Hardpoints: 7 (2 × wingtips, 4 × under-wing, 1 × under-fuselage) with capacity for dual ejector racks on each under-wing hardpoint
Payload: 3,700 kg (8,200 lb) external stores
(Specifications source: Wikipedia)
Out of these, Indian made HAL Tejas and South Korean made FA-50 seems to be at the forefront of the RMAF competition.
.
The Case For And Against HAL Tejas for RMAF
The Case Against
1. The failure of the Kalveri engine

The indigenous Light Combat Aircraft (LCA) `Tejas', was conceptualized on the key factor of availability of indigenous `Kaveri' jet engine which was being designed and developed by Defence Research and Development Organisation (DRDO).

The government-sanctioned in 1983 the design, development and manufacture of the LCA over 8 to 10 years to evolve six flying prototypes and for both the LCA and Kaveri engine" The first LCA squadron could be formed by IAF only by 2016 and that too, without the indigenous Kaveri engines.

With the main aim i.e. use of indigenous engine gone (though it must be added that engine making is a momentous task especially for a technologically backward nation such as India) the Tejas doesn't stand out as a success

2. The Indian Air Force and Navy rejected it

The Indian Air Force has said that the domestically manufactured Tejas Light Combat Aircraft is not fit enough to protect the Indian skies while the Indian Navy confirmed that the "overweight" fighter cannot optimally operate from aircraft carriers. So with the military of the producing state rejecting the aircraft, it is not good for the success rate of that specific asset

3. Not so Indian

The Tejas is toted by the Indians as a "Made in India" fighter. The Kauveri engine is not the only Indian equipment not installed and almost 70% of the aircraft's systems still need to be imported.

(Source: Quora)
The Case For
1. Low cost and simple design

Tejas is a low cost aircraft and hence, can be produced in larger numbers in a small budget. At the same time, because of the simplicity of its design, the rate production can also be kept high.

This is very crucial during war situation. We must not forget that Germany lost the war because the best of its tanks including the Tiger and Panther had very poor production rate and on the other hand, the American Sherman tank despite being vastly inferior to the German tanks, could be produced in numbers because of ease of production. They won the war.

2. Stealth

No. I am not kidding! Though the LCA Tejas is not a fifth generation fighter, its small profile drastically reduces its radar signature making it difficult for the enemy radar to detect it from a longer distance.

Moreover, almost entire aircraft is made of composite materials. Hence, there is no riveting on its body. This again helps in deceiving the radar. Well, it's NOT completely stealth but it is near to stealth without using any complex technology!

3. It's a workhorse

You can call Tejas the Kalashnikov of the aircraft. It's designed to stay operational even with minimum maintenance. Moreover, even if it's damaged in combat, the composite airframe can be refitted faster than conventional aircraft and the Tejas can again take to the skies to engage the enemy.

4. Multi role

Tejas may not be as powerful and fearsome as a Su-30MKI, but it surely can do many things the Russian giant can do. The LCA can carry a variety of ordnance on its 8 underwing hardpoints for different kinds of missions (it is to be noted here that Tejas' most probable adversary, the Pakistani JF-17 has only 7 underwing pylons.

Hence, despite being smaller, the Tejas carries more payload). Being a light and agile aircraft, Tejas can perform interception and escort duties. At the same time, it's rugged structure also makes it suitable for ground attack role.

5. Thrust to weight

Tejas is one of the very few aircraft that have thrust to weight ratio of above 1. Tejas' T/W ratio is 1.07. This is more than that of Su-30MKI (0.96) and slightly less than MiG-29 (1.09). Having a thrust ratio above 1 means that Tejas can climb in 90 degrees angle like a rocket without having to dive first to gain speed.

(Source; Quora)
.
The Case For And Against KAI FA-50 for RMAF
The Case Against
1. Limited Range

The FA-50 flight range is limited to a distance of 1800 kilometers. The reason for such a short range is that it is designed to protect the South Korean air space which is much smaller in size compared to the Malaysian airspace.

The distance from Seoul in the north to Busan in the south is a mere 325 kilometers which is slightly longer than the distance between Kuala Lumpur to Johor Bahru.

If the FA-50 were to take off from Butterworth to Kota Kinabalu (a distance of approximately 1850 kilometers) for a mission it would run out of fuel before it reached its destination.

2. Israeli Defence Products

The FA-50s utilizes the EL/M2032 fire control radar system which is manufactured by Israeli defence products provider Elta Systems, a subsidiary or Israel Aerospace Industries. This feature could potentially be a deal breaker as Malaysia does not have official diplomatic or trade ties with Israel.

KAI which manufactures the aircraft have promised they will work with local partners Kemalak Systems Sdn Bhd to establish a final assembly line in the manufacturing process, should it win the bid.

This incentive is not as strong as offers from other bidders who are offering to boost the local aerospace industry with the development of sophisticated Maintenance, Repair and Overhaul (MRO) facilities.

3. Not Unique to Malaysia

KAI is reported to have sold 12 FA-50s to the Phillipines, 14 AT-50s to Thailand and 22 TA-50s to Indonesia. The AT-50 is the advanced trainer variant while the TA-50 is the light attack variant of the FA-50.

Malaysia may well be making the job of defending its territory more difficult by buying the very same fighter jets that are already being used by its closest neighbours.

4. Security Compromised

KAI has been the target of hackers most notably from North Korea who broke into their network in June and had access to sensitive information about defense systems including those of the FA-50.

Several other high tech South Korean companies have been targeted as North Korea continues to unleash its keyboard army on its southern neighbor.

Many still recall the North Korea spy agency which operated under the name of Glocom which sold military equipment out of a shophouse in Kuala Lumpur are still fresh in the minds of Malaysian security personnel.

(Source: European Post)
The Case For
1. Flexibility

Simply because the Koreans had designed the original T-50 Golden Eagle airframe as a supersonic LIFT trainer that can be outfitted with combat avionics with little modification and be quickly pushed into front-line combat role if necessary/ requested.

Such flexibility meant that you could better train pilots on advanced supersonic frontline jets with the T-50 while still under training syllabus, thus producing batches of military pilots that are ready to go straight into OCUs and finish conversion quicker then the ones who don't get such training.

This greatly cuts down on the amount of syllabus they have to perform and cuts savings from training costs.

2. Multi-Role

Of the three aforementioned countries, Indonesia ordered theirs as a T-50 variant, meaning a supersonic jet trainer with secondary, if limited, air-to-air capability.

This is done because not only Indonesia has plenty of frontline supersonic combat aircraft, but little to no trainer aircraft to teach their pilots how to fly supersonic aircraft while still in training syllabus (the twin seaters were all in OCUs in the Indonesian Air Force up to the arrival of the T-50).

Additionally, the Hawk Mk.53 was getting old, and so the T-50 also served as a replacement for that aircraft, killing two birds with one stone. Additionally, TA-50 light attack capable variant has also been ordered.

3. Cheaper Option

Iraq and Phillipines both ordered theirs as the FA-50 combat-capable variant because both countries were trying to rebuild their air forces quickly and relatively cheaply (Phillipine Air Force in particular had been fighterless since their F-5As were retired).

Much of the 20–30 million USD price tag is because much of the development was done in ROK with Korean lead with partnership and advisory from L-M, thus making it the first indigenous Korean-built supersonic aircraft. That said, capability-wise, most LIFT trainers don't have supersonic capability. T-50 does have that capability.

(Source: Quora)
.
Why RMAF Should Pick for HAL Tejas?
Although KAI's FA-50 light attack combat fighter has proven itself with a large number of foreign purchases namely from Indonesia, Thailand and Philipines and is cheaper compared with the specifications of the F-16 Fighting Falcon, personally I prefer RMAF to go with the Indian's HAL Tejas for a number of reasons:-
Reason 1 – Flexible Payment Options
The Indians are willing to consider contra trade for the planes for RMAF with Malaysian palm oil and we already know that on record, India is our largest purchaser of Malaysian palm oil. That means Malaysia can save hard currency and optimise our natural resources toward a better defence package for RMAF from the Indians.
At this point, it is difficult to estimate the overall cost to RMAF to procure their new light attack combat fighters but it needs to be within RMAF's budget of RM7 billion (some quote RMAF's budget as RM8 billion).
Still, it is not small money to spend especially with the terrible financial management of the current government. So, any offer to sell these jets for RMAF in a non-cash option should be taken seriously.
Reason 2 – MRO Centre in Malaysia
The Indians are willing to set up Maintenance, Refurbishment dan Overhaul centre in Malaysia for the RMAF and in the same manner how HAL was managing the maintenance for Russian made fighter jets. Having an MRO centre in Malaysia would shorten the RMAF's fleet maintenance lifecycle and also build the capabilities of RMAF and RMAF's external contractor's technicians.
Further, as the Indian Air Force also operates Sukhoi 30MKI which is comparable with RMAF own Sukhoi 30MKM, a closer relationship with HAL may resolve the lack of spare parts with the Russians. By the way, HAL is also involved with the upgrade of IAF's MiG 29 which may open new opportunities to upgrade RMAF's MiG-29 which was retired back in 2017 due to a lack of spare parts.
Reason 3 – HAL Tejas Continous Improvement
Most of the criticisms with HAL Tejas for RMAF is on the Mark I model which is incidentally the first operating version with the IAF. It is obvious that these shortcomings need to be resolved before it is delivered to RMAF.
The same problem was highlighted by IAF and this pushed HAL to roll out Mark IA which has about 40 major improvements. It is clear that Mark 2 will have even more improvements based on the gaps identified with Mark I & Mark IA and this is the version that RMAF should consider seriously.
If the Mark 2 enters production, a total of ninety-nine engines may be delivered as part of a $600 million deal. The improved propulsion might not only make the Tejas Mark 2 more viable for carrier takeoff but increase its maximum weapons-load capacity by 25 per cent, to eleven thousand pounds.

The Tejas Mark 2 would also come loaded with further enhancements to the avionics, most notably an Uttam AESA radar developed domestically by the Electronic Research and Development Establishment. AESA radars offers greater resolution and sensor stealth, and are considered to be the cutting of current fighter-borne radar technology.

The Tejas Mark II would incorporate the new features of the Mark 1A, as well as a new glass cockpit with an eight-by-twelve-inch multifunction display and an onboard oxygen system that collects air from the outside, removing the need for oxygen bottles.

The new engine and avionics on the Mark 2 would stretch out the airframe an additional meter for a total length of 14.2 meters.

(Source: National Interest)
The Indian Air Force and the Indian Navy is not an organisation that is willing to accept below the par equipment and this forces the local manufacturers to keep the upgrade of poor quality products and that will benefit the RMAF as well in the long run.
Reason 4 – Less Israeli Defence Components
One of the key components of KAI-FA50 and also HAL Tejas is the ELM 2052 fire control radar which is derived from Israel and since Malaysia does not have a diplomatic relationship with Israel may prove a pain in the neck for RMAF when it comes to upgrading and replacement of parts.
To work around this constraint, the Indians will likely offer their self-development Uttam fire control radar which will be fitted to IAF's Tejas.
Uttam is a state-of-the-art AESA radar that can track multiple targets and take hi-resolution pictures to aid in reconnaissance. Seshagiri P, project director, Uttam, said it's being tested on two LCAs — LSP2 and LSP3 — and one executive jet. Together they've completed around 230 hours of flying, including 30 on LCAs.

"On the LCAs, testing is for air-to-air mode at present. The range of the radar should be almost commensurate to launch a BVR (beyond visual range) weapon; it's specified to be so. But we're getting a range that's better than that. We are a couple of sorties away from starting a joint evaluation. After this, it will be ready for user evaluation," Seshagiri told TOI.

On the executive jet, Uttam's tested three basic modes — air-to-air, air-to-sea and air-to-ground. "…The same needs to be ported on LCA and checked for performance. There's a fourth mode called navigation terrain avoidance, weather mode (rain bearing clouds)," Seshagiri added.

According to LRDE, Uttam is a current generation system with features that allow aircraft to boast of low probability of intercept and non co-operative target recognition.

"It provides better situational awareness of the battlefield scenario and is capable of tracking multiple targets with high accuracy suitable for firing missiles and interleaved air-to-air, air-to-ground and air-to-sea modes for all terrain solutions," LRDE said.

(Source: Times of India)
Reason 5 – Matured Indian Defence Industry
Considering that India is always facing active military intrusion and attacks from Pakistan and China at all levels, it has developed a good and sustainable defence industry that has provides a good range of defence products from main battle tanks, helicopters, fighter jets, naval crafts, personal weapons, army vehicles, radar equipment and missiles including the famous BrahMos cruise missiles.
Further, Indian defence companies have active defence manufacturing partnerships with the Israelis, Russians and the US-based defence companies which allow them to license the technology into their own indigenous defence products. Malaysian defence companies will greatly gain from being defence partners with the Indians in this manner considering RMAF need to upgrade many of our ageing fighter jets and procure new ones all of which the Indians can provide under the RMAF's inventory.
Reason 6 – Going Beyond Jet Fighters
A close relationship by RMAF with the Indians goes beyond the procurement of light attack combat fighters as India is the only country in the vicinity that can effectively counter the Chinese on air and sea.
The Indian Navy is rather unchallengeable in the Indian Ocean with 10 destroyers of which many are stealth guided-missile destroyers, 13 frigates mostly with guided-missile capability, 16 conventionally powered attack submarines, 23 corvettes and 10 large offshore patrol vessels.
The Indian fleet is generally modern and well equipped. We will need the Indians if RMAF and RMN are going to face off the Chinese aircraft and ships in the South China Sea.
.
Final Say
The only problem that RMAF is likely to face should they accept HAL Tejas as their next light attack combat fighter jet is on the timing of the delivery as HAL needs to meet their delivery target to complete the upgrades to Mark 2 Tejas and deliver Mark IA versions to the Indian Air Force who will be the largest operator with 24 fighters with 85 on order from HAL.
It is possible that to ensure successful export, the Indians may prioritise delivery to Malaysia's RMAF over the Indian Air Force and fast track the delivery for RMAF.