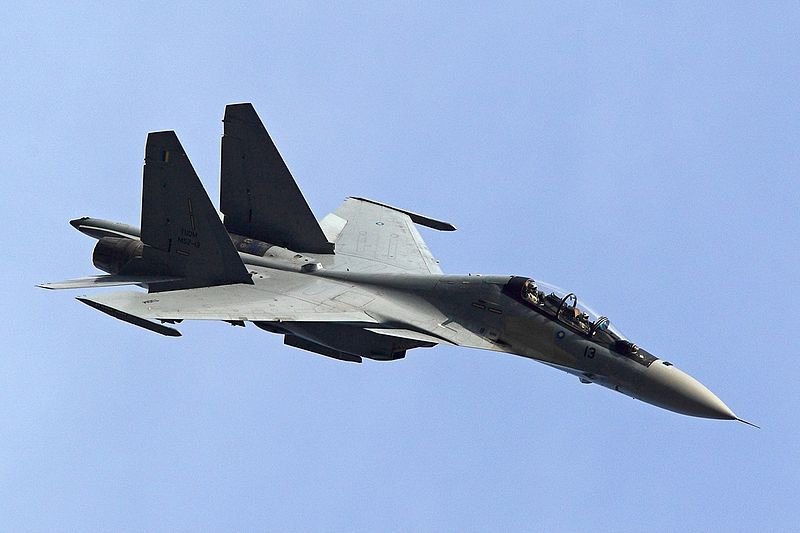 No matter which angle you look at it, the Russian-made Sukhoi Su-30MKM is still one of the most beautiful fighters around and is far superior to many current Western, modern jet fighters. In addition to the earlier 16 units of Russian-made MiG-29N, Malaysia deployed 18 of these multi-role fighters in 2007 to complement the 8 US-made F/A-18D multi-role fighter that was deployed in 1997. Image source: Wikipedia.
Read these first:-
Whilst Malaysia and India already have a very close relationship when it comes to trade and also defense, it is expected that the working relationship to improve further with the appointment of Datuk Seri Anwar Ibrahim as the 10th Prime Minister:-
Malaysia looks forward to working closely and strengthening ties with India as the country is an important partner, said newly-appointed Prime Minister Datuk Seri Anwar Ibrahim.

He said this in his tweet today in response to Indian Prime Minister Narendra Modi's tweet on Anwar's appointment as the 10th Prime Minister.

"Thank you PM@narendramodi, India is an important partner for Malaysia. I'm looking forward to working closely with you to strengthen ties and cooperation in various areas including trade, investment and culture," Anwar said.

(Source: Malay Mail)
In relation to defense, Royal Malaysian Air Force (RMAF) was considering the Indian-made light combat aircraft, Tejas as the replacement for it's aging British-made Hawk 200 but no decision has been made till now. In fact, it is said that RMAF has agreed to buy the South Korean-made FA-50 but due to the change of government, the final agreement has yet to be made.
.
It is said that there were several reasons for the Indian-made Tejas not being shortlisted by RMAF but one key point would have been the availability of the jet fighters to immediately fill the gap in RMAF's inventory. HAL is already struggling to meet its commitment to the Indian Air Force in the midst of upgrading the Mark 1 version to the more capable Mark 2 which would be attractive to RMAF.
Interestingly Russia offered to take back the MiG-29N that Malaysia had grounded due to lack of spare parts & high maintenance and offered instead the latest version of MiG-29K dubbed MiG-35. But then Russia generally does not have a good after-sales record and this was the reason why RMAF looked at other countries for light combat aircraft. Image source: Wikipedia
Background of Sukhoi-30
The first modern Russian jet fighters that were capable of going head to head with modern Western jet fighters, namely the US-made F-14 Tomcat, F-15E Eagle, F/A-18 Hornet, and F-16 Fighting Falcon multi-role fighters were the MiG-29 Fulcrum and the Sukhoi's Su-27 Flanker air superiority fighters.
Both of these had an excellent record since being introduced into active service in the early 1980s, upgraded several times to keep up with the technology & tactics, and have been widely exported to countries outside Russia mainly India & China.
The Sukhoi's Su-30 was the next iteration of the Su-27:-
The Sukhoi Su-30 (Russian: NATO reporting name: Flanker-C/G/H) is a twin-engine, two-seat supermaneuverable fighter aircraft developed in the Soviet Union by Russia's Sukhoi Aviation Corporation. It is a multirole fighter for all-weather, air-to-air and air interdiction missions.

The Su-30 started as an internal development project in the Sukhoi Su-27 family by Sukhoi. Of the Flanker family, the Su-27, Su-30, Su-33, Su-34, and Su-35 have been ordered into limited or serial production by the Russian Defense Ministry. The Su-30 has two distinct version branches, manufactured by competing organisations: KnAAPO and the Irkut Corporation, both of which come under the Sukhoi aerospace group's umbrella.

KnAAPO manufactures the Su-30MKK and the Su-30MK2, which were designed for and sold to China, and later Indonesia, Uganda, Venezuela, and Vietnam. Due to KnAAPO's involvement from the early stages of developing the Su-35, these are basically two-seat versions of the mid-1990s Su-35.

The Chinese chose an older but lighter radar so the canards could be omitted in return for increased payload. It is a fighter with both air supremacy and attack capabilities, generally similar to the U.S. F-15E Strike Eagle.

Irkut traditionally served the Soviet Air Defense and, in the early years of Flanker development, was given the responsibility of manufacturing the Su-27UB, the two-seat trainer version. When India showed interest in the Su-30, Irkut offered the multirole Su-30MKI, which originated as the Su-27UB modified with avionics appropriate for fighters.

Along with its ground-attack capabilities, the series adds features for the air-superiority role, such as canards, thrust-vectoring, and long-range phased-array radar. Its derivatives include the Su-30MKM, MKA, and SM for Malaysia, Algeria, and Russia respectively. The Russian Air Force operates several Su-30s and has ordered the Su-30SM variant as well.

(Source: Wikipedia)
Malaysia actually got the Indian-made version with different avionics and this is an improved version of the Su-30 version that China procured some & reverse-engineered others although one can certain that the Chinese have improved the avionics & weapons on their version of the Su-30.
One of the options that India has with its Su-30MKI is the ability to change the Russian-made avionics & weapons with any system. This includes the Indian-made BrahMos supersonic cruise missile. Image source: Wikipedia.
Difference between Sukhoi 30MKI & 30MKM
Despite Sukhoi Su-27 being designed in the late 1960s, the Indian Sukhoi-30MKI is actually a new plane taking the design changes of the Sukhoi Su-35 and was introduced into active service in 2002.
The Indian Sukhoi-30MKI is actually heavier & able to carry more ordinances than the original Russian Sukhoi-30 with a maximum takeoff weight of 38,800 kg against the 34,500 kg. It also comes with a more powerful powerplant with the Indian Sukhoi-30MKI & Malaysian Sukhoi-30MKM getting the Lyulka AL-31FP afterburning turbofan engines which give 123 kN with afterburner compared to the Russian's Saturn AL-31FL/FP afterburning turbofan engines which give 122.58 kN with afterburner. Despite being heavier, this gives a better rate of climb at 59,000 ft/min compared to 45,000 ft/min.
General characteristics
Crew: 2
Length: 21.935 m (72 ft 0 in)
Wingspan: 14.7 m (48 ft 3 in)
Height: 6.36 m (20 ft 10 in)
Wing area: 62 m2 (670 sq ft)
Empty weight: 18,400 kg (40,565 lb)
Gross weight: 26,090 kg (57,519 lb) (typical mission weight)
Max takeoff weight: 38,800 kg (85,539 lb)
Powerplant: 2 × Lyulka AL-31FP afterburning turbofan engines, 123 kN (28,000 lbf) with afterburner
Performance
Maximum speed: 2,120 km/h (1,320 mph, 1,140 kn) / Mach 2.0 at high altitude
1,350 km/h (840 mph; 730 kn) / M1.09 at low altitude
Range: 3,000 km (1,900 mi, 1,600 nmi) at high altitude
1,270 km (790 mi; 690 nmi) at low altitude
Ferry range: 8,000 km (5,000 mi, 4,300 nmi) with two in-flight refuelings
Service ceiling: 17,300 m (56,800 ft)
g limits: +9
Rate of climb: 300 m/s (59,000 ft/min) +
Wing loading: 401 kg/m2 (82 lb/sq ft)
(Source: Wikipedia)
Key Differences
For records, the Indian Air Force did not agree to purchase the original package offered by the Russians on the Su-30 so the version that India deployed into its fleet is an improved version of the Su-30 and incorporates Western, Israeli, and Indian weapons & avionics. Malaysian Su-30MKM was developed from Indian Su-30MKI but some differences in avionics as follows:-
Sukhoi 30MKM (Malaysia)
Sukhoi 30MKI (India)
Rockets:
S-8 rockets
S-13 rockets
S-8 rockets
S-13 rockets
Air-to-air missiles:
10 × R-77
6 × R-27ER/ET
2 × R-27R/T
6 × R-73
Same as as MKM but with additional

3 × Russian K-100
10 x French MICA
10 × Israeli I-Derby ER
10 × Indian Astra Mk1
Air-to-surface missiles:
3 × KH-59ME
6 × KH-29T/L
Same as as MKM but with additional

2 × Indian Nirbhay cruise missile
Anti-ship missiles:
3 × Kh-59MK
4 × Kh-31A
Same as as MKM but with additional

4 × Kh-35
1 x BrahMos cruise missile
Anti-radiation missiles:
6 × Kh-31P
Same as as MKM but with additional

6 × Indian Rudram-1
Bombs:
8 × KAB-500L laser-guided bombs
3 × KAB-1500L laser-guided bombs
8 × FAB-500T bombs
28 × OFAB-250-270 bombs
32 × OFAB-100-120 bombs

Additional compared to MKI:-

4 × GBU-12 Paveway II laser-guided bomb
Same as as MKM but with additional:-

3 × Sudarshan laser-guided bombs
Spice 2000 bombs
8 × RBK-500 cluster bombs
20 × DRDO SAAW glide bombs
3 × DRDO Glide Bombs
Avionics
LWS310 Laser Warning System
Bars N011M passive electronically scanned array radar
Damocles targeting pod
SAP-518 electronic countermeasure pod
MAW-300 Missile Approach Warning System
RWS-50 Radar Warning Receiver
Litening targeting pod
El/M-2060P airborne synthetic aperture radar reconnaissance pod
KNIRTI SAP-518 EW pod
Chaffs / flares
Buddy-buddy refuelling pod
Bars passive electronically scanned array radar
EL/M-8222 jammer
DRDO Tarang MK.II radar warning receiver
OLS-30 laser-optical infra-red search and track
The Indian Air Force operates about 261 active units of Su-30MKI over 12 squadrons and because a large number of them is assembled locally by HAL, they were also able to incorporate Western & Indian avionics and weapons & upgrades to the engines with greater ease compared to the Malaysian Air Force's Su-30MKM.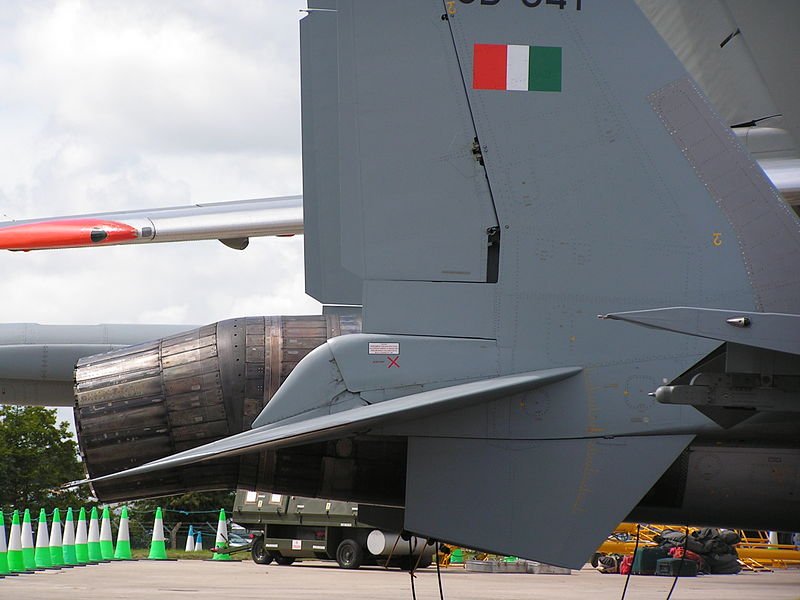 One of the assets of the Su-30MKI & MKM is the thrust vectoring ability which allows the pilot to do the infamous Cobra Maneuver with ease which can mean life or death in an aerial dogfight. Image source: Wikipedia
Final Say
Whilst it is highly possible that Malaysia may not procure the Indian-made Tejas as the next light combat aircraft, it is not the end of the possible cooperation between India's HAL, Indian Air Force, and RMAF:-
In addition to offering the Tejas LCA in Kuala Lumpur's global tender for 18 advanced jet trainers, HAL sees business opportunities in Malaysia for the maintenance and upgrade of their Sukhoi-30MKM and Hawk trainer fleets.

"Further, being one of the largest producers of Russian-origin Sukhoi-30 aircraft, HAL has capabilities to extend the required support for RMAF's Sukhoi-30 MKM fleet, which is facing low serviceability issues due to the ongoing Russia-Ukraine crisis," said HAL.

(Source: Business Standard)
In addition to the option to get the maintenance & spare parts for RMAF's MiG-29N and Sukhoi Su-30MKM, RMAF also has the option to upgrade its weapons and avionics with the latest upgrade from India's Su-30MKI which includes the long-range, fast BrahMos anti-ship missiles.
Alternatively, there is another option for Malaysia in regard to the upgrade of its Su-30MKM in its fleet:-
The recent induction of the Su-30SM2 may prompt users of earlier-version Su-30s to conduct upgrades on their fleets to improve performance. Malaysia, which ordered 18 Su-30MKMs in 2003, has long sought ways to improve their lethality and reliability.

The fleet now averages 10 years of age. Russia and Malaysia have tried to resolve issues with engines due to a shortage of prepaid spare parts through a better functioning logistics system and handing over some work on the Su-30MKM fleet to local companies such as Aerospace Technology Systems Corporation (ATSC).

The latter handed back the first upgraded aircraft to the Malaysian air force in 2019. Reportedly, Malaysia wants to keep its Sukhois in service through to 2040.

(Source: AIN Online)
One thing is for sure, it is worth it for RMAF to keep its fleet of Su-30MKM multi-role jet fighters active and updated as it remains to be one of the best & potent jet fighters in the region. A link-up with the Indian Air Force will see further improvements in aerial tactics, weapons, and avionics as they have been seriously upgrading it to face the Pakistanis and the Chinese.