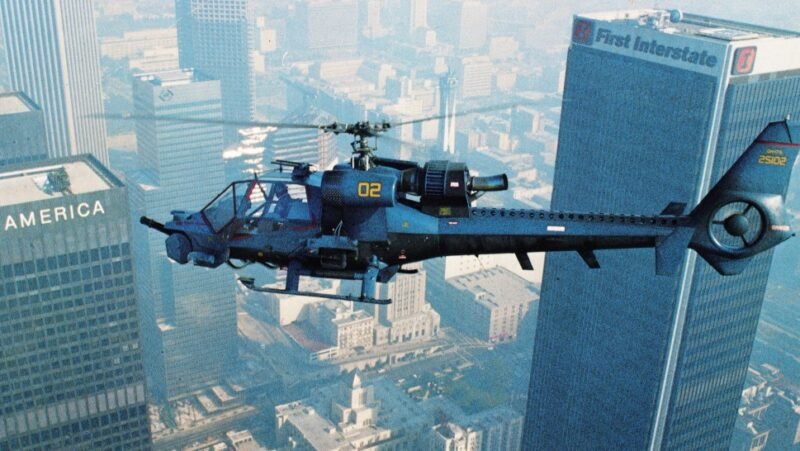 When it comes to combat helicopters, one of our favourites would be the fictional attack helicopters from TV & movie, Airwolf and Blue Thunder. Between, one can rate Blue Thunder as a light combat helicopter considering that it is based on French-made Aérospatiale SA-341G Gazelles and has plenty of props bolted on for the movie. Image source: Harvard Film Archive.
Read these first:-
.
If one takes a look at the modern combat attack helicopter design in the market, most shares very similar features namely a large cannon or machine gun in the front, 2 crew tandem seating and the ability to carry rockets, bombs and anti-tank missiles.
Role of Combat Helicopter
Helicopters have always been the workhorse of the infantry and have been deployed in roles from deploying the infantry directly to the war zone, evacuating casualties, dropping supplies and if equipped with weapons, providing suppression fire to assist the forces on the ground. The US forces used helicopters very effectively in the Vietnam War and these same assets also helped Malaysia in the last great flood.
A dedicated combat helicopter on the other hand has specific missions and roles and since they have heavier and thicker armour compared to conventional helicopters, it can take a good load of ground fire:-
An attack helicopter is an armed helicopter with the primary role of an attack aircraft, with the offensive capability of engaging ground targets such as enemy infantry, military vehicles and fortifications. Due to their heavy armament they are sometimes called helicopter gunships.

Attack helicopters can use weapons including autocannons, machine guns, rockets, and anti-tank missiles such as the AGM-114 Hellfire. Some attack helicopters are also capable of carrying air-to-air missiles, though mostly for purposes of self-defense against other helicopters and low-flying light combat aircraft.

A modern attack helicopter has two primary roles: first, to provide direct and accurate close air support for ground troops; and second, the anti-tank role to destroy grouped enemy armor. Attack helicopters are also used as protective escort for transport helicopters, or to supplement lighter helicopters in the armed reconnaissance roles.

In combat, an attack helicopter is projected to destroy targets worth around 17 times its own production cost before being destroyed.

(Source: Wikipedia)
We have seen how these missions are handled very effectively by the combat helicopters like the US Apache helicopters in the war zones in Iraq and Afghanistan. In some missions, some of these attack helicopter roles are now being taken over by unmanned aerial vehicles.
Presently there are several types of dedicated attack helicopters that are in active service with numerous armed forces around the world.
.
A showcase of some of the old (no longer in use) and new helicopters in service with the Malaysian Armed Forces and the types of helicopters are perfectly matched with the role and mission it is assigned such as the RMN's Super Lynx Mk 100 which can carry anti-ship Sea Skua missiles and A244 Whitehead torpedoes. 
.
Malaysian Military Helicopter Inventory
The primary use of helicopters in the Malaysian Armed Forces has been limited to transportation – heavy lifting, ground troops movement, rescue missions and VVIP transportation. However, with the exception of the MD-500 which will be used in special forces missions, all other helicopters can be armed with heavy machine guns to provide cover firing to the troops on the ground.
Having said this, the Malaysian armed forces operate a number of helicopters of different sizes and origins which may make maintenance and procurement of spare parts expensive and difficult. Consider the list:-
| Name | Origin | No of Units | Used By | Role | Armament |
| --- | --- | --- | --- | --- | --- |
| MD 530G Defender | United States | 6 | Army | Light attack helicopter | Unknown |
| AgustaWestland AW109 | United Kingdom | 10 | Army | Scout helicopter | Armed with either a 7.62mm gatling gun, 20mm gun and/or rockets for area suppression missions. |
| S61A-4 Nuri (Sikorsky SH-3 Sea King) | United States | 3 | Army | Transport helicopter/Search and rescue | Armed with 12.7 mm HMG. |
| Westland Super Lynx 300 | United Kingdom | 6 | Navy | Anti-submarine warfare | Equipped with torpedoes or MBDA Sea Skua anti-ship missile and also use as OTHT. |
| Eurocopter Fennec (AS 555N) | France | 6 | Navy | Surface surveillance | Combat and OTHT capable |
| AgustaWestland AW139 | Italy | 7 | Navy & Air Force | Transport and utility. | None |
| Sikorsky UH-60 | United States | 4 | Air Force | Utility/VIP | None |
| Eurocopter EC725 | France | 12 | Air Force | Search and rescue / Utility | None |
| Eurocopter EC120 | France | 5 | Air Force | Trainer helicopter | None |
Out of the above, at once upon a time, Malaysia used to operate up to 43 heavy-lift American-made Sea King (dubbed Nuri) helicopters since 1966 as the main workhorse of the Malaysian Air Force for a very long time and was actively used to drop and pick up troops from deep Malaysian jungle in the fight against the communists. However, some of them have crashed or grounded due to age and outdated.
It is a surprise that the more nimble, all-weather dedicated combat Mil Mil-28 Havoc helicopter is not active with more military armed forces including India as compared to the bigger, older Mil Mil-24. Image source: Wikipedia
Combat Helicopters in ASEAN
AH-64 Apache Combat Helicopter (USA)
Singapore operates 19 AH-64D Apache Longbow Attack helicopters whilst Indonesia operates 8 AH-64E Apache Attack helicopters. Apache has a combat range of 480 kilometres and is heavily armed with a 30 mm chain gun and 4 hard points. It is designed to carry and fire the AGM-114 Hellfire and 70 mm rockets.
Mil Mi-35P Hind Helicopter Gunship (Russia)
Indonesia also operates 7 Mil Mi-35P which can also carry about 8 troops and have a combat range of 450 kilometres. It is armed with a twin-barrel Gsh-30K 30mm automatic cannon, 240mm rockets launchers and AT-9, AT-6 or SA-16 anti-tank missiles.
MBB Bo 105 Light Combat Helicopter (Germany)
Indonesia have about 12 Germany-designed, locally built Messerschmitt-Bölkow-Blohm Bo 105 light combat helicopters that are equipped with rockets pods and FN HMP250 gun pod which houses 50 calibre machine gun.
TAI T129 (Turkey)
Philippines operates 4 Turkish-made TAI T129 multi-role combat helicopters and is armed with a 20 mm Gatling gun and can carry a payload of a maximum of 8 anti-tank missiles. It has a combat range of almost 530 kilometres and is based on the Italian-made Agusta A129 Mangusta.
Bell AH-1F Huey Cobra (USA)
Thailand still operates a large number of US-made weapons and possibly surplus from the American war in Vietnam. For the attack role, Thailand has about 7 Bell Cobra AH-1Fs which have a combat range of 570 kilometres and a 2 x 7.62 mm minigun and an option for 70 mm rockets.
The Indian HAL-made light combat helicopter, Prachand has all the established design cues of a fully armed, dedicated combat helicopter. it is expected that the Indian Army will operate around 100 units namely in the mountainous areas facing Pakistan & China. Image source: Wikipedia
Indian Made Combat Helicopters
The Indian military operates multiple foreign and locally made combat helicopters which include the battle-proven, US-made AH-64E Apache attack and 15 CH-47 Chinook heavy transport helicopters which came after the US limited its funding and military cooperation with Pakistan and lean more towards India as an ally.
But of course, considering that Russia has been India's main weapon since the late 1960s and particularly in the 1970s. That explains why the frontline Indian weapons are mainly Russian-derived. For combat helicopter roles, India operates a small number of Russian-made Mil Mi-24 Hind gunships. In addition to this, India also operates several types of helicopters constructed by HAL.
And now HAL have launched their own light combat helicopter which they call Prachand which means Fierce) which will be used by both the Army and the Air Force and is reputed to have the highest flight ceiling in the world which makes sense considering that most of the Indian-Pakistan border battles take place in the high Himalayan mountains.
The true impetus for the development of the LCH Prachand came in the form of the Kargil War, a conflict fought between India and neighbouring Pakistan in 1999, which revealed the Indian armed forces lacked a suitable armed rotorcraft capable of operating unrestricted in the high-altitude theatre.

The LCH Prachand drew extensively on an earlier indigenous helicopter developed and manufactured by HAL, the ALH Dhruv; using this rotorcraft as a starting point has been attributed as significantly reducing the cost of the programme.

(Source: Wikipedia)
One of the key characteristics of the Prachand is that despite it carrying 2 flight crew being the pilot and the weapon specialist, they can swap their role without the need to change their seats. This is because the functions are duplicated so that another can take over if one crew is down.
It has a combat range of 550 kilometres and a flight ceiling of 6,500 meters which is higher than the AH-64E Apache's 6,100 meters and Mil Mi-24 Hind's 4,900 meters. It is armed with a 20 mm French-made cannon and has 4 hardpoints capable of carrying 12 rockets or 4 anti-tank missiles.
Any military facing the Chinese ground forces will need to counter Chinese-made attack helicopters like this Changhe Z-10 dedicated combat helicopter which was developed with the assistance of Russia's famed Kamov helicopter company. Chinese operates about 200 units of this helicopter although they are developing newer versions of the combat helicopters. Image source: Wikipedia
Final Say
One needs to be mindful that a dedicated combat helicopter has always been part and parcel of infantry support as one has seen in recent battles in Afghanistan, Iraq and Syria. There are several reasons why Malaysia should be looking at India when it comes to warfare strategy and military assets, namely:-
Support & Spare Parts: Similar current active military assets namely Russian MiG-29, Russian Sukhoi-30MKM (it is MKI for India), UK-built Hawk 200 trainer/light fighters, Russian-made T-72 based main battle tanks and French-made Scorpene submarines. With the disruption of parts from Russia due to the ongoing war in Ukraine and embargoes from the West, India has developed support from its local arms industries who can take up the supply and maintenance.
Same Opposition: From a naval point of view, India faces intrusions from China in the Indian Ocean whilst Malaysia faces similar intrusions from China in the South China Sea.
Alternate Arm Supplier: India in recent years has moved ahead in designing, constructing and improving its military assets with its made-in-India assets. This covers assets for the Army, Air Force and Navy. It has started to deploy the technology on combat drones and drone swarm interception. The reason for this is clear – India knows that the West can block or delay arms procurement or spare parts if relies on Western sources of weapons.
Malaysia has enough aerial assets with mounted heavy machines or Gatling guns at present to provide sufficient ground fire support for its infantry forces missions. For the special forces, namely the formidable Para units, the agile MD-500 is the best choice for fast deployment and weapon support.
But then remember, the current aerial assets such as Agusta Westland AW109 scout helicopters are only lightly protected. It does not have the full electronics jamming, chaffs and armour that will be needed when faced with opposing forces with portable ground-to-air missiles or heavy anti-aircraft cannons.
Further weapons on these aerial assets are not powerful to take on heavily armoured targets like main battle tanks or reinforced bunkers. For this, Malaysia will need to look into the option of having dedicated combat helicopters for these specific reasons.