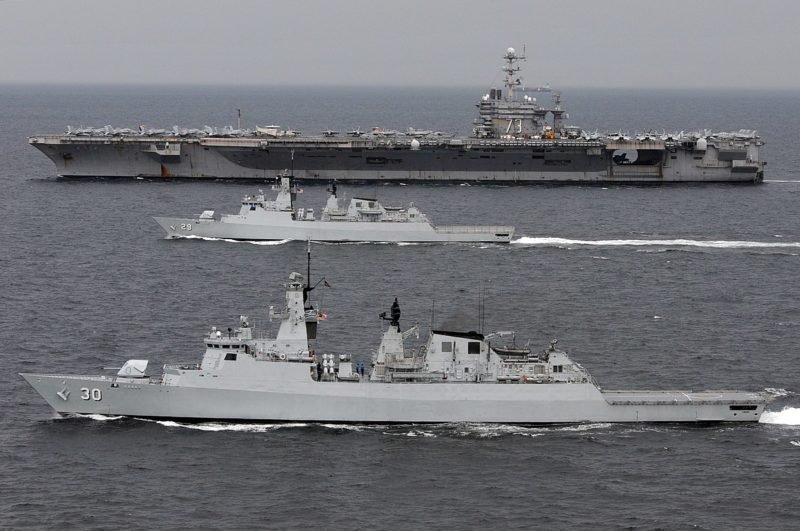 Presently KD Jebat and KD Lekiu are the most capable frigate ships in the Royal Malaysian Navy's fleet with Exocet Block 2 SSM and Sea Wolf SAM and are due to be complemented by the new 6 Maharaja Lela class frigates under the Littoral Coastal Ship Program. Image source: Wikipedia
Read these first:-
Never estimate the power of fully armed naval ships facing off illegal immigrants or illegal fishing boats and the more ships that are deployed, the tighter the noose around the national waters. And with the increased intrusion by the Chinese military in the South China Sea, Malaysia will definitely need a deadly naval strike force, long-range maritime patrol planes and unmanned aerial vehicles (UAVs) ready to engage with the intrusion.
In the current LCS scandal where the Royal Malaysian Navy (RMN) is yet to receive the promised Littoral Coastal Ships (LCS) which are basically frigates despite RM6 billion having been paid, one key interesting point that stood out is the change of the frigate design:-
The RMN had agreed to use the Sigma design, but this was overruled by then defence minister Ahmad Zahid Hamidi at the request of BNS without referring to RMN in 2011. Instead, the Gowind-class design was adopted despite the navy expressing disappointment at the decision.

(Source: Malaysiakini)
So why RMN was not in favour of the Gowind class design and in favour of the Sigma class? What are these design classes in the first place and what the differences are when it comes to building naval ships for RMN?
Indonesia Navy's Sigma-designed KRI Raden Eddy Martadinata which was commissioned into active service in 2017. It has one of the sleekest designs compared to the traditional design that is in the RMN's fleet which is probably a factor in RMN's decision on the Sigma class design for its LCS. Image source: Wikipedia
The Sigma class is a Dutch-built family of modular naval vessels, of either corvette or frigate size, designed by Damen Group.

Sigma stands for Ship Integrated Geometrical Modularity Approach. The basic design of the Sigma Patrol Series can vary as the hull segments are designed as components. Ships can vary in the number of hull segments and in the order in which they are placed.

The ship's dimensions of length and beam lead to the individual Sigma type names: the Sigma 9113 is 91 m (298 ft 7 in) long with a beam of 13 m (42 ft 8 in), the Sigma 10513 is 105 m (344 ft 6 in) in length again with a beam of 13 m (42 ft 8 in)

The design was derived from the earlier High Speed Displacement hull form by Marin Teknikk AS in the 1970s.

Indonesia (TNI-AL) has four Sigma 9113 Diponegoro-class corvettes in active service from 2009. In August 2010, Indonesia signed a deal to build Martadinata-class frigates based on the Sigma 10514 in PT PAL

Shipyard at Surabaya, Indonesia. A second contract was signed in February 2013. Eventually six ships will be built. The first ship, KRI Raden Eddy Martadinata (331), was commissioned on 7 April 2017 at Tanjung Priok. The second ship, KRI I Gusti Ngurah Rai (332), was commissioned on 10 January 2018.

Morocco has ordered two 9813 class heavy corvettes (with VLS) and a light 10513 class frigate based on a modified design.

(Source: Wikipedia)
The information from Damen's website provides further information on the modular approach that is favoured by RMN:-
SIGMA is Damen's Ship Integrated Geometrical Modularity Approach. It is based on the experience gained by building seven generations of surface combatants for, and including feedback from, the Royal Netherlands Navy. The use of modular platform components enables bespoke tailoring of operational characteristics.

They provide major advantages such as decreased detectability by signature reduction measures and due to improved shock resistance, the vessels also ensure higher survivability rates. Deploying Naval Intact and Damaged Stability standards, the vessels offer built in redundancy in vital systems and they are equipped with a CBRN Enclosed gas-tight citadel.

SIGMA Multi Mission Frigates are frontline vessels designed for maximum flexibility and adaptability to specific roles (enhanced ASW/AAW/ASuW). They are suitable for expeditionary missions and long range/ endurance deployments. With excellent seakeeping, they can comfortably stay for prolonged periods on blue water duties. They are capable of stand alone operations or task force interoperability as escort and protection of high value units.

Full redundant propulsion with several configurations possible
Option for electric drive
Helicopter deck and hangar
Fast RHIBs with option for slipway
Ample accommodation spaces
Comfortable platform for extended patrols
Surveillance and defence in all warfare segments

(Source: Damen)
The proposed Gowind design for RMN will see the largest ships in the Gowind class and it has a good design backed by a well-known defence consortium. The problem is not much on the design or the various components to be installed in the ship but rather it is on the delivery on time and the cost overrun before any ship is delivered to RMN. Image source: Ship Hub
The Gowind design is a family of steel monohull frigates, corvettes and offshore patrol vessels developed since 2006 by France's Naval Group, formerly known as DCNS, to conduct missions in the littoral zone such as anti-submarine warfare (ASW). The Gowind family includes vessels with lengths from 85 to 111 metres (278 ft 10 in to 364 ft 2 in) and displacement from 1,000 tons to 3,100 tons.

The Gowind design can deploy unmanned aerial vehicles (UAVs), unmanned surface vehicles (USVs) and underwater unmanned vehicles (UUVs). An aft deck has been provided allowing for a 10-ton class helicopter or UAV operations.

The platform's weapon system consists of a multi-functional radar and VL MICA surface-to-air missiles (SAM). It is armed with Exocet anti-ship missiles. The propulsion system is based on Combined Diesel and Diesel (CODAD) and includes water-jets for improved maneuverability in shallow waters and high-speed performance.

There is no funnel on these ships. The radar and other sensors are mounted on a single central mast thus allowing 360-degree view. Naval Group offers two variants of the design: Gowind 1000 and Gowind 2500 while Malaysia with the assistance of Naval Group locally developed the Gowind 3100.

As of October 2021, the Greek government is in discussions with Naval Group about the acquisition of up to seven Gowind corvettes with three of them being built in Greece.

(Source: Wikipedia)
The detailed specifications for Gowind class are rather comparable and modern:-
The Gowind corvettes are ocean-capable vessels with capability for emerging missions such as anti-piracy, sea control and denial, combat, counter-terrorism, drug interdiction and anti-smuggling operations, oil and gas platform protection, search and rescue, fisheries protection, environmental protection, and humanitarian support.

The ships have high manoeuvrability with excellent sea-keeping capability. The special forces operations capability includes a quick launch and recovery stern-launch system for two rigid inflatable boats (RIBs) or unmanned surface vehicles (USVs).

The aviation capabilities, including automatic decking, enable safe operation of a helicopter and unmanned air vehicles.

The vessel's multi-function radar is installed in the integrated mast. The design of the bridge enables 360° panoramic surveillance. The combat systems are suited to the customer country's requirements. The communications systems enable tactical information to be shared with other assets and land-based operation centres.

The Gowind's combat management system, SETIS, is based on the SENIT CMS designed by Naval Group and Thales and incorporates commercial-off-the-shelf (COTS) open-system architecture. A wide range of combat systems can be integrated into SETIS, which can be reconfigured to accommodate new and upgraded mission systems through the ship's operational life.

The propulsion is based on a diesel-driven propeller and waterjet system. The Gowind design does not incorporate a conventional funnel, and instead, has a waterline engine exhaust system. The configuration contributes to the ship's low thermal signature and also enables the 360° vision capability from the bridge.

(Source: Naval Technology)
.
Video caption: DAP's Steven Sim says switching from the initial Sigma-class ships chosen by the navy to the Gowind design of Naval Group of France in 2011 could possibly set Malaysia's naval ship manufacturing industry back by years.
Given the specifications that are posted on the internet between RMN's proposed Gowind class ship and the Sigma class that has been built for the Indonesian Navy, it is easy to compare the differences.
Class
GOWIND
SIGMA
Country
France
Netherlands
Name
Maharaja Lela class
Martadinata class
Builders
Foreign: Naval Group
Local: Boustead Heavy Industries Corporation
Foreign: Damen Schelde Naval Shipbuilding
Local: PT PAL
Operators
Royal Malaysian Navy
 Indonesian Navy
Cost
USD 375 million for 1 unit + ToT
USD 220 million for 1 unit + ToT
Planned
6
2
Completed
0
2
Type
Frigate
Frigate
Displacement
3,100 tons
2,365 tons
Length
105 m (344 ft 6 in)
105.11 m (344 ft 10 in)
Beam
14.2 m (46 ft 7 in)
14.02 m (46 ft 0 in)
Draught
3.85 m (12 ft 8 in)
3.75 m (12 ft 4 in)
Propulsion
CODAD - combined diesel and diesel

4 x MTU 20V 1163 M94, each rated at 7,400 kW (9,925 shp) Total output: 29,600 kW (39,694 shp)
CODOE - combined diesel or electric

Diesel engines:2 x 10000 kW MCR diesel propulsion
Electric motors: 2 x 1300 kW MCR electric propulsion
Speed
28 knots (52 km/h; 32 mph)
28 knots (52 km/h; 32 mph)
Range
5,000 nmi (9,300 km; 5,800 mi)
5,000 nmi (9,300 km; 5,800 mi)
Complement
138
122
Sensors and processing systems
Combat System: Naval Group SETIS
Search radar: Thales SMART-S Mk2
Fire control radar: Rheinmetall TMEO Mk2 electro-optical tracking system & TMX/EO Mk2
Sonar: Thales CAPTAS-2 ASW suite with hull sonar & towed array sonar

Combat System: Thales Group Tacticos 
Search radar: MW08 3D multibeam surveillance radar
Fire control radar: Lirod Mk 2 tracking radar
Sonar: Thales UMS 4132 Kingklip medium frequency active/passive ASW hull mounted sonar
Electronic warfare
ESM: Thales Vigile
Decoy: Wallop/Esterline Super Barricade
ESM: Thales Vigile
Decoy: Terma SKWS, DLT-12T 130mm decoy launchers, port, starboard

Guns
1 × Bofors 57 mm gun
2 × MSI DS30M 30 mm cannon
1 x OTO Melara 76 mm
2 x 20 mm Denel Vektor GA-1
1 x Rheinmetall Oerlikon Millennium Gun

Missiles
Anti-air: 16 × VL MICA, short-to-medium range Aster-15 and the long-range Aster-30 anti-aircraft and anti-missile interceptors.
Anti-ship: 8 × Norwegian made Naval Strike Missile SSM
Anti-air: 12 x VL MICA
Anti-ship: 8 x French made Exocet MM40 Block III
Torpedoes
2 x triple torpedo tubes A244-S
2 x triple torpedo tubes A244-S
Aircraft carried
Various types of UAVs and helicopters, weighing up to 10 tons
Eurocopter AS565 Panther
Aviation facilities
Stern hangar and helicopter landing platform
Landing pad, optional hangar
Comparatively the proposed design for RMN shows it is a similarly capable ship to KRI's Sigma-designed ships with some minor differences namely the armament, radar, propulsions and combat management system.
Interestingly not only did the Government override RMN's preference on the class design from Sigma to Gowind but it was also reported that RMN also preferred the Thales Tacticos combat system but the Naval Group SETIS combat system was picked. This system has attracted some criticism on cost and incompatibility with other RMN systems.
Interestingly as part of the LCS design assessment, RMN also considered the well-proven Meko 200 class from Germany which is used by several navies including Australia & New Zealand with its Anzac class but it was not shortlisted. Meko 200 class like the one constructed for Algeria has a very sleek design and runs on a combination of diesel & gas engines and has very low signature measures. Image source: Wikipedia
Final Say
The delay in delivering the 6 LCS had forced RMN to look for a temporary solution in form of Kedah class corvettes from China and of which 4 ships have been delivered and are in active service. However, it is not an effective deterrent considering that none of these Kedah corvettes has any missile capabilities although it is possible that anti-ship and surface-to-air missiles to be retrofitted in the future. Further considering that it is designed and built by China, it will be an open secret when facing the Chinese naval ships in a naval battle.
To be frank, Gowind is not a bad design considering that there are a number of navies already having the class in their fleet including Eygpt, Argentina and U.A.E. However one can see why RMN decided on the Sigma class as a modular design which allows future upgrades much easier.
Alternatively, the modules can be derived directly from the block structure of the vessel. One example is the Sigma class corvette that is designed and built by Damen Schelde Naval Shipbuilding. "Sigma" is an abbreviation for "Ship Integrated Geometrical Modularity Approach".

In this design, the hull segments are modularized, and can be assembled in different numbers and sequences, thus using a sectional modular approach. Off-the-shelves equipment is used to the extent possible. The modular approach allows the client to configure a vessel out of these standard blocks, and different versions with 12, 13 and 14 sections have been sold to three different navies.

This is an example of sectional modularity. The advantage is a relative simple configuration pattern, but at the expense of flexibility in terms of function-space allocation.

(Information source: Erikstad, Stein. (2019). Design for Modularity: Volume 1: Optimisation of Ship Design and Operation for Life Cycle. 10.1007/978-3-030-02810-7_10)
More navies including the US Navy are also looking at the modular design as the way forward in constructing modern navies based on several benefits.
The focus would be now to complete the 6 Gowind-class LCS for RMN so that the fleet is not compromised with old, ageing ships that are not capable to meet the current defence requirements. Further, purchasing naval ships from China is not only costly but it is not effective with the naval ships only equipped with guns.