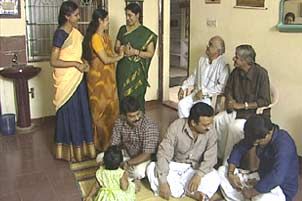 (The "intense" moments from serial Metti Oli. Image source: Sun TV)
It was funny yet quite a realistic scenario in most of the Indian homes…"Man breaks TV to get wife's attention"
Despite of having my mom, my sister and my wife as loyal Tamil serial viewers, thankfully for me, we have not reached such critical stage (yet). From 9.00 pm to 11.00 pm, the women in my house are glued to Channel 73 of Astro to see these serials:-
9.00 pm – Kolangal – story of the "struggle" of a woman in business world
9.30 pm – Manaivi – story of the "struggle" of a husband & wife
10.00 pm – Nimmadhi – story of the "struggle" of a brother & his 5 sisters (or was it 6 sisters? I lost count)
10.30 pm – Metti Oli – story of the "struggle" of a father & his 5 daughters
Note the similarities?
All stories are about the struggle of something or someone. No comedies! No motivational stories. It always had been about someone sacrificing something for someone else. Just imagine of watching 2 hours of watching tense stories just before bedtime. I won't be surprised if people are having nightmares after that.
Each episode is way too short to make up a good understanding of what's happening in the story. It is even worse if you have tragedy or death in any of the episodes. We will spend almost 20 minutes watching people crying, crying, crying and crying. Minus the balance 10 minutes for advertisements (normally just enough time to dash to the toilet and be back) and other minor, minor scenes (such as "walking along the road side"…normally shown for 2 – 3 minutes).
The entire story is too long and winding (…the song "Never Ending Story" in the background). Metti Oli was running at 811 episodes (the last time I saw). I think if I compress all the episodes and weed out the unnecessary scenes (such as the crying scenes), I can make a good story running for less than 20 – 30 episodes.
The very familiar words of "akan bersambung" or "to be continued" frustrate many viewers including the women at home. Speculations will then run high with a lot of comments from other people. Some even do the extra "research" from the net. Others take the easy route of renting/buying the entire serials on VCD and spend an intense week to watch it all
Once Astro have complete showing a particular serials, it will be shown again as re-runs in either TV3 or NTV7 prompting another cycle of intense viewing
Read Also
The Tamil Movie that I Hate