(The drive up north to Kota Bahru and back home within the same day would be one of the craziest things I have done for the year 2011. Map source: Google Map)
Confucius says a journey of a thousand mile starts with a single step. Our journey of a thousand kilometres (well almost) started with the question – can we drive all the way from KL to Kota Bahru and return on the same day?
Read the prelude here
Why Kota Bahru? Last year, a buddy of ours was diagnosed with cancer and he went back to his hometown in Kota Bahru for treatment. Ever since then, we have been communicating via email and phone.
Last Friday we got some photos from him and frankly speaking, he looked in a bad shape. Somehow deep down, we knew we need to see him face to face at least once to provide moral support.
(If you drive through unknown roads and it is still dark when you started, this small device comes very handy. It tells you the right lane to take but more importantly, it shows you when is the next corner is coming in)
The journey to Kota Bahru was something unplanned – we talked about it on Friday afternoon and we started to check on "how to get there". Google Map provided some clues – the shortest would be 454 km (one way) which expect us to take about 7 hours 27 minutes.
Another clue we got was from the Malaysian Travel Guide website which provided clear checkpoints to get from KL to Kota Bahru. Armed with these 2 clues, we decided to go ahead with the trip.
The day started early for us – I woke up at 4 in the morning. I suppose to meet up with my colleague (codenamed A1) at a petrol station near my house at 5 am. We ended up meeting up at the main entrance to my housing area. The time on the watch showed 5.17 am. The air was cool and the road was almost empty with traffic.
(It is still dark when we hit the Karak highway – in a way it was good because we could not see the deep ravines at the side)
As it was too early for breakfast (most shops were closed anyway), we first headed to NKVE to link up to the DUKE. From DUKE, we joined up to the road towards Karak Highway (or as some of us know the road towards Genting Highlands). There was one pit stop to be done before we continued with the journey.
We stopped at a petrol station to fuel up (full tank took RM63) and to buy something to eat (my stomach was grumbling by now). It was 6 am by the time we were on the Karak Highway towards Genting Highland. The road was almost empty and we managed to get a good head start.
(It is 6.30 in the morning but it looked busy as we passed through Raub town)
We reached Raub town about 6.31 am and the town seems to be waking up to a slow Sunday morning. We had to drive through the town to exit towards Kuala Lipis. It was a bit confusing but the onboard GPS led us to the right path.
After that, it was us all alone in the misty road towards Kota Bahru. We passed through the key checkpoints Kuala Lipis, Benta, Gua Musang, Kuala Krai and then to Kota Bahru. The onboard GPS told us to keep to Route 8 which was the main road towards the Kota Bahru.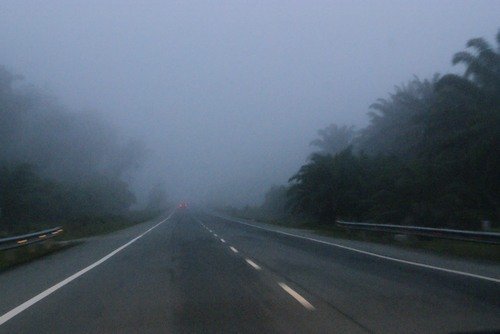 (The straight empty road was God sent but the misty in the morning hides the view way upfront)
(Old roads had good corners but limited space at the sides. With secondary jungle on both sides of the road, we were expecting a family of elephants to walk pass the road)
We reached Merapoh exit (about 245 km from KL) at about 8.33 am. Overall, the condition of the road has been good but occasionally we will come across a section of the road full of potholes. We had breakfast at Gua Musang town (about 267 km from KL) at about 8.54 am.
We probably would have spent about 15 minutes here. We decided not to venture far for breakfast (we were chasing time) and had to contend with an almost empty restaurant that only had fried noodles and some mixed rice for breakfast.
The taste was nothing to shout to about but perhaps it was clear that we were from out of town, the breakfast was not cheap.
(One of the perils on the Route 8 – trucks laden with huge timbers. This one is empty which makes it more inconvenient to overtake. These powerful trucks can be as fast as speeding cars on empty roads)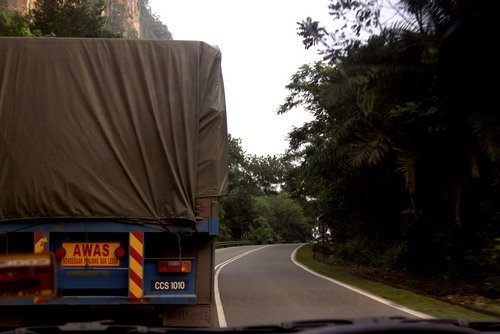 (Winding roads is great for cars with good pickup or heavy motorcyclists but when it comes to overtaking slow trucks on the corners, it gets tricky – around the corner, it could be nothing or it could be a huge truck screaming down the road)
We reached Felda Ciku (about 278 km from KL) at about 9.31 am and thereafter reached Kuala Krai (about 386 km from KL) at about 10.20 am. We were almost near to Kota Bahru. By now, the whole town had woken up and the traffic was bad.
Thankfully there were more 2 lanes roads here for us to overtake the slower traffic without any sweat. At one point, we came to standstill but we soon were moving (some idiots decided that road works on a Sunday morning were a wise idea) and then somewhere else a trailer had broken down blocking one way.
We reached the hospital where our colleague was admitted (about 453 km from KL) at about 11.36 am.
To be continued in Part 2