Update 1: Read the excellent "13 Reasons Why I Love The N8"
Back to the original post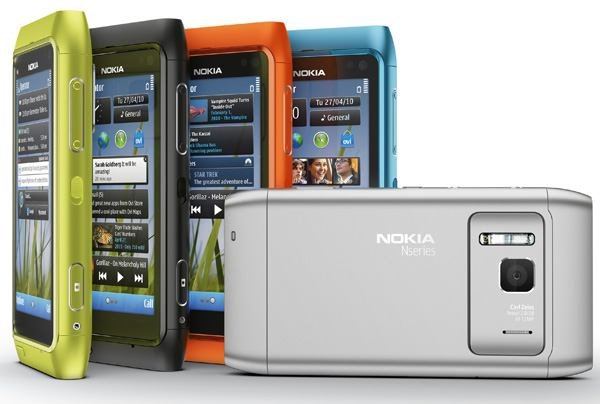 Hmm, how should I do this?
[youtube=http://www.youtube.com/watch?v=o9ME5_ZzeKI]
(The Commuter, which was filmed entirely on the Nokia N8 in HD, stars Dev Patel as a commuter on his way to his first day of work. In this action-packed short film, Dev battles a killer Traffic Warden, a blind ninja, parkour bankers and comes face-to-face with Pamela Anderson before getting stuck in a lift with Ed Westwick and stealing a Lotus…will he make it in time? Source: IMDB)
There is enough reviews out there on the net, so to make this review simple, let me tell you 6 things that I personally like about this phone, Nokia N8 (in no particular order):-
1. Integrated GPS with Compass – let me tell you upfront that GPS lock (without A-GPS / Wifi) sucks (it is better outside provided that the conditions are right) but then again, that is how it suppose to be – N8 was not meant to be a dedicated GPS system.
In the beginning, it takes sometimes 10 minutes to even lock but I realised I made a mistake of switching on the GPS when I am still in basement parking (duh!). Now I realised that if I restart the navigation program when I am on the outside, it locks faster.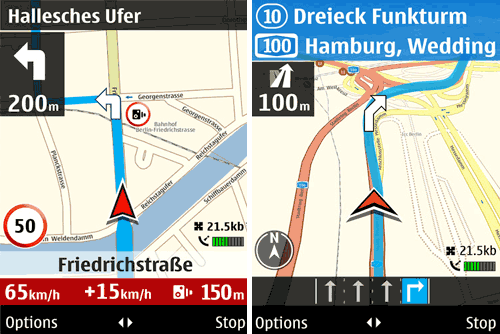 (After recent Nokia software update – speed limit warning is up on my phone – overall, free-for-life Ovi Map is still the best thing that is going for Nokia phones. Image source: here)
Things are very, very different once the lock is done. Navigation is smooth although map details are better at Google Map than on Nokia's Ovi Map (the street in front of my house is missing). The good thing is Ovi Map is downloadable to the phone so the complete map is available offline.
The only problem I see with the current version of Ovi Map is that it does not detect speed camera or speeding over the limit although it is claimed that it is possible (note: speed limit was detected after the latest Apps Update 1.0 was made and at a certain stretch of the highway – so I am not sure whether it is due to the apps update or map update)
2. Camera / Video – with 12MP with Carl Zeiss optics camera onboard, it is almost a galaxy away of my earlier lousy 2MP phone camera. 12MP is rather generous as compared to the usual 5MP cameras found in other smartphones. Video quality is at the best and the switch between camera & video functions are rather simple and easy (at a switch of a button).
HDMI connection and video editor is available but I have not tried that yet. I took some videos over the weekend – one included this shot of the super-fast ERL train, "flying" from KLIA towards the city (ignore the background sound of kids). Oh, did I mention that it is in High Definition too? Very impressive indeed!
[youtube=http://www.youtube.com/watch?v=b-HvKf_Nmk4]
3. FM Transmitter – Perhaps nothing to shout about considering that there are plenty of portable MP3 car players out there (including one priced RM19.90 at some hypermarket) but there is a small difference.
There is no need for a separate thumb drive for storage purpose and song selection is slightly easier (not very easy – you need to create a playlist first). Of course, this does not come close to a dedicated car MP3 player like this.
4. Games – this is something that you will greatly appreciate if you are stuck somewhere, waiting for someone and have nothing to do (like the outpatient area of our government hospitals). In the past, a simple game like Snake was good enough to kill time but over the years, games have become slightly more "complicated".
More so, if you are having a touch screen phone and equipped by orientation sensor – it is easy to convert the phone into a steering wheel or joystick (with vibration mode too).
5. Email functions – able to connect to many email addresses out there including Nokia's own email facility is nothing new but it does come handy. Setup is a breeze compared to my previous phone.
Having touch screen means the keyboard is a matter of touching the screen but I do suggest installing "Swype" which makes it easier to "type" the sentences although it cannot beat my earlier phone's dedicated QWERTY keypad.
6. Widgets – they say it cannot beat Apple Apps and they are right but there is still plenty to look out for at Ovi Store. Some of them that come preinstalled with the phone can be pretty annoying since they always want to connect to the internet when it is not needed.
Ya, I can turn the widgets to offline mode but I prefer to uninstall it altogether. Yes, it is fun but paying for all that data download is not (not surprisingly my bill for this month is higher than usual but it should be stabilizing by next month, haha). Thankfully there is an option for Wi-Fi connection which reduces connection cost.
Other functions are very similar with many phones out there and oh yes, let me add that for the time being, I am charging once 2 days mainly because my son plays with the games at home and I am tinkering with the GPS settings when he is not. So, there is no point in doing any battery life test.
Software updates are not that regular but since I bought, there has been 2 recent updates (one crashed but I found the workaround later – need to delete a folder called 200919119 and retry the update). Nokia N8 was Nokia's flagship device in 2010 and runs on an open-source OS called Symbian (it is version 3 now and version 4 suppose to be in works).
P.s. this post would be updated from time to time as I explore the capability of NN8 in the coming months
Read Also