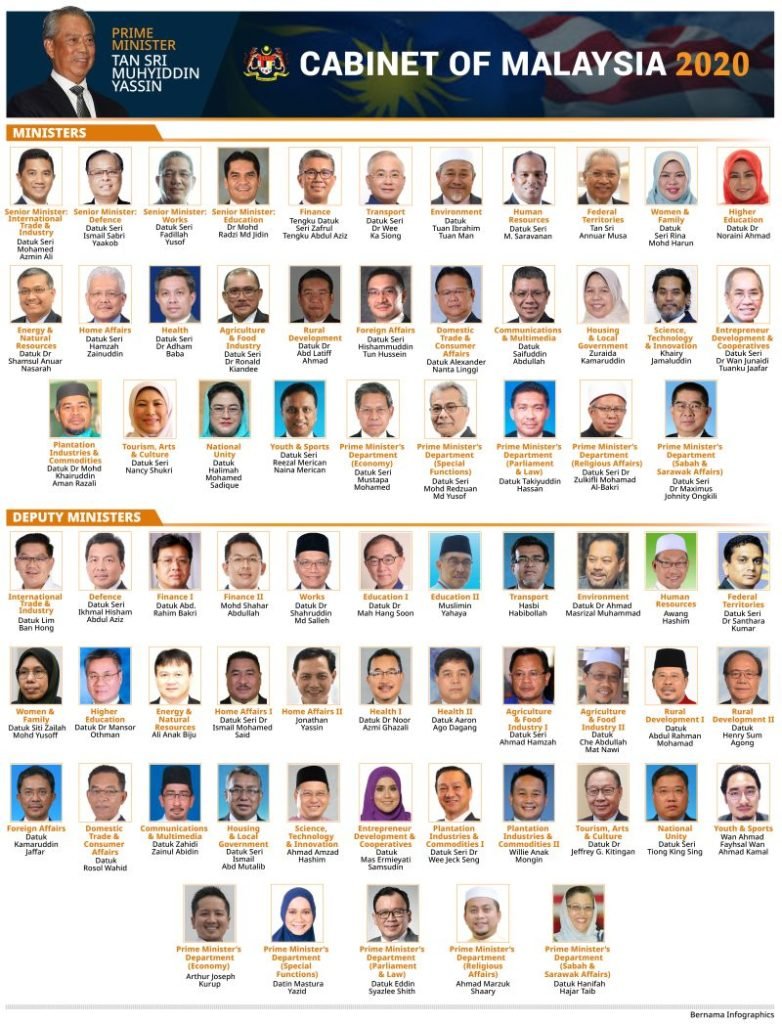 Muhyiddin Yassin announced his cabinet back on 9th March 2020 – it is an oversized cabinet with many familiar faces from 55 under Pakatan to 70 under the new coalition. The question of whether it is a better line-up than the one under Pakatan. Image source: Malay Mail
Related: Malaysian Government 2020: Clean, Integrity And Calibre
Let's set aside the fact that this Cabinet may not survive if the PM does not survive the vote of no confidence when the Parliament starts its session. As the days goes by, the chances of the new PM surviving the vote of no confidence seems to be getting higher.
Malaysia's Prime Minister Tan Sri Muhyiddin Yassin will survive a no-confidence vote in parliament, his challenger and former premier Tun Dr Mahathir Mohamad said in an interview published on Wednesday.

Mahathir said in an interview with the Malay-language Sinar Harian newspaper that he no longer commanded a majority in parliament after some supporters abandoned him to join Muhyiddin's camp.

(Source)
Perhaps after 2 years of some screw-ups by Pakatan Harapan, people are tired and wish to see something refreshing. After all, things were not so rosy before the rebellion started – the economy was not doing too well, the country were (and still) facing an increase of coronavirus infection and there were too many politicking on petty matters & policies.
It was also obvious that the enlarged Cabinet was created to accommodate the rebels & loose coalition that supported Muhyiddin as the 8th PM. There were too many recycled politicians in the pool and some of the Ministries have 2 deputy ministers – is it really necessary?
Related: The Malaysian Election 2018 & Opposition Victory Explained
Muhyiddin Yassin did away from having a Deputy Prime Minister – that is brilliant move considering that there are too hands from UMNO & PAS waiting to grab for the 2nd main place in the Cabinet. But instead, he created a council of 4 senior Ministers who will assist him in the capacity of a Deputy Prime Minister – 2 from his own Bersatu rebels, 1 from UMNO and 1 from Sarawak based PBB.
MIC & MCA is back in the ministerial stage, heading Human Resources Ministry and Transport Ministry respectively. Unfortunately there is nothing to shout about them – both had shamelessly supported a kleptocracy government in the past, enjoyed its fruits and kept quiet about it. At least Gerakan had the sense of conviction to get themselves out from Barisan Nasional after the last general elections.
Related: What MIC really needs to do?
Even with MIC & MCA Ministers in the cabinet, it seems it is not enough to represent a more ethnically diverse cabinet:-
Another common criticism of the new Cabinet so far is the lack of minority representation in Malaysia's new government.

Malay Mail noted in an article that while several ministers are from East Malaysia, the rest of the ministerial positions were dominated by the Malay-Muslim majority.

In fact, although Chinese and Indians together make up almost 30 per cent of Malaysia's population, there is only one Chinese minister and one Indian minister in the rest of the Cabinet.

In contrast, Mahathir Mohamad's cabinet, while much smaller, was far more ethnically diverse with five Chinese ministers and four Indian ministers.

(Source)
PAS had been a joke all this while and this remains to be a joke in the new Government cabinet. The deputy President of PAS has been appointed as the Environment Minister in the new cabinet. The question is what is his qualification to be appointed to handle the environmental issues in the country?
Related: DAP-PKR-PAS "Mudah Lupa"!
Funny because Kelantan under PAS has a poor record managing their environment:-
Kelantan state, four hours northeast of Kuala Lumpur, provides a typical example. Around one-third of Taman Negara, peninsular Malaysia's largest national park, fills the state's southern stretches.

UMD detected more than 33,000 deforestation alerts in Kelantan in July this year, which was higher than in July 2018 — but not to be eclipsed by August. With more than a week left in the month, UMD has detected around 45,000 deforestation alerts in the state.

Of these, some 33,500 occurred in the Gua Musang region, with many alert hotspots occurring very close to Taman Negara National Park.

(Source)
The Finance Ministry sees a Minister who is a professional banker and not a politician. Although this is not the first time, a professional have been appointed as a Minister (Tan Sri Abdul Wahid bin Omar was appointed as a Minister in the Prime Minister's Department back in 2013), this was a good appointment nonetheless.
Tengku Datuk Sri Zafrul Tengku Abdul Aziz who is a royalty and also the Group Chief Executive Officer/Executive Director of CIMB Group Holdings Berhad would indeed be the right man to head the Finance Ministry. The question is will he be given the political will to push through the drastic changes to recover the economy and put in measures to reduce wastages.
Related: Bangsa Malaysia: Who is a leader for unity?
Another crucial Ministry at the moment is the Health Ministry who have been at the front end of the battle against the coronavirus. The previous Minister from Amanah – Datuk Seri Dr. Haji Dzulkefly Ahmad did a splendid job to contain the wider spread of the virus.
The new Minister – Dato' Sri Dr. Adham bin Baba is also a doctor by education and has in medical practice so he knows what to do next in the Ministry.
Lastly on the Oxford educated Khairy Jamaluddin taking up the Science, Technology and Innovation Ministry. I doubt a greater learning in English in schools on Science and Mathematics would be imposed with him leading this Ministry. I also doubt that he can achieve anything greater than the previous Minister, Yeo Bee Yin from DAP have achieved in the last 2 years.