Kamal Haasan has always had a special and a key role for the legendary Nagesh in his movies (the other usual collaborator with Kamal is actor Delhi Ganesh) and Nagesh who had always played a comical role has proved to be a very versatile actor with different roles with Kamal Haasan. Image source: Cinema Express
In fact, his last movie was with Kamal Haasan – he played a minor role in Dasavathaaram. Kamal Haasan had once said that Nagesh (who passed away in 2009) was his Guru (teacher) and also a good friend.
Read these first:-
The last thing anyone wants to see in a movie is seeing a funny comedian cry and the first time I saw Nagesh playing a lead role in K Balachander's 1968 Edhir Neechal where he plays a poor orphan student who lives under the staircase of a multi-family apartment, doing odd jobs for his living and education.
This particular scene is one of the iconic moment of the movie where Nagesh is wrongly accused of stealing things from other residents to a point where even his own best friend feels betrayed and slaps hard Nagesh.
Then comes the movie Nammavar in 1994 with Nagesh performed probably one of his best actings, going on to win himself the National Film Award for Best Supporting Actor.
Note: I could find the clip from the original Tamil movie but instead this clip from Telugu dubbed one is still good enough to show Nagesh in his elements. It will not play the video on an embedded mode so you need to watch it on Youtube.
Preamble
Selvam (played by Kamal Haasan) joins a college as a professor but finds the owner's son, Ramesh (played by Karan) who is also the student causing problems to the teachers and students. Selvam goes after Ramesh and tries to make him change his ways.
But instead, Ramesh retaliates by implicating his ex-friend's girlfriend Nirmala (played by now dance master Brinda) in a brothel raid, which leads to her suicide. Nirmala is the daughter of one of the college lecturers and Selvam's good friend, Prabhakar Rao (played by Nagesh)
Scene 1 – Breaking The Tragic News
Nagesh catches Kamal as he passing by and explains that both he and his daughter had discussed in length the matter and had enough crying last night. It is clear that nothing had happened other than revenge by Ramesh (in the earlier scene, Nagesh even had contemplated moving to another place to avoid embarrassment).
Sentil runs over informing Kamal that Nagesh's daughter had committed suicide. When they are unable to answer him, Nagesh knew that it is related to his daughter.
This causes Nagesh to lose his composure before running off to his house, dropping the breakfast that he bought for his daughter on the floor uttering "Alla Mana Pooche" which referring to the food now covered with sand but the phrase in Tamil also means that it is too late.
Scene 2 – Finding Daughter's Death Body
Despite finding his dead daughter on the floor, Nagesh remains calm and explains his daughter had committed suicide with her favourite saree and had not done anything without telling him first. She however did not tell him that she wants to commit suicide. Kamal is not sure how to calm Nagesh.
Nagesh asks the police officer if his daughter had written any letter and after reading it, he wonders why she decided on suicide as his daughter already talked about it last night and agreed to close the matter. He explains that this is the way of the middle-class family who needs to worry about what others will say.
He turns around to Gouthami who plays a college professor and asks Kamal to calm her from crying.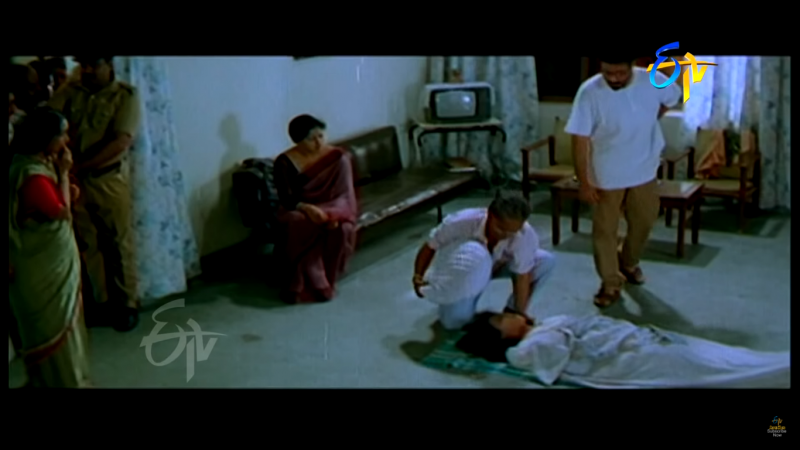 Nagesh then looks for a pillow for his daughter and put her head on the pillow. Nagesh explains her daughter's head is out of shape when she was born. The doctor back then had advised him and his wife to put a pillow under her head. Often he and his wife would doze off watching their daughter but she will remain awake.
At this time, a doctor comes in and Nagesh asks why a doctor is here when it is too late for his daughter for which Kamal explains that it is for Nagesh. The doctor injects Nagesh with a sedative to calm him and tells Kamal that his daughter is like his wife – they keep problems to themselves whilst he is more practical.
He explains that by right, ice should be placed on the dead body but it is not done. No one thought about it but he is still clear enough to think about it.
Soon Nagesh gets dizzy and wishes to sleep. Unfortunately, he too had a problem sleeping on a hard surface. He tells Kamal not to take the pillow from his daughter so Kamal instead allows Nagesh to sleep on his laps. Nagesh then asks if Kamal has other engagements for which Kamal explains that there is nothing important than this. Nagesh asks Kamal not to cry since death is for sure in everyone.
Scene 3 – Nagesh Losing It At The Funeral
Nagesh requested to light up the pyre of his daughter and tells the man with the fire that he knows what to do next as he has done the same ceremony for his grandmother, his mother, his wife and sadly now his daughter. Nagesh seems to be strong and yet his appearance clearly shows a man broken down into million pieces.
Note: All images are from Youtube video screenshot
He leaves as the fire burns his daughter's dead body and then goes to the side and start to imagine carrying his daughter in his arms. When Kamal tells him that everyone is watching him, Nagesh comes to his senses and starts to cry uncontrollably.
Last Say
It was said that the house scene was taken in a single take and what a brilliant piece of acting from Nagesh.
In another Kamal Haasan movie, Apoorva Sagodharargal in 1989, he played the bad guy's role and despite the negative role, he still able to infuse a good comedy.
In Nammavar, he basically killed it in the daughter's suicide and with Kamal by his side, no one has to emphasize the level of emotional running in the movie scene. The acting is so natural and seems unscripted. The movie itself is a good movie to watch with an underlying strong message.