It is expected that the country will see an additional 5.8 million new voters in the next general elections and all political parties including Pakatan Harapan will be looking forward to these new voters voting for them. Image source: NST
However, be very mindful that the young voters are more tech-savvy, educated, well aware of the constraints & abuses of race and religion in their future development and are indeed quite concerned about the direction of the nation. The question is how attractive the current political parties are to these new voters.
Read these first:-
Check your voter registration status online on @sprgovmy's website! #Undi18 pic.twitter.com/Rcq1PosT2j

— #Undi18 #ManaUndiKami 🏴 (@UNDI18MY) January 15, 2022
New UNDI18 Voters
The automatic registration for all new voters who have reached the age of 18 is actually a great thing considering that now one does not need to go to the post office or miss deadlines to get themselves registered.
Automatic registration also makes reduces the number of fence-sitters who have yet to register themselves due to petty reasons such as laziness, lack of belief in the current democratic process or lack of belief in the value of their votes in making a difference in the country.
Malaysia is going to have roughly an additional 1.2 million voters aged between 18 and 21 following the full implementation of the automatic voters' registration system soon, the Election Commission (EC) has said.

Its deputy chairman Azmi Sharom told Malay Mail that the commission has finally completed the system to enable those aged 18 and above to vote, which will see an additional 5.8 million voters at any election called after January 16.

"Out of the 5.8 million new voters, there are approximately 1.2 million from the Undi18 bloc, while the remaining are 21 and above," he said in a recent interview.

He said the move would also increase the number of registered voters in Malaysia by around 40 per cent — from the current 15.8 million to a total of 21.1 million voters.

(Source: Malay Mail)
Additional 5.8 million voters is not a small number and you must appreciate the impact it will have on the winning majority considering that some of the politicians have won the Federal and State seats on slimmest numbers in the last general elections. Take for example the Parliament seat for Teluk Gelugor in Penang; it was won by a BN candidate with just 81 votes.
16/1/2022 – Parit Penyengat, Muar

SUA Parti MUDA, Sdr @_amiraaisya dan Sdr Dian Lee bersama Team MUDA Johor menyampaikan peralatan rumah berbentuk peti sejuk, mesin basuh, tilam, dapur gas, bantal dan selimut serta kotak makanan secara terus kepada mangsa-mangsa banjir. pic.twitter.com/pf9aVRJCkS

— MUDA JOHOR (@teammudajohor) January 16, 2022
Entrance of MUDA
One of the recent highlights from the flood disasters in Malaysia was the appearance of the MUDA members & volunteers helping in the flood rescue and relief efforts. MUDA or Malaysian United Democratic Alliance is an off-shot of Dr M's Bersatu political party and is headed by YB Syed Saddiq. At the same time, there has been a greater drive for new membership for MUDA – kudos to their PR team for decisive videos and photos. The online registration concept is not new but they have certainly improved on it.
MUDA has been officially registered as a political party.

The Muar MP further said the days of warlords controlling a political party or personality politics were over.

The party president, he said, would not be allowed to appoint candidates with a "stroke of the pen".

"The process has to be as transparent as possible with the best candidates to serve Malaysians. That is the way to turbocharge Malaysia," he added.

Syed Saddiq said since the Dec 18 floods, MUDA had raised RM2 million and had 10,000 volunteers on the ground to help victims nationwide.

"We do not have the experience in politics but we can focus on offering services needed by the rakyat," he added.

Syed Saddiq, who is 29, also said MUDA was not aiming to take revenge on anyone but aimed to make Malaysia a "dignified country for all races and ages".

"It is a party for all and for the future. It will be an inclusive party."

(Source: Free Malaysia Today)
Clearly, MUDA is heavily promoting their youthful values and it is very much aligned to the current sentiments of most Malaysians who are really tired of the political musical chair game that has been ongoing in the last 2 years and after the fall of Pakatan Harapan government. They appeal to the youth and promises of fairness and transparency which is lacking with the current recycled band of politicians.
The Pakatan Harapan youth leaders actually are very active and always engage the core issuance straight on but the problem with Pakatan is the level of exposure and advertisement of these youth leaders activities. Image source: The Malaysian Insight / Twitter
Pakatan Harapan Youth Wing Leaders
To be frank, all political parties in the countries have their Youth wings for their young members to actively participate in national politics. The same goes for the key component parties in Pakatan Harapan.
Democratic Action Party (DAP)
The 25 members of the DAP's youth committee is well represented by youth members from different cultures and races, of which, many are entrusted by the party to head and participate in politics at the state and federal levels.
For example, for 2018 – 2021, DAP's national youth leader is YB Howard Lee Chuan How which is 39 years old and had served as a Member of the Perak State Executive Council and also Perak State Legislative Assemblyman for Pasir Pinji. Under Pakatan Harapan, he is appointed as the Chief Secretary for the Harapan Youth wing.
For ease of membership, there is a link to download the membership form and one need to be paying a minimum of RM10 per year to remain an active member although one can easily pay RM200 for once and be a life member. Despite this, one still needs to manually pass or post the membership form to DAP's Head Office. This is still old-fashioned compared to MUDA's method of member registration online.
Note: Considering how DAP have been labelled as anti-Malay and anti-Muslim, it is good that DAP has come up with an informative FAQ page to explain further. The problem however is that it is not promoted heavily.
Parti Keadilan Rakyat (PKR)
PKR's Youth Wing is known as Angkatan Muda Parti Keadilan Rakyat (AMK) and is lead by YB Akmal Nasrullah Mohd Nasir who is 35 years old and is the Member of Parliament for Johor Bahru. There is no information on the youth wing, the other members within AMK and its activities although you may be able to scrap some information on their social media pages on Facebook and Twitter. Basically, the party is more focused on Anwar Ibrahim.
For ease of membership, PKR's website has an easier process where one just needs to fill up the form online and click submit. However, there are no FAQs attached to explain the membership process and payments if needs to be made.
Parti Amanah Negara (Amanah)
Considering that this was an off-shoot of the more radicalised PAS, the members are mostly Muslim members. They do have a youth wing but there is no dedicated webpage for the youth wing committee members and their activities.
However if one searches from the news, it is reported that YB Mohd Hasbie Muda has been appointed to head the youth wing of Amanah. Unfortunately, there is not much information provided in the news.
Despite being a newer political party, Amanah probably has the best online registration with the ability to upload images of NRIC and payment is stated on the registration page.
Considering MUDA, PKR and Amanah are providing an online registration facility and also done on a secured website, this will make registration of youth members to these political parties easier and secured.
PKR has the overall leadership chart on their website but it does not say much beyond that. There is no detailed profile of the leaders – who are they, what's their political & education background and where is the chart for their youth and women wings? Image source: PKR
Some Factors To Consider
Pakatan Harapan needs to seriously consider some improvements to make the coalition attractive to the new young voters and there are several factors that they need to review immediately.
Revamped Webpage
Overall the web pages of Pakatan Harapan component political parties needs to be revamped and given a fresh coat especially to those related to its youth wings. They don't have to do much if they lack the resources but they can link it to Facebook or Twitter pages which in turn can have the necessary information. However, they need to ensure that they have the youth wing committee members, their detailed profile in relation to politics and social works and their social media link.
A screengrab shows the Twitter link of DAPSY leader, Howard Lee does not even exist or has been deleted. In fact, out of the 25 youth leaders in DAP, only 2 have active Twitter accounts and 1 even does not have any social media accounts (Facebook or Twitter). How then do they expect the new voters to engage with them actively?
Active in Social Media
Unlike some politicians who pulled off the comical stunts in the recent flood, Pakatan Harapan politicians by large had missed the opportunity to showcase the good work done by them and their volunteers. Some of the residents even were not aware that their local representative's effort in the flood relief and rescue unless it was shared by others on social media.
Why do these politicians assistants who are following around to help snap some photos and videos and upload them for free on Facebook and Twitter? The Puchong MP, YB Karpal Singh for example barely had any photos of him delivering food and necessary goods to those in the relief centres.
Some of the current Pakatan Harapan youth leaders don't have valid Facebook and Twitter pages and some of them has not been updated for some time now. Some have active social media pages but it is not highlighted in the party's main web pages and one only finds out accidentally by reading their page description.
Never underestimate the power of social media these days.
One of the most active PKR youth leaders that I follow closely – YB Thiban is the Vice Youth Leader for PKR and he actively updates PKR and his political activities on social media. More importantly, he engages with his followers and replies comments if needs clarifications. These are the kind of leaders that the senior leaders need to put forward into the limelight. 
Put Front Youth Leaders
Well known leaders like Datuk Seri Anwar Ibrahim from PKR or YB Hannah Yeoh from DAP does not need any further introduction but those new youth leaders need public exposure. Put them in front of the senior and well-known politicians so that they can get the right exposure and is also known to potential voters.
Always match the wisdom & famed of the senior Pakatan Harapan politicians with the speed & energy of the Pakatan Harapan youth leaders.
But then again, please ensure these Pakatan Harapan youth leaders do not simply open their mouths and say the wrong things. The objective is to make them well known to the masses by saying & doing the right things and not one that will backfire the unity of Pakatan Harapan.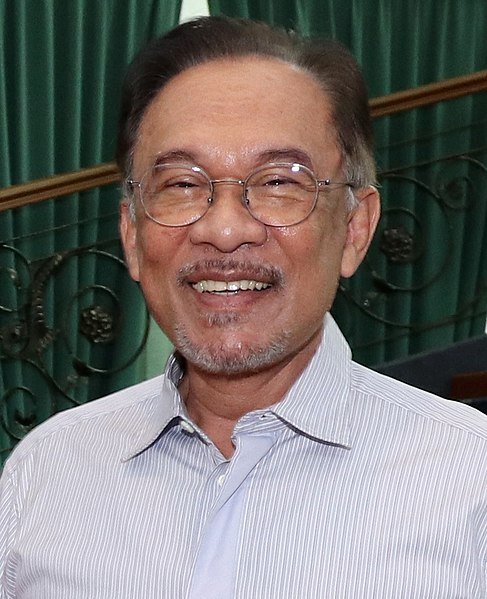 Back in December 2021, Opposition and PKR Leader, Anwar Ibrahim raised an issue of a potential scandal with the rollout of the 5G in the country by the Digital Nasional Berhad (DNB) that may be as big as the 1MDB. The problem is that the call for transparency is not echoed by other Pakatan Harapan leaders. It is not concerted but rather is in isolation. Image source: Wikipedia
Focus On The Big Picture
Pakatan Harapan's MOU with Ismail Sabri's administration in September 2021 now proves to be a big mistake despite the initial thoughts of benefits to both sides. UNDI18 should have happened even without the MOU and the fear of dissolution before 31st July 2022 would have kept the Government and the Ministers on their toes to ensure they do their best for the nation. And the 2022 budget and government expenditure was a big disappointment, especially after the recent flood disaster.
Pakatan Harapan needs to keep to their objective when they are in the opposition which is to ensure strict check and balance whilst at the same time demonstrating that they can do better and effective. They will need to show that they have a better class of politicians who are not only clean, without any scandals and also highly educated & experienced in their line of monitoring.
Pakatan Harapan must quickly set up a Shadow Cabinet and closely shadow the respective ministries, some of which have huge budgets but is not doing enough to justify the huge budget.
One has to admit that the acceptance of politicians jumping sinking ships is not always welcomed by the political party supporters and voters. More known as "frogs", these politicians are basically opportunists and have hidden personal agendas. It is better to promote loyal politicians within the ranks of the party than simply bringing an outsider. Image source: Fahmi Redza
Final Say
One has to admit that Malaysia is in dire need of a major reboot politically and we come close after the 2018 general elections where the people decided enough is enough and voted for Pakatan Harapan. Unfortunately, some factions of PKR and Dr M's Bersatu decided to betray the people's confidence in them and formed an alliance with BN & PAS instead.
The decisions made on the COVID19 pandemic has not been consistent with good progress made on the vaccination but major failures on enforcement against the VVIPs. Some of the actions speak about a breakdown of enforcement agencies as well. In general, decisions by the governments under the Bersatu and UMNO has not been inspirational, ground-breaking and revolutionary. Pakatan Harapan's MOU made things worse as this makes the check and balance in Parliament tamed and less persistent.
The recent Malacca state election is a good barometer of the current sentiment of the voters towards the ruling Bersatu/UMNO politicians and the opposing Pakatan Harapan politicians. The fact that the state government fell in the first place was due to UMNO politicians and yet UMNO still managed to keep the state.
If the voters wanted to teach UMNO a lesson for taking them for a ride, they could have easily handed over the majority of votes to Pakatan Harapan but this did not happen. Pakatan Harapan even lost more seats compared to the 2018 elections. So what this tells the leaders of Pakatan Harapan and what they need to do without further delays?
Pakatan Harapan promised post mortem on their losses but the outcome of the post mortem is yet to be made public although generally, the insiders will probably know why they lost.
If Pakatan Harapan does not act fast to gain the new voters' confidence, then it will be too late by the time the next general election is held.