Any country that has a vast shoreline to patrol like Malaysia should have a large fleet of dedicated medium and long-range maritime patrol aircraft that is capable of performing hours of patrolling and can perform secondary missions like search & rescue and anti-submarine warfare. Presently this role is being taken with some modifications by the Indonesia-made CN-235 transport plane. Image source: Wikipedia.
Read these first:-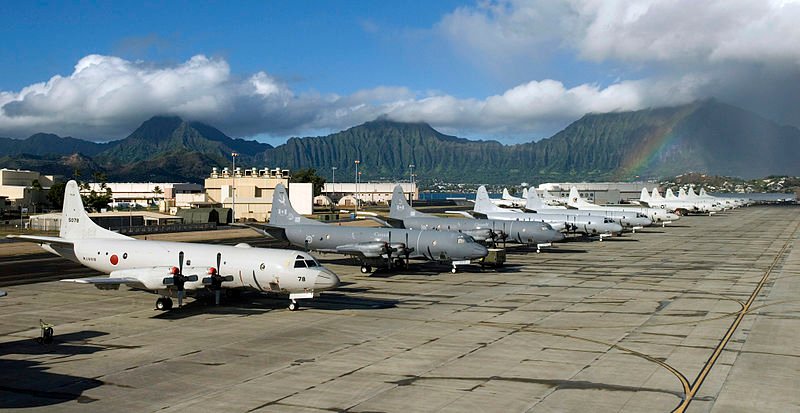 When it comes to the most famous modern, post-war maritime patrol aircraft that is still in active service, one has to think of the Russian-made Tupolev 95 Bear which was reputed to have a very long range of 15,000 kilometers. The other is the US-made Lockheed P-3 Orion of which more than 750 units have been built and is widely used by most US allies. Image source: Wikipedia
RMN Maritime Patrol Aircraft Shortlisted
It is a fact that Malaysia is in dire need of replacing its defense assets especially when it is related to maritime assets. It is unfortunate that we have seen major setbacks for the Royal Malaysian Navy (RMN) for its state-of-the-art Littoral Class Ships that should have provided a substantial punch to any naval intrusion by the Chinese military, illegal immigrants namely Rohingyas and foreign fishermen.
However, compared to naval ships, a long-range maritime patrol aircraft would be more effective in tracking intruding surface and underwater vessels, and RMN's limited assets on the surface then can be effectively directed to intercept these intruders.
After some uncertainty, we finally have this positive development:-
Malaysia has selected Italy's Leonardo as its preferred vendor for a maritime patrol aircraft program.

Leonardo has offered its ATR 72MP, which is based on the ATR 72 turboprop regional airliner and can perform maritime patrol, search and rescue, and electronic intelligence gathering missions using its suite of onboard systems, including radar, electro-optical sensors and satellite communication technology. The ATR 72Mp can also carry lightweight torpedoes for anti-submarine operations.

The Royal Malaysian Air Force is also converting three Indonesian-built CN-235 transport aircraft to perform maritime surveillance roles, thanks to funding by the U.S. Maritime Security Initiative.

Indonesian company PTDI announced Oct. 7 it had delivered the second aircraft to Malaysia.

(Source: Defense News)
It was interesting to note that Malaysia also considered the American-made Boeing P-8 Poseidon which is based on the civilian 737-800 aircraft. India is using 12 units of the US-made Boeing P-8 and 4 units of the Russian-made Ilyushin II-38 maritime patrol aircraft to patrol the vast Indian Ocean.
Alternately Malaysia could have opted to operate the ex-Japanese-built Lockheed P-3 Orion that has been retired but it was not feasible as Malaysia would still need to spend money for the radar equipment and extension of the airframe.
.
One of the key advantages of using Leonardo's ATR 72MP Multirole Maritime patrol and C4ISR aircraft is that it is using the proven ATR 72 airframe that is used by civilian airlines including Firefly from Malaysia which has about 12 ATR 72-500 and MASwings which operates another 10 ATR 72-500,
ATR-72MP Maritime Patrol Specifications
Note: All information is derived from the ATR-72 MP manufacturer website:-
The ATR 72MP is a twin-turboprop aircraft optimised for complex maritime patrol missions and is based on the passenger ATR 72-600 aircraft.

The ATR 72MP features Command, Control, Communications, Computers, Intelligence, Surveillance and Reconnaissance (C4ISR) capabilities which enable the monitoring of sea lane traffic, fisheries protection, counter smuggling and counter drug trafficking operations, exclusive economic zones (EEZ) patrol, as well as Search and Rescue (SAR) operations.

The aircraft can also be used to transport personnel and materials, and can perform anti-submarine warfare (ASW), anti-surface warfare (AsuW) and electronic intelligence (ELINT) missions.

The ATR 72MP is equipped with the Airborne Tactical Observation and Surveillance (ATOS) mission system, which manages the aircraft's wide range of sensors, providing a complete operational picture.

Based on four multi-functional consoles, the system includes an advanced multi-mode surveillance radar featuring Active Electronically Scanned Array (AESA) technology, an Electro-Optical Sensor Turret (EOST) with colour and monochrome cameras, an Automatic Identification System (AIS), and an Airborne Search and Rescue System Direction Finder (ASARSDF).

Features of the ATR 72MP airborne suite, added to the advanced glass cockpit of the ATR 72-600, include an Identification Friend or Foe (IFF) transponder, two INS/GPS (Global Positioning System) inertial navigation systems, a tactical air navigation system and a tactical cockpit display that transmits mission system data to pilots.

The communication suite includes several V/UHF and HF radio waves, a broadband SATCOM system and datalinks to simplify mission data exchange.

For use in ELINT, ASW and ASuW missions, the aircraft is equipped with optional subsystems and equipment, including a Defensive Aids Sub-System (DASS) to operate safely in hostile territories, a system for the storage and launch of sonobuoys, an acoustic subsystem, a magnetic anomaly detector (MAD), a payload management system, and two external fuselage pylons which can carry up to two light torpedoes.

(Source: Leonardo)
One only hopes that RMN gets the full electronic suites that cover both defensive and offensive suites that can be implemented in this multi-role maritime patrol aircraft.
ATR-72MP is a very sleek maritime aircraft and is equipped with sophisticated radar & surveillance equipment and has a very long endurance of 10 hours which will make it an effective patrol aircraft for a long distance. It can also be armed with 2 light torpedoes that can disable small crafts. Image source: Leonardo
Malaysian Maritime Patrol Crafts
A comparison between the RMN's existing maritime patrol aircraft in service against the ATR-72 MP is as follows:-
CASA CN-235
Beechcraft B200T
ATR 72MP
In Service (RMN)
2 delivered (1 ordered)
4 delivered
2 ordered
Country of Make
Spain / Indonesia
USA
France / Italy
Crew
4
(2 pilots, 1 mission system operators & 1 observer)
5
(2 pilots, 2 mission system operators & 1 observer)
6
(2 pilots, 2 mission system operators & 2 observers)
Length
21.40 m
13.34 m
27.17 m
Wingspan
25.81m
16.61 m
27.05 m
Height
8.18 m
4.6 m
7.65 m
Empty weight
9,800 kg / 21,605 lb
3,518 kg / 7,755 lb
13,311 kg / 29,346 lb
Max takeoff weight
16,100 kg / 35,420 lb
5,670 kg / 12,500 lb
23,000 kg (50,706 lb)
Powerplant
2 × General Electric CT7-9C3 turboprops, 1,305 kW (1,750 hp) each (take-off)
2 × Pratt & Whitney Canada PT6A-42 turboprop engines, 850 shp (630 kW) each
2 × Pratt & Whitney Canada PW127M, 2,050 kW (2,750 shp) each
Cruise speed
450 km/h, 286 mph, 248 kn
535 km/h, 333 mph, 289 kn
510 km/h, 320 mph, 280 kn
Range
4,355 km, 2,706 mi, 2,350 nmi
2,690 km, 1,670 mi,  1,450 nmi
1,528 km, 949 mi, 825 nmi
Service ceiling
7,620 m, 25,000 ft
11,000 m, 35,000 ft
7,600 m, 25,000 ft
Rate of climb
7.8 m/s, 1,780 ft/min
12.4 m/s, 2,450 ft/min
6.88 m/s, 1,355 ft/min
Max Endurance
8 hours
4 hours
10 hours
System
US made electro-optical infrared turret, line-of-sight datalink, and a roll-on/roll-off mission system operator station
French made Thales Airborne Maritime Situation and Control SystemSystem
British made Seaspray 7300E AESA radar and other systems
From a specification aspect, it seems that Malaysia can just do with the CN-235 since it has similar specifications to the newer ATR-72 MP maritime patrols aircraft. However, one needs to remember that Leonardo is offering a dedicated maritime patrol aircraft whilst the CN-235 requires a conversion from a medium transport aircraft.
The future of maritime patrol and surveillance would be the use of drones such as this Northrop Grumman MQ-4C high-altitude long endurance unmanned aerial vehicle. The US plans to have about 70 of these UAVs and this has an impressive endurance of 30 hours, flying at 55,000 feet. Image source: Wikipedia
Final Say
It is expected that the Royal Malaysian Air Force will require at least 4 or effective 6 dedicated maritime patrol aircraft to effectively patrol the vast seas bordering the South China Sea, the Straits of Malacca, and some portion of the Indian Ocean.
Once Malaysia receives the 2 units of ATR 72MP, it is likely to be complemented by the modified CN-235 maritime aircraft in the interim until the Government acquires additional ATR 72 MP aircraft or long-range naval surveillance drones.
Once this gap is bridged, the next important step for Malaysia would be to increase its surface assets namely with the deployment of the RMN next-generation ships namely the Maharaja-Lela class ships, and perhaps effective land-based anti-ship missile batteries such as the Indian-made BrahMos anti-ship missiles as a deterrent.
And as mentioned in this blog several times, Malaysian armed forces will need to work closely with its counterparts in the Indian armed forces for joint patrol and deployment of naval assets.