Well, after 6 years and 9,730 photo shots, my severally outdated and function limited 3.2 megapixel Fuji A210 has decided to give some problems.
I guess this was a God sent chance to upgrade my stuff. It is not something major – the flash sometimes does not work and needs a 'hard' press to get it up working. The start-up has been getting slower by the days.
But considering that I will be going away for an on-site deployment next month and lasting for at least 3 months in some foreign exotic country, I guess it was time to get myself a new camera and hand over the old one to my wife (she wants to use it for her kindergarten use). My son is also looking forward to starting playing with the camera since Daddy is expected to have a new one.
So, I started to do my homework and started to source a good camera that is not so costly but will address all the shortcomings in my old camera. After several visits to some websites, I shortlisted Fuji Finepix J30 compact digital camera – it is not so expensive too (it was going for RM599 for a 12.2 megapixel, ISO up to 3200 and great loads of functions).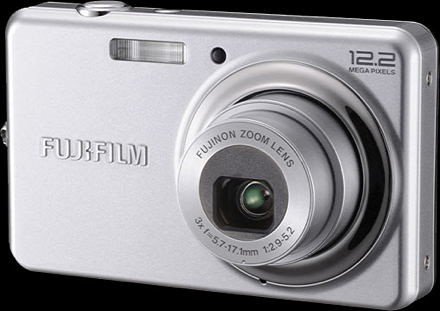 (This was my first option – a much improved Fuji Finepix but Fuji's website screwed the deal, thank God! Image source: http://www.absolut-photo.com)
The problem with the Malaysian's Fuji website (something the webmaster need to work on) – it does not list the authorised dealers (unlike Canon, Nikon, etc). After several more 'investigations', we decided to go to Sunway Pyramid to source for the model – there were several camera shops in there, they should have the model lying around.
We walked into this camera shop (because it was one the nearest and well known) and asked for the Fuji J30 and unfortunately, they did not have that model. The salesgirl, obviously under-estimating my camera knowledge was trying to sell another Fuji model. Even my wife started to sense that the salesgirl was trying to patronising us and remarked to me – "She did not know she is talking to a pro".
The camera that the girl was trying to push to me was light and seems to have the features that I was looking for but thing is, I did not check well on this model in detail and I did not want to make the mistake of buying without knowing the details. I already made that mistake with my current Fuji Finepix A210 and that mistake stuck with me for the last 6 years.
As the salesgirl was taking other compact unknown models, my eyes caught on something on the shelves.
(Entry-level DSLR from Sony, the Sony Alpha 230 – Image source: http://www.letsgodigital.org)
It was a Sony Alpha 230 DSLR (launched sometime in May 2009) going for RM1,799 – it was way beyond my current budget. But the thing is there was an offer for 12 months interest-free instalment if paid via credit card. It was very, very tempting indeed – I know I will have at least RM1,000 by at end of the year.
So, if I spend RM599 now on some unknown compact camera, I would have wasted my money and it will be a long time before I will have a chance to get my hands on a proper DSLR. After a quick computation in my head and importantly an approving look from my wife – I decided to go for my first DSLR (something I should have done a long time ago).
The salesgirl did not know much about DSLRs and we glad that a more experienced salesman took over, to show the model. He too was still trying to patronise me and was making elementary mistakes – like saying that the 230 model uses a CF card when it clearly stated on the box that it uses an SD card. Thankfully I was so excited that I decided to wait out patiently for the payment to be cleared and me to take away my brand new DSLR home.
In total, the sale cost me about RM2,035 – RM1,799 for the Sony Alpha 230 kit (with 18 – 55 mm autofocus lens), RM55 for a UV filter and about RM180 for an additional warranty and insurance. Perhaps to close the deal and my insistence for free items, the shop throws in a 4GB SD card, a DSLR camera bag and a lightweight tripod for free.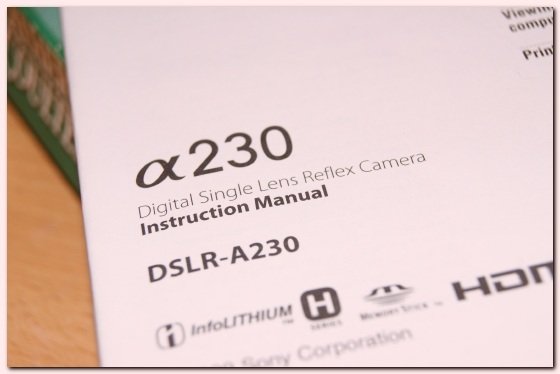 (Test shot – A close-up shot of the manual – the edges are blurred out. The manual is pretty simple to read and understand)
Sony Alpha 230 comes with 10.2 megapixels and more importantly all the manual settings needed for more creative shots (something I have longed for whenever I saw some rich kids with DSLR at my friends or relatives' functions but having almost nil skills on creative shots).
Still, a long way to go to learn up and to revive my photoblog back but for the time being, it is goodbye Fuji and hello Sony and joined ranks with fellow bloggers with DSLR like Kavilan.