They say the show must go on and so it is when it comes to work  – this time is the work overseas assignment in Cambodia which is also known as the Kingdom of Wonders. This would be probably my 10th trip to the country. Image of The Royal Palace in Cambodia, Phnom Penh, source: All Free Photos
The implementation project in Cambodia has been long planned for months and the timeline has been decided way before the world faced a pandemic called COVID19 and all plans had to be totally revamped. The project timeline got extended as many around the world were forced to work from home, overseas travel banned and in some places, strict lockdown put in place.
Then in June 2020, things changed for the better and it started to be imperative that the project team fly to Cambodia for the start of the system implementation. Of course at the back of our overall planning was Plan B which required us to do this and that remotely from Malaysia. However, it was still important to have someone at the customer's site to ensure the proper completion of the project.
And when it comes to Cambodia, it was clear that there were several major challenges both from Malaysia and Cambodia that we had to hurdle before we can safely fly into Cambodia.
Challenge No 1 – Permission to Leave Malaysia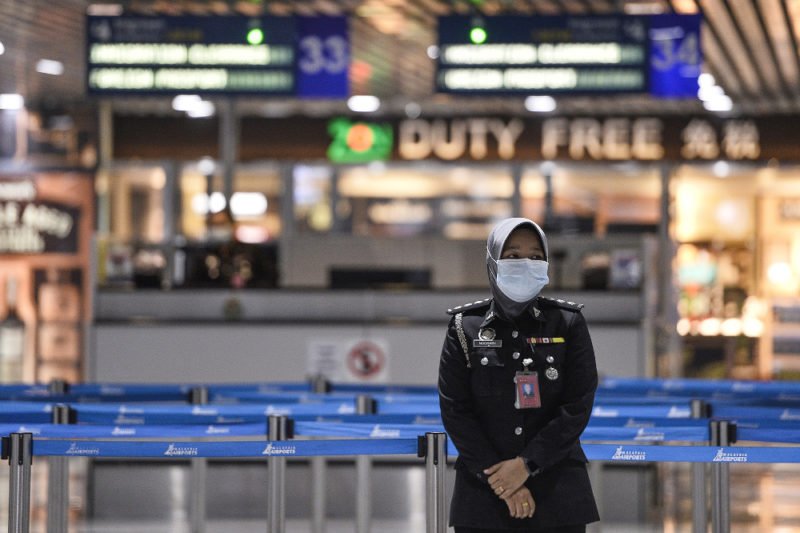 Although Malaysia has been allowing Malaysians to come back home with strict conditions, there is a general travel ban for travel out of state which recently has been relaxed so that people with urgent matters could leave the country. Image source: Malay Mail
Understandably there is a valid reason for this travel ban as the authorities were still busy battling the number of infections of COVID19. However if one has urgent overseas tasks and things cannot be done via remotely, there is still a way out from the ban.
Malaysians are barred from travelling overseas under the recovery movement control order (RMCO) period from June 10 until August 31, Prime Minister Tan Sri Muhyiddin Yassin announced today.

While the country's borders remain closed, he said domestic tourism activities will now be allowed to resume operations under the RMCO since the government has allowed interstate travel.

"For those desiring to travel overseas, hold on to your plans because our borders remain closed," he said in a televised broadcast.

(Source)
However, there are exceptions under the Immigration Department:-
He said Malaysians who do not hold long term passes of a foreign country and need to travel abroad to attend meetings, exhibitions, seminars, business as well as for emergency purposes may request for approval to exit Malaysia.

They can submit their request enclosed with a copy of their passport and other supporting documents to the Immigration director-general via e-mail at kpi@imi.gov.my.

(Source)
Indeed, following these requirements, we submitted the relevant supporting documents (to show valid reasons to leave the country) and waited impatiently for the approval to come through. In the end, the approval came through but we had to continuously follow up for the approval.
Challenge No 2 – Cambodian Government Visa Regulations
It is said that the PCR testing for COVID19 would be more accurate but the test results taking longer to be done. Something to seriously consider if one is rushing for time. Image source: The Journal of mHealth
Due to the global COVID19 pandemic, the Cambodian Government had initially cancelled all visas on arrival and also banned travels from certain countries into the Kingdom. Over the months, these regulations were relaxed due to the number of active cases continued to drop. However, the visa on arrival that is usually applicable for Malaysians remains cancelled.
We had to get our visas from the Cambodian Embassy before we can fly.
When we communicated our intentions to the consular officer in the Cambodian Embassy in KL, the officer sent a long list of items that we had to get ready before they can issue visas that will enable us to fly to Cambodia namely:-
Invitation and guarantee letters from the client in Cambodia;
Confirmed air ticket booking;
Visa Application Form;
Health certificate indicating a COVID19 negative status with a validity of no more than 72 hours prior to the date of entry into Cambodia, issued by competent health authorities recognised by the Government of Malaysia (health certificate shall be submitted when the visa is approved);
Insurance policy (international health insurance) with a minimum medical coverage of not less than USD 50,000 (fifty thousand US dollars) during their intended duration of stay in Cambodia;
For the COVID19 testing, it was not a difficult thing to do – the process was rather easy and convenient. We opt to do it at a private hospital near to the office and also it would be easier for me to follow up on the results.
At first, I need to call the hospital to set the appointment (date & time) to do the COVID19 test. On the day of the test, I went and register myself at the front counter where the medical staff in full PPE suit took my temperature, blood pressure (it was way too high till the doctor suggested me to get myself warded for further checking) and a couple of COVID19 questions.
At the end of the line, was where they actually do the test – sticking a cotton swab up my nose which was rather painful & uncomfortable. The other one sticking a cotton swab down my throat was uncomfortable but not painful.
The other condition of the insurance policy with a minimum medical coverage of not less than USD50,000 was proved to be tougher as it was not easy to get within Malaysia and that too for a short duration like 1 year (some proposal requires a minimum 3 years coverage, some proposal could not meet the minimum sum of USD50,000 which was an equivalent of RM215,000).
That took a lot of time calling the various insurance companies and insurance agents who were willing to do in such short of time. But in the end, we found one but time was ticking on getting the insurance done in time before we can submit the application for a visa from the Embassy.
Note – on the application for a visa from the Embassy, if you are applying for a big group like in my case, just make sure you make a set of all the documents for EACH of the applicants. Otherwise, you will be forced to go back and get ready the documents again, wasting a lot of time and energy.
Challenge No 3 – USD3,000 Deposit Upon Arrival
Be prepared to fork a lot of money at the airport once your plane touches down in Cambodia. Image source: Vietnam Holiday Tour
This condition was something new imposed by the Cambodian Government to minimise the cost of accommodating foreigners who may be infected with COVID19:-
Travellers entering Cambodia will be required to pay a US$3,000 deposit by cash or credit card for "Covid-19 service charges" at the airport upon arrival and have $50,000 in travel insurance cover, the government has announced.

Upon arrival at the airport, travellers will have to pay a $5 charge for transport to a testing centre, followed by $100 for a Covid-19 test. An overnight stay at a stipulated hotel or "waiting centre" while waiting for results costs $30, and a further $30 per day is charged for three meals.

Other charges include $15 for laundry, $5 daily for medical surveillance and $3 for security services.

The remainder of the deposit will be returned provided the passenger, and the rest of the people on their flight, have negative test results. Even so, they must self-isolate for 14 days after arrival in their chosen accommodation.

Travellers must report daily to medical officers and undergo a second Covid-19 swab test on the 13th day. A valid health certificate to leave the country will cost another $30.

(Source)
The problem was this specific condition was not clear enough for us to make the plans from Malaysia. Personally, I prefer to use the credit card to avoid bringing a lot of money to change the MYR to USD and then USD all the way from Malaysia to Cambodia. There is always a risk of misplacing the money or even worse, get robbed.
Then there was another suggestion for those who don't have a credit card was to use a debit card so that the amount can be deducted directly from the account. Some of us then opted for partial cash, partial card payments.
The Cambodian Government will deduct the various expenses from this deposit and then suppose to refund the balance. The problem was the details of the refund is not clear – we assume that for a cash deposit, we will get cash refund but what about the credit card – will it be earmarked and then charged with the actual expenses? How refund for a credit card would work?
That was the question running through my mind as I was packing up my luggage for the next day flight to Cambodia.
To be continued in Part 2