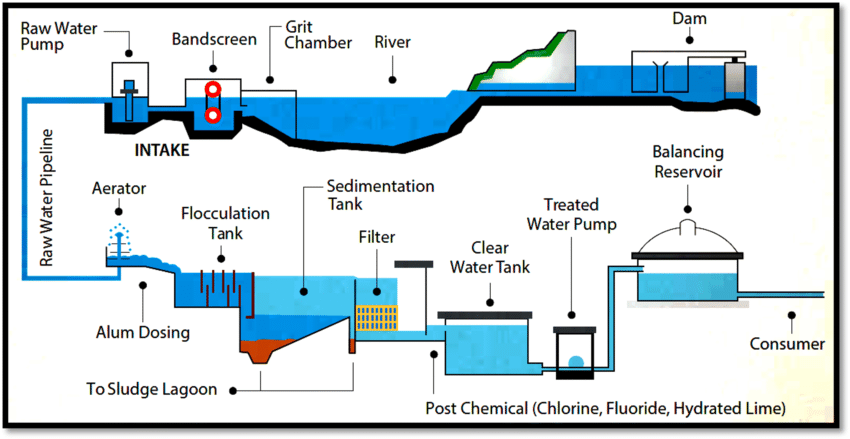 The State of Kelantan seems to be having a huge problem converting raw river water into clean drinking water to end consumers that meet international standards. However, this is not a question of luxury but a necessity given the demands of the growing population. It is a basic need of everyone. This is why it is very important to plan & manage these natural resources well.
Image source: Ahmed, Minhaz & Mokhtar, Mazlin & Alam, Lubna & Mohamed, Che Abd Rahim & Choo Ta, Goh. (2019). Non-carcinogenic Health Risk Assessment of Aluminium Ingestion Via Drinking Water in Malaysia. Exposure and Health. 11. 10.1007/s12403-019-00297-w.
Read these first:-
When it comes to water supply and disruptions, the State of Selangor is often in the limelight for the obvious reasons – it is under the Pakatan Harapan. Certainly, the timing of the "pollution" is dubious as it often happens before a major festive as if it is meant to create the maximum frustration and anger towards the Pakatan State Government.
But now, the attention has moved to the northern State of Kelantan where the Islamic political party, PAS have been in the ruling seat since the 1990s and yet the management of the natural resources especially water treatment and supply to the people in the state remains rather pathetic.
.
Even in the State of Selangor where the quality of drinking is up to international standard, we still install a water filter connected to the main outside the house which requires periodic backwashing. The colour of the water can be deep brown despite the good quality of the water delivered from the water treatment plant. We have another in the kitchen and also drink boiled water.
Coffee Drinking Water
Images of brownish, murky drinking water in Kelantan have been posted on social media for a long time. One such example is this:-
A netizen was frustrated about the quality of water supplied to his area and has decided to take it to social media to make the issue known to the public. The netizen, named Asrul Mamat said that he has made a complaint to Air Kelantan Sdn. Bhd. (AKSB) three years ago and the water supplied to his home was still murky.

He then said that his house is only 2km away from the AKSB HQ, and he still faces this problem despite complaining for the past three years. To help the public understand how bad the situation is, he took photos and videos of tap water from his house, as well as the condition of the water filter.

He continue saying that he has installed a generator and filtration system and the situation has not improve for the past 8 months. He added that he has incur huge water bills as he has to keep flushing dirty water from his water filter, and the most annoying part is he has to change his filter on a weekly basis.

(Source: Malaysia Trend)
And there is another on Twitter:-
Basuh berak pun bontot naik kurap pic.twitter.com/xpvgLU4rEb

— Haji Mn@sir (@HajiMat5) September 11, 2020
And back in 2021, the PAS Minister in the backdoor government even admitted that the failure of the PAS lead state government despite being in power for 30 odd years:-
Only 71.7% of the 1.7 million people residing in Kelantan have clean water supply, said environment and water minister Tuan Ibrahim Tuan Man.

He told the Dewan Rakyat today that among the main reasons for this were issues with raw water sources, adding that 15 of the 36 treatment plants in Kelantan were not operating at full capacity.

In the short-term, he said, the ministry would build three new treatment plants, which were expected to be operational in 2024 and channel 80 million litres of water a day.

The ministry had also started replacing 515km of old water pipes at a cost of about RM218 million. Currently, 106.2km of old pipes had been replaced, while the rest would be done in stages.

For the long-term, Putrajaya was looking into utilising surface water as sources rather than rely on underground water.

"A study on the development of Kelantan's water sources is expected to take 18 months, and we will commence studies on the construction of two riverside water reservoirs (TAPS) in the state," he said.

(Source: Free Malaysia Today)
PAS claims that there is too much water in the state but they don't have the means to store them for future use. Is this a logical statement considering that human beings have been storing water for agriculture via means of deep wells and man-made lakes? Image source: MStar
Problem Of Too Much Water
The State of Kelantan always had a problem with heavy flooding during the monsoon season but till today the flood mitigation plans have not resolved the massive annual flooding. Then we have this comical statement from the PAS politician in justifying the lack of drinking water supply to the end consumers:-
Kelantan Deputy Mentri Besar Datuk Mohd Amar Nik Abdullah has reportedly said that the state has water in excess, but is unable to meet demands as it has no facilities to store it.

After the state government held by Islamist party PAS was criticised over a RM7 billion water reservoir project, Mohd Amar said the project is needed as the state needs to store and distribute the water from underground source or rainwater.

"In Kelantan, our water exceeds our need. We have it under the ground, in our rivers, rainwater, they are all in excess, but we can't store it, we don't have an appropriate place.

"We have a lot of underground water, more than we need. But we don't have enough [treatment] plants," Mohd Amar was quoted saying by Astro Awani.

(Source: Malay Mail)
And it is funny that once this went viral, the effort to rectify suddenly started to emerge in the mainstream media:-
Environment and water minister Tuan Ibrahim Tuan Man says the construction of a water reservoir, known as the "Takungan Air Pinggiran Sungai (TAPS)", worth RM1.3 billion in Machang, near here, will resolve water woes in Kelantan.

Speaking to reporters at the Kelantan PAS Aidilfitri open house here today, he said the project would involve three components, namely TAPS, water treatment plants (LRA) and also the installation of pipes on 404.6 hectares of gazetted land.

Tuan Ibrahim said the TAPS project would not only provide a water reservoir capable of supplying 500 million litres per day, but also mitigate the flood problem in the state.

"This project is still under study, and we expect it to start this year. It will take around two to three years to complete," he said.

(Source: Free Malaysia Today)
And another:-
Meanwhile, Mohd Amar said the state government needed about RM7 billion to build new plants in areas affected by water problems and also to replace broken pipes.

"In our opinion, this value (RM7 billion) is not a huge amount as Perlis also needs RM3 billion to solve their water problems, and the state (Perlis) is smaller than Kuala Krai (a district in Kelantan)," he said.

"In addition, the network of pipes that need to be repaired is more than 5,000 kilometres and involves a huge cost," he added. — Bernama

(Source: Malay Mail)
This is one of the ancient rainwater harvesting systems that help the citizens to store water during the rainy season and then reuse it for agriculture and drinking during the hot season. This can be one of the methods that can be deployed in various places that are known to have shortages of water in the state. Image source: Tahaan Effort
Learning From History
One has to wonder how our forefathers handle natural water resources and water storage without having to spend billions of money. How they can do it with just sheer manpower and creative thinking?
One fine example is from India where they came up with a very ingenious way to store water with huge wells.

Jhalaras are typically rectangular-shaped stepwells that have tiered steps on three or four sides. These stepwells collect the subterranean seepage of an upstream reservoir or a lake.

Jhalaras were built to ensure easy and regular supply of water for religious rites, royal ceremonies and community use. The city of Jodhpur has eight jhalaras, the oldest being the Mahamandir Jhalara that dates back to 1660 AD.

(Source: The Better India)
And to ensure that the water is clean at the very starting source so that it needs little effort to treat and filter the water:-
Built using ancient principles, New York City's water supply system is a prime example of engineering with nature. Serving nine million people, the city's water is delivered by aqueducts and tunnels from up to 200 km away.

Even more impressive, this water is so pure that only 10% requires filtration. Natural forest ecosystems surrounding NYC's reservoirs filter water naturally, keeping it pristine.

Combined with smart water technologies, like robotic buoys monitoring water quality and computational models, NYC's system reliably delivers water to nine million people.

All it takes to make New York's water safe to drink is treating it in the world's largest ultraviolet germicidal irradiation plant, capable of disinfecting over eight billion litres of water each day.

(Source: Smart Water Magazine)
This was before the pandemic when tourism by state registered the lowest in Perlis and Kelantan. Tourism is one of the sources of income and creates additional layers of employment for the citizens of the state. A developed state will have more funds to improve the level of infrastructure in the state. Chart source: Department of Statistics, Malaysia
Final Say
It was pathetic that the firefighters recently were unable to get enough water to put out fires that swept through several houses in Kelantan recently. When something basic like water supply can be disruptive and not delivered up to expectations and world standards, someone is not doing their job especially when have been in power for the last 30 years.
It is obvious that the water woes in Kelantan cannot be resolved without spending billions of Ringgit on new water storage, water treatment plants and replacing old pipes but the question is, what is the priority of the State Government? These indicators do not speak well of the state's financial affairs and the chance of them raising funds to build the necessary water infrastructure without substantial funding from the Federal Government.
But how then they will utilise the Federal funding? This surely made headlines back 2 years ago when the Kelantan State Government decided to use the money from the Federal Government to buy luxury cars instead:-
The Kelantan deputy Mentri Besar Datuk Mohd Amar Nik Abdullah has confirmed that purchase of Mercedez Benz was not only for official use of the Mentri Besar, but also used by the other state leaders, Malaysiakini reported today.

Mohd Amar revealed that a total of 14 the Mercedes Benz models were bought for state executive council members and state secretary.

He added the purchases started from 2018 up until last year with the last car bought for himself and the Mentri Besar Datuk Ahmad Yakob.

"Yes, all the excos, the Mentri Besar and myself are now using Mercedes Benz cars as official vehicles, but their engine capacity are different.

(Source: Malay Mail)
Regardless of the cost of the Mercedes Benz, it still shows where the Kelantan State Government is putting their priority when it comes to spending taxpayers' money.
The problem also lies with the political party that is ruling the state of Kelantan – their over-emphasize of governing the state is truly not friendly to businesses and some of the decisions like forcing businesses to be closed during the fasting and prayer time.
The Kelantan State Government have definitely failed to turn the state into a well-developed state like Selangor and Penang and they said that the development of the state was delayed on purpose. If there was less development in the state, the opportunity for business and work will be less as well. So there will be taxes collected from businesses and individuals.
This must change if the consumers expect a higher quality of drinking water and better water management throughout the state.